Hundreds of birds found dead in Rajasthan
The officials put the toll at 1,500, but residents claimed the number could be as high as 5,000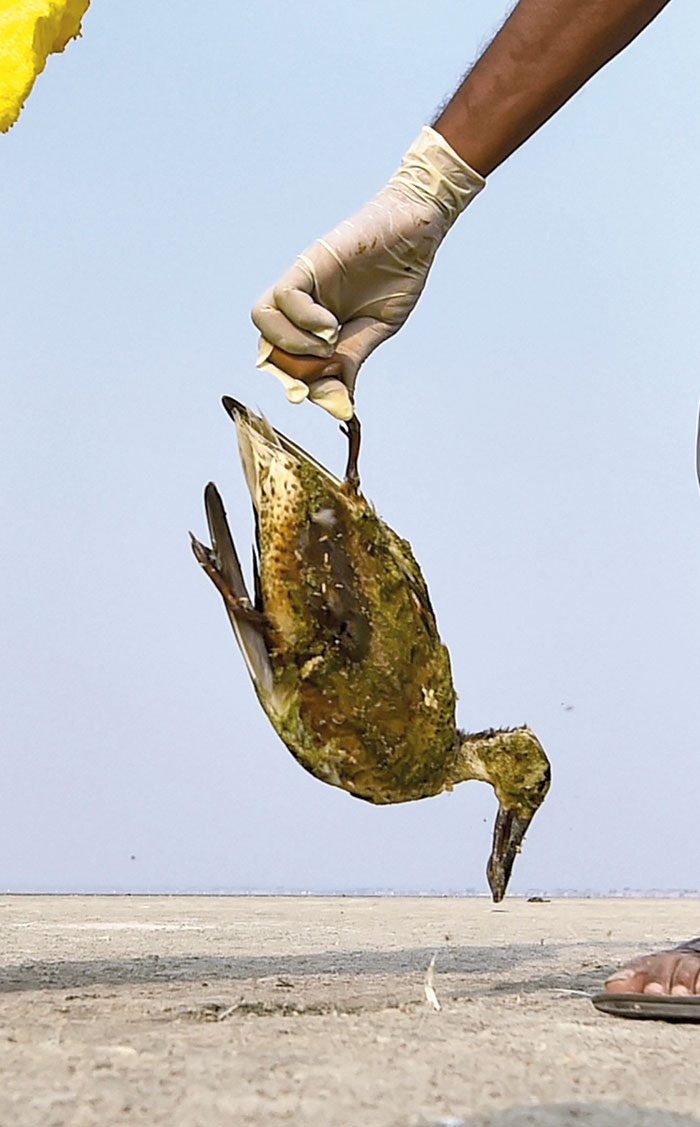 A dead bird at Sambhar being taken away on Monday
(PTI)
---
Rajasthan
|
Published 11.11.19, 08:20 PM
|
---
Hundreds of migratory birds belonging to about 10 species have been found dead around Sambhar Lake, the country's largest inland saltwater lake, near Jaipur.
Officials said they suspected water contamination as one of the reasons for the deaths but were awaiting viscera reports. The officials put the toll at 1,500, but residents claimed the number could be as high as 5,000.
"We have never seen anything like that. Over 5,000 birds died mysteriously all over the place," Abhinav Vaishnav, 25, a local bird-watcher, told PTI.
While strolling along the edge of the lake on Sunday, Vaishnav had thought that the hundreds of dark lumps strewn across the marshy land were cow dung. Later, he and his fellow bird watchers Kishan Meena and Pavan Modi realised that the lumps were dead migratory birds.
The carcasses of hundreds of birds, including plovers, common coots, black-winged stilts, northern shovelers, ruddy shelducks and pied avocets, were scattered along the edges of a 12-13km stretch of the lake's catchment area, they said.
Forest ranger Rajendra Jakhar said a possible reason could be the hailstorm that hit the area a few days ago. "We estimate that about 1,500 birds of about 10 species have died. We are also looking at other possibilities, like toxicity of the water and bacterial or viral infection," he said.
A medical team from Jaipur has collected a few carcasses, and water samples are being sent to Bhopal for examination.
Ashok Rao, a veterinary doctor and part of the team, ruled out the possibility of bird flu, saying no secretion had been found.