Move to open up HRD scholarships for more
Humanities, social sciences to be included in GATE
Move expected to boost education in these streams at the IITs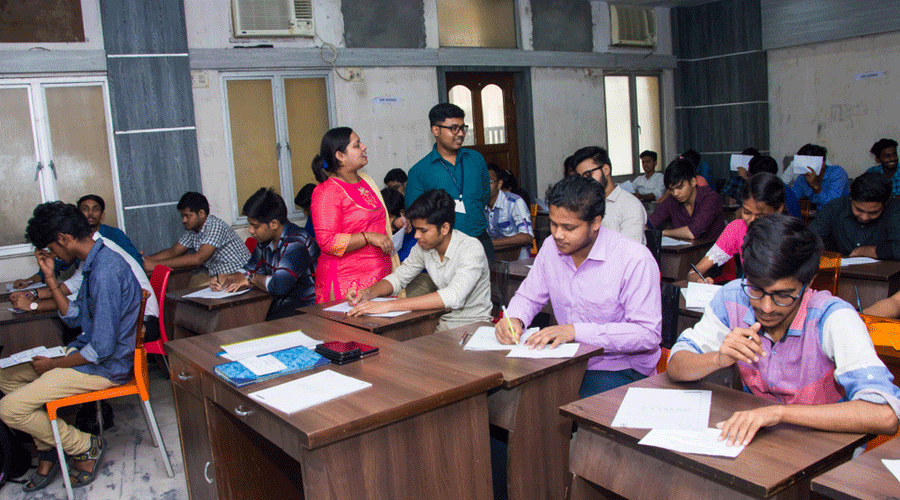 HSS students will be able to take GATE in any one of the following six subjects: economics, English literature, linguistics, sociology, psychology and philosophy.
Image used for representational purpose from Shutterstock
---
New Delhi
|
Published 27.07.20, 02:32 AM
|
---
The Graduate Aptitude Test in Engineering (GATE), the exam through which IITs and many other institutions admit students to postgraduate and research programmes, will include subjects from humanities and social sciences (HSS) and environmental studies from next year.
The move will make research scholars from these streams eligible for the monthly GATE fellowship of Rs 12,400 from the human resource development ministry. It is also expected to boost the degree and research studies in HSS at the tech schools, said Prof. Deepankar Choudhury, the organising chairperson of GATE.
Several public sector undertakings also consider the GATE score for recruitment, so HSS students will get placement benefits too, Choudhury said.
The Indian Institute of Sciences (IISc), Bangalore, and seven IITs have been conducting GATE for the past 36 years to admit students to advanced studies in 25 engineering and science streams. The newer IITs also take in students to MTech and other courses on the basis of the GATE score.
It has, however, been left to individual institutions to decide whether they want to admit students to HSS and environmental studies courses through GATE or continue with the practice of holding their own entrance exams.
HSS students will be able to take GATE in any one of the following six subjects: economics, English literature, linguistics, sociology, psychology and philosophy.
Choudhury said more subjects could be added in the future. "The introduction of these subjects will boost education in humanities and social sciences at the IITs," he said.
Choudhury said HSS departments in most IITs have been offering PhD programmes for many years while some IITs have also begun teaching master's and M.Phil courses in these disciplines recently.
"There has hardly been any pan-India single exam to facilitate admission to the master's and PhD courses in the HSS stream in the IITs. Each IIT has been holding its own admission test (to take in HSS students). GATE is not an admission-ensuring exam but only a qualifying test that can be used by IITs to select students for HSS courses. Ultimately, each IIT, NIT and other institute will take its own decisions related to admission," Choudhury said.
Students of third-year undergraduate courses from any institution will be eligible for GATE-2021. Till now, only fourth-year BTech students and final-year MSc students were allowed to apply.
Prof. Rajeev Kumar, a faculty member of computer science at Jawaharlal Nehru University (JNU), advocated a single entrance exam for HSS courses at the IITs and central universities.
"The inclusion of new disciplines under GATE will not solve the problem. Most central universities have their own entrance exams. Students have to face a lot of hardship," Kumar, a former faculty member of IIT Kharagpur, said.
He said the HSS discipline had remained more like a supporting stream at the IIT for a long time, with BTech, MTech and PhD students having the option of choosing some papers from HSS. Gradually, the IITs started offering PhD courses in the stream. In the past two decades, the IITs have also been offering master's and MPhil courses in the HSS stream.
For example, IIT Madras offers an MA course in development studies and English. IIT Guwahati offers an MA in development studies and IIT Gandhinagar has master's courses in psychology and sociology.
Prof. Choudhury said that from next year, students would have the option of taking GATE in two streams — MTech and pure science — and opt for any one during admission. However, the subjects will have to be related and in keeping with pre-set combinations.
For example, a physics honours student will be able to take the entrance exam for the electronics course, and vice versa.
Nearly 10 lakh students appear for GATE every year. The GATE score remains valid for three years.
A faculty member at IIT Guwahati said the institute conducts its own entrance exam for master's courses and no decision had yet been taken on admitting students through GATE.