Hope rides on the wings of Tagore's words
A Rabindra Jayanti programme to celebrate the triumph of life over death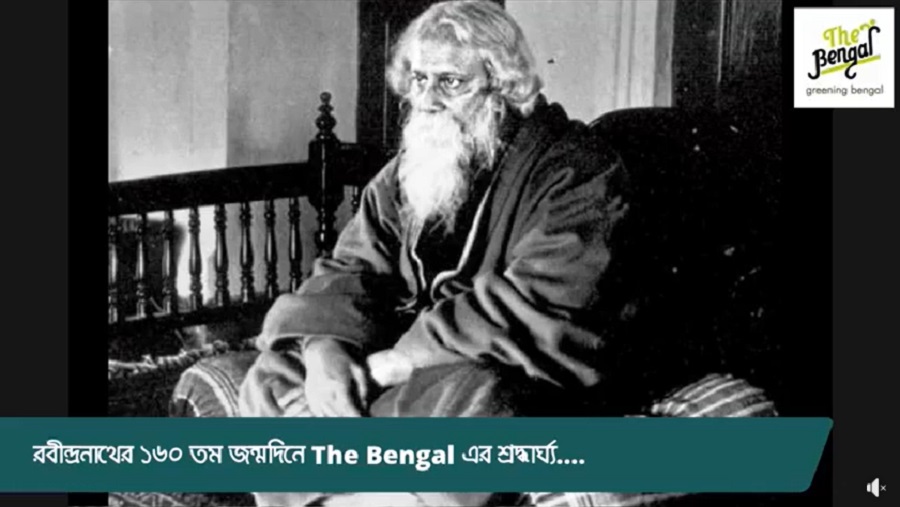 ---
---
To mark the 160th birth anniversary of Rabindranath Tagore, The Bengal, in association with Shree Cement, presented a virtual programme called "Jiboner Joygan" (Triumph of Life over Death) on their Facebook page. Anandabazar.com and The Telegraph Online were the exclusive media partners for this event.
Goutam Ghose, veteran filmmaker and working president of The Bengal, opened the proceedings with a call to follow the philosophy and the humanism of Tagore. Swarnava Roy, the moderator for the evening, then turned to poet Joy Goswami, who read out two poems by Shankha Ghosh -- whom Bengali literature lost to Covid last month -- that were a homage to the Bard. Goswami then recited one of his own poems dedicated to Tagore and the ritual of Rabindra Jayanti celebrations.
Next, professor Biswajit Roy read out a short passage from Tagore's "Ruddha Griho", celebrating life. Pranati Thakur recited poems from his anthologies. Lopamudra Mitra and Jayati Chakraborty sang Tagore songs that reflected his sense of optimism. Elocutionists Urmimala Basu and Bratati Bandyopadhyay recited poems by Tagore showcasing the triumph of light over darkness.
Ritapa Bhattacharya and Priyam Mukherjee joined the virtual meet from Santiniketan, Gurudev's abode. Rabindrasangeet exponent Adity Mohsin tuned in from Bangladesh. After all, tribute was being paid on this auspicious day to the creator of the National Anthems for both India and Bangladesh.
Veteran theatre personality Soumitra Mitra presented two pieces from Rabindranath's verse -- "Bidushak" and "Ohe ontorotomo" -- mirroring our present insecurities. Eminent stage actor Debshankar Haldar shared Tagore's letters on the relentless quest of a better world. Mohan Singh's recital of "Udiye dhoja ogrobedhi rothe" underlined the indomitable spirit of human nature. Elocutionist Sumantra Sengupta shared how Tagore's literary creations inspired freedom fighters.
Amidst the raging pandemic, the programme was hailed by viewers near and far, joining through Facebook Live, as it injected some much-needed positivity riding on the wings of Tagore's immortal words.
This is a sponsored article and curated by ABP Digital Brand Studio. The Telegraph India editorial team played no role in creating this content.