Amit Shah: Historians concentrated only on Mughal period
We are now independent — we can write our own history, says Union home minister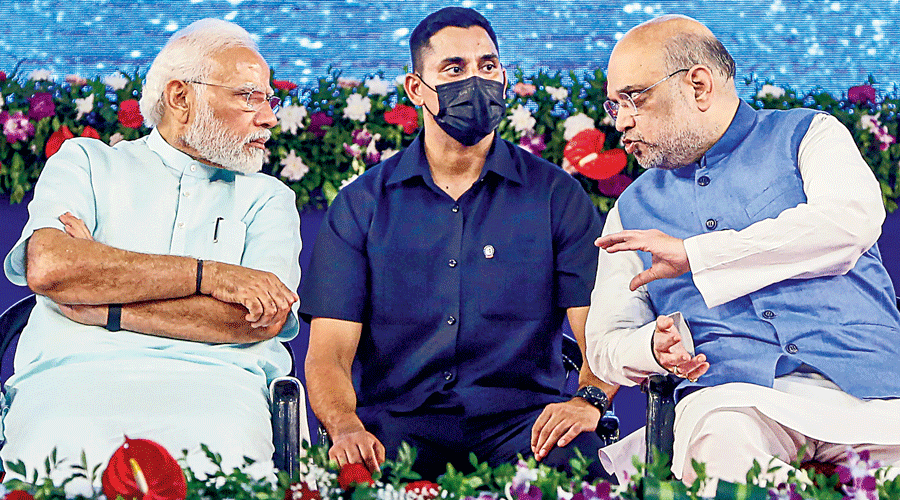 Prime Minister Narendra Modi and home minister Amit Shah at an event in Ahmedabad on Friday.
PTI photo
---
New Delhi
|
Published 11.06.22, 02:42 AM
|
---
Union home minister Amit Shah on Friday accused historians of focusing on the Mughal period and neglecting the "glorious rule" of many Hindu empires, and asked "who can stop us from writing our own history?"
Shah, speaking at the launch of a book on the Mewar kings titled Maharana: Sahastra Varshon Ka Dharmayudh (Maharana: Thousand Years' War for Dharma), spoke of the "distortion of history" but did not mention names.
"Jinhone bikrut tarike se likhna tha likha, lekin hume kaun rok sakta hai (Writers looking to distort history did so, but who can stop us)?" Shah said, paused and looked invitingly at the audience, which began clapping.
"Who is stopping us from writing our own history? We are now independent — we can write our own history," Shah went on.
"Nobody can stop us.
History is not created by governments but built on true events," he said, adding that history was a "lightning in the dark night".
The minister's comments echo a Sangh parivar allegation that Left historians have neglected the achievements of Hindu kings. The current government has been promoting a set of writers and filmmakers who are apparently "bringing out the truth".
"I want to tell something to historians. We have had many empires but historians concentrated only on the Mughals and wrote mostly about them," Shah said.
He said the Pandya empire (of southern India) ruled for 800 years and the Ahom empire ruled Assam for 650 years. "The Ahoms defeated Bakhtiyar Khalji, Aurangzeb and kept Assam sovereign," Shah said.
"The Pallava empire ruled for 600 years. The Cholas ruled for 600 years. The Mauryas ruled the whole country — from Afghanistan to Lanka — for 550 years. The Satvahanas ruled for 500 years. The Guptas ruled for 400 years, with Samudragupta envisioning a united India for the first time. But there is no reference book on them."
Shah urged writers to highlight the truth through an effort "more intense than that of those who spread lies".
He said the "battle is long" but needed to be started with full intensity to pay tribute to the sacrifices made to protect the "language, culture and religion" of the country.
He said the government too was taking initiatives in this direction but added that an "awakening" had to come from within society.
He said history was written on the basis of the outcome of an event, not on the basis of victory or defeat.