Hindi push a 'battle cry'
Kerala CM says Amit Shah's 'Hindi agenda' was a sign that the Sangh parivar was opening a new line of conflict in the country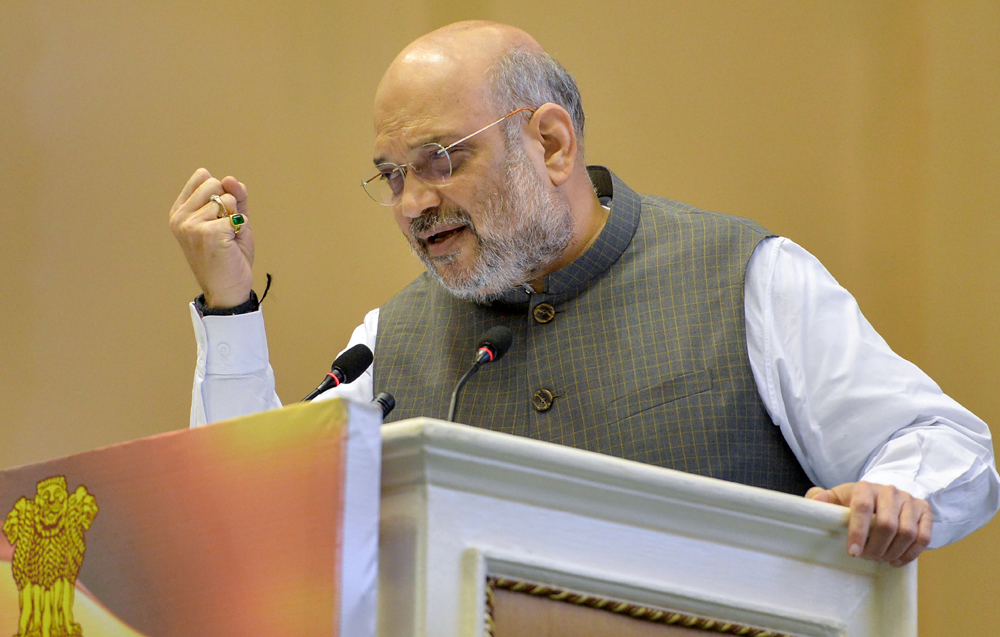 Home Minister Amit Shah at the 'Hindi Divas Samaroh' in New Delhi on Saturday, September 14, 2019.
(PTI)
---
Bangalore
|
Published 15.09.19, 08:25 PM
|
---
Kerala chief minister Pinarayi Vijayan on Sunday condemned Union home minister Amit Shah's "Hindi agenda", describing it as a sign that the Sangh parivar was opening a new line of conflict in the country.
"The claim that Hindi can unite the country is absurd," Vijayan said.
Shah had on Saturday tweeted that it was "extremely necessary to have one language for the whole country that will be India's identity" and identified Hindi as that language. His comments have triggered protests by politicians from the southern states.
"The attempt to create a row over Hindi is meant to deflect people's attention from crucial issues," Vijayan said, alluding to the economic slowdown.
"People from the southern and northeastern states do not speak Hindi. The idea of making Hindi the primary language in these regions is to sideline their languages," Vijayan wrote in a Facebook post.
"This can only be seen as a battle cry against people who love and treat their mother tongues as their own mother."
He added: "No Indian need feel inferior because he doesn't speak Hindi. India recognises different languages. The Sangh parivar should withdraw from any move that is in violation of that."
CPM state secretary Kodiyeri Balakrishnan saw Shah's comments as an RSS plan "to impose one language to break the country's rich and diverse culture".
State Congress president Mullapally Ramachandran urged BJP leaders to learn from the anti-Hindi riots that took place in Tamil Nadu in the 1960s. "The move by the Centre and the BJP to push the country into madness over language will have serious repercussions," he said.
"Their 'one nation, one language' policy is a crazy move that will affect the unity of this country. Tomorrow it will grow into 'one nation, one religion'. Then it will become 'one nation, one party'."
He warned: "This is a move towards fascism, and it will divide India. The BJP is now using the British tactic of divide and rule. This kind of extreme love for any one language has resulted in major catastrophes (across) the world."
Leader of the state Opposition Ramesh Chennithala said: "Several court judgments have said that Hindi has no special status and all languages are equal."
Congress leader Jairam Ramesh said the one-nation-one-language demand would never become a reality, PTI reported. "We may have one-nation-one-tax, but one-nation-one-language will never become a reality.… We are one nation; we are many languages…," he told an event in Bangalore.
Ramesh, who began his speech by addressing the audience in English, Kannada and Hindi, said: "I have spoken in three languages in one minute, just to give you a message."