Hemant Soren meets governor, asks to clear air on Election Commission
CM's letter urges Ramesh Bais to clear confusion prevailing in state for past three weeks over his continuation as an MLA in an office of profit case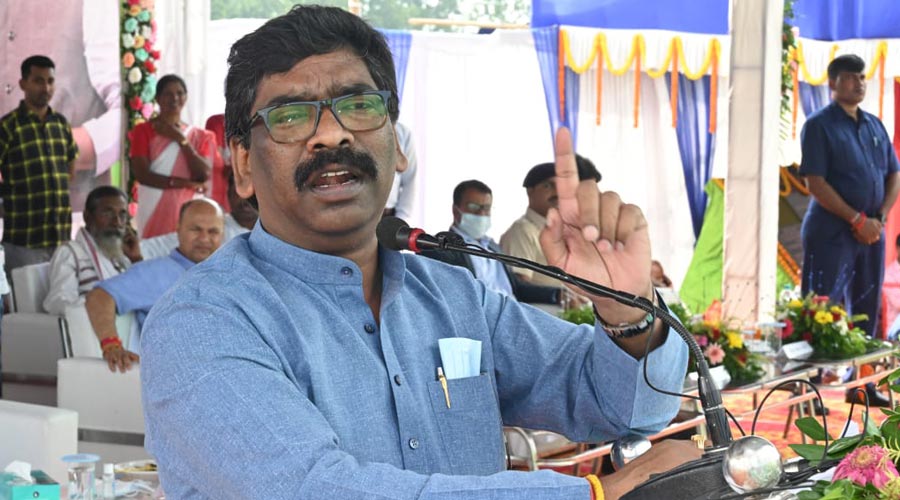 ---
Jamshedpur
|
Published 16.09.22, 01:01 AM
|
---
Jharkhand chief minister Hemant Soren on Thursday afternoon met governor Ramesh Bais at Raj Bhavan in Ranchi and submitted a letter urging for a copy of the Election Commission's opinion on the office of profit row surrounding his mining lease, besides seeking an opportunity to defend himself.
The letter urged him to clear the confusion prevailing in the state for the past three weeks over his continuation as an MLA in an office of profit case.
"Provide a copy of the decision of the Election Commission (EC) and provide an opportunity for reasonable hearing at the earliest so that the atmosphere of uncertainty, which is dangerous for healthy democracy, can be removed soon," Soren claimed in the letter.
Following a petition by the BJP seeking Soren's disqualification from the Assembly in the office of profit case, the EC sent its decision to the governor on August 25, sparking a political crisis in the state.
Though the EC's decision has not yet been made official, there were reports in media from Raj Bhavan sources that the poll panel has recommended the chief minister's disqualification as an MLA.
The letter further stated that the misguiding news spread by the BJP and the reports being filtered out through Raj Bhavan sources in the media have created a sense of confusion in the government, bureaucracy and the people as well, which is not in the interest either for the state or the people.
"The BJP is trying to use this environment of uncertainty as a weapon to grab power in an unethical way. BJP would never succeed in its intentions as his government has a two-thirds majority in the Assembly," the letter said.
"The UPA government in the State also won the trust vote in the Assembly on September 5 with huge support and the MLAs have expressed their confidence in my leadership," it added.
"I request you to provide me a copy of the opinion sent by the Election Commission in the office of profit case against me and give me an opportunity to put my points," he added.
Soren in the wake of the possible attempts of horse trading by the BJP and keeping its flock intact, shifted its MLAs to a Raipur resort on July 31.
UPA MLAs and ministers returned to Ranchi after six days of their stay at a Chhattisgarh resort by a special flight, a day ahead of the special Assembly session on September 5. In between, none of the MLAs was allowed to go home and was confined to a newly constructed Circuit House in Ranchi for another few hours till Soren won the trust vote in the Assembly on the next day.