Hemant Soren hopes to connect all districts with flight services
Jharkhand CM flags off Jamshedpur-Calcutta flight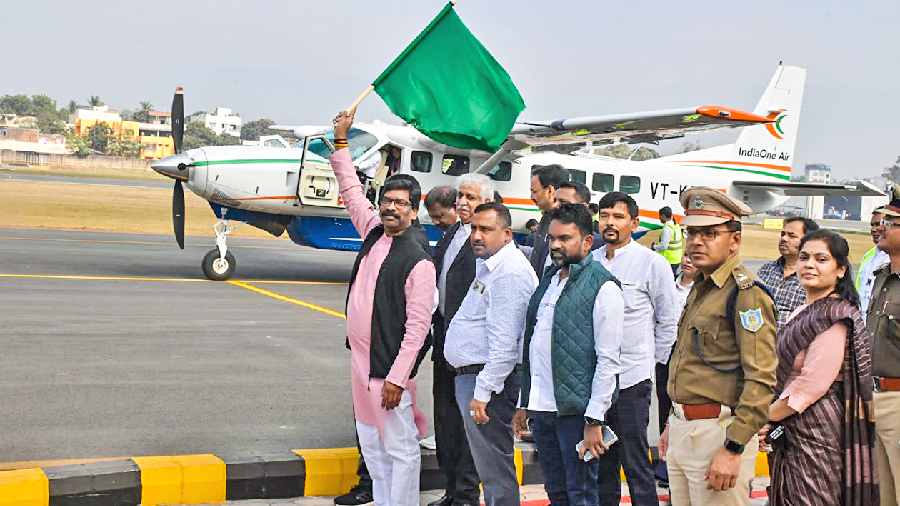 Hemant Soren flags off the Jamshedpur-Calcutta flight on Tuesday.
Bhola Prasad
---
Jamshedpur
|
Published 01.02.23, 03:15 AM
|
---
Jharkhand chief minister Hemant Soren launched the Jamshedpur-Calcutta flight service on Tuesday with the hope to connect all 24 districts with air service.
Launching the flight from Tata Steel-managed Sonari Airport in Jamshedpur, Soren said with this service, the state has three operational airports which would be further increased to five later this year.
"With this flight, we have airports functional at Ranchi, Deoghar and Jamshedpur and soon we are going to start flight service from Bokaro and Dumka. We also have a proposal for an airport at Sahebganj.
"The government is working on an action plan to facilitate air connectivity with all districts," said Soren.
According to sources in the chief minister's secretariat, flight services are likely to commence from May at Bokaro, which would cater to the coal and steel hub of Dhanbad and Bokaro and also in Dumka (in Santhal Pargana) later this year. There are also plans of starting flight service linking all these cities.
"There had long been a strong demand for air connectivity between these two cities. There had been attempts earlier but they were shortlived. We hope that this service continues and there are flight services from Jamshedpur to other cities of the country too," said Soren.
Incidentally, the nine-passenger capacity single-engine flight will start from Bhubaneshwar to reach Jamshedpur and then leave for Calcutta and similarly will depart from Calcutta touching Jamshedpur and then leave for Bhubaneshwar daily.
The Jharkhand chief minister also requested Union civil aviation minister Jyotiraditya Scindia who was present virtually for the inaugural ceremony at Delhi to clear the licence and other legal documents required for starting of the commercial pilot training centre at Dumka.
Scindia in his address said that it was a historic occasion connecting culturally rich Bhubaneswar with a city like Jamshedpur known for its industries with another cultural and literary hub of the country Calcutta through the regional connectivity scheme of the central government.
Private airline operator IndiaOne Air deputy chief executive officer wing commander Prem Kumar Garg said that on the first day, all the seats from Jamshedpur to Calcutta and in the return journey from Calcutta were booked.
From Wednesday, the flight will start from Bhubaneshwar at 6.30am and reach Jamshedpur at 7.50am and leave for Calcutta from Jamshedpur at 8.15am and reach Calcutta at 9.20am.
The flight will start at 10.10am from Calcutta and return to Jamshedpur at 11.15am and leave for Bhubaneshwar at 12.45pm and reach Odisha capital at 2.05pm.
The inaugural fare between Jamshedpur and Calcutta has been kept at Rs 1,999 and Rs 2,999 between Jamshedpur and Bhubaneshwar. Tickets can be booked online by logging on to website www. indiaoneair.com.