Health expert urges govt to resolve debate over Covid death toll
Centre questions each estimation exercise, says the numbers have emerged from extrapolation, limited datasets and unproven assumptions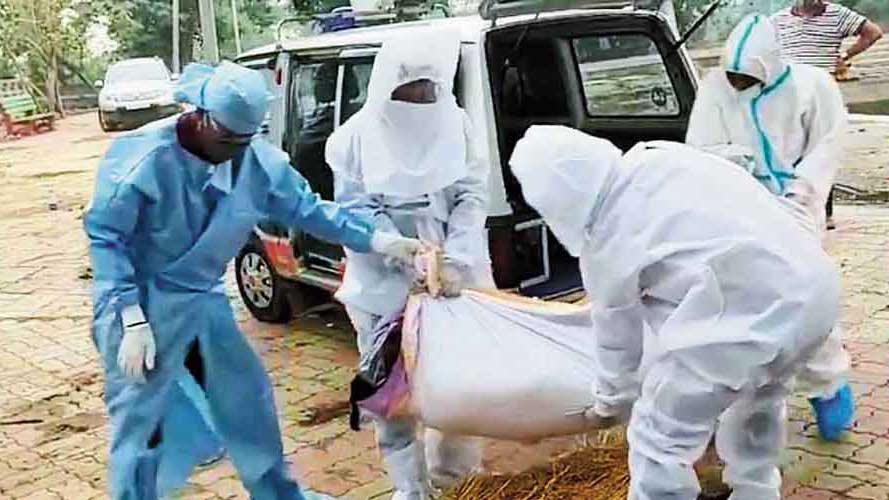 The studies — published between July 2021 and March 2022 — have estimated the country's excess deaths as ranging from 3 million to 4.9 million.
File photo
---
New Delhi
|
Published 20.04.22, 02:38 AM
|
---
A top public health expert has urged the government to help resolve the intense debate over India's Covid-19 death toll by using the population census later this year to directly count the dead over the past two years.
Prabhat Jha, professor at the Centre for Global Health, University of Toronto, Canada, who has for over 20 years worked with the Indian government to attribute causes of annual deaths, said the census questionnaire should include one additional question: "Since January 1, 2020, has there been a death in this house from any cause and, if so, age, sex and date (either week or month)."
"This single question would be the best technical, political and moral solution to the huge debate on Covid-19 deaths in India," said Jha, who is among researchers who have led independent studies to estimate excess deaths in the country over the past two years.
Those studies — published between July 2021 and March 2022 — have estimated the country's excess deaths as ranging from 3 million to 4.9 million, in line with a forthcoming World Health Organisation assessment estimating 4 million deaths. India's official count of Covid-19 deaths was 521,966 on Tuesday. The Union health ministry has questioned each estimation exercise, saying the estimates have emerged from extrapolation, limited datasets and unproven assumptions.
Jha, in communications sent to central government officials earlier this year, proposed the use of the census exercise and data from the Sample Registration System (SRS) — a nationwide survey of 1 per cent of households at random — to measure excess deaths over the past two years.
Queries from this newspaper to the health ministry and the Registrar General of India — the central agency that conducts the nationwide population census — seeking their views on Jha's proposals for direct counting of deaths have not evoked responses.
But experts say that while the census provides an opportunity to directly count the dead in households nationwide, the SRS might be the better option because of administrative issues involved in adding the question to the census questionnaire.
"The census is a massive administrative exercise that was to start in March 2021
but was delayed due to Covid-19. The questionnaires are most likely already published," said Rajesh Kumar,
a former professor of community medicine at the Post-Graduate Institute of Medical Education and Research, Chandigarh.
"But collection of mortality data through the SRS has been going on over these two years," said Kumar, who is currently co-chair of a task force that scrutinises the verbal autopsy process adopted by the SRS under which health investigators probe circumstances of deaths to attribute a cause.
The latest SRS bulletin published by the Registrar General of India dated October 2021 lists the findings of the nationwide sample survey from 2019.
"The attribution of death through the verbal autopsy is verified through a supervisor and a team of doctors — there has always been a lag in data. We should expect mortality data under Covid-19 to emerge by 2023," Kumar said.
But T. Sundararaman, a public health researcher and former professor of health systems studies at the Tata Institute of Social Sciences, Mumbai, said estimates for excess deaths should ideally emerge from "triangulation" — the use of multiple routes to arrive at a best estimate.
"Relying on one data source alone, even something relatively reliable as the census, could have its own systemic errors, and if it becomes politically contentious, the risk of falsification," Sundararaman said. "It is better to treat it as one more source of data and triangulate it with other sources to get a better understanding."
Several experts have expressed their disappointment at what they view as the health ministry's attempts to discredit efforts to estimate excess deaths in India without offering alternative estimates.
"Accumulating evidence from multiple studies on excess death estimates cannot be denied," Bhramar Mukherjee, professor of biostatistics at the University of Michigan in the US, tweeted on Monday. "If the government shares disaggregated all-cause mortality data for the nation during the pandemic, we will not need models."
India's rebuttal to the NYT article on WHO estimates is disappointing. Accumulating evidence from MULTIPLE studies on excess death estimates can not be denied. If the govt shares disaggregated all cause mortality data for the nation during the pandemic, we will not need models. https://t.co/wTfmsp8oLh

— Bhramar Mukherjee (@BhramarBioStat) April 18, 2022