Haze over Social Security Code Bill
Economists argue that one of the four funding options the labour reform suggests is particularly problematic because it seeks contributions from the beneficiary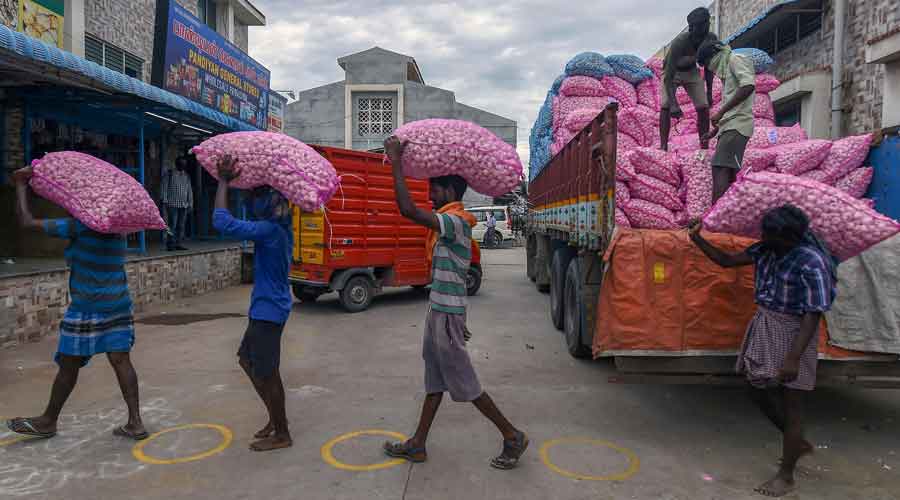 The Social Security Code Bill is one of three draft labour reform laws that were introduced in the Lok Sabha on Saturday after incorporating some of the modifications suggested by a standing committee
PTI
---
New Delhi
|
Published 22.09.20, 12:49 AM
|
---
A bill introduced last week that proposes social security measures for unorganised workers including pension, life and disability cover, and health and maternity benefits has left the issue of funding hazy, labour economists have said.
They have argued that one of the four funding options the Social Security Code Bill suggests — a multiplicity that they believe reflects government indecision — is particularly problematic because it seeks contributions from the beneficiary.
A two-year-old contributory pension scheme for unorganised workers already exists, the economists say, and has witnessed abysmal enrolment and significant payment defaults because informal workers find it difficult to pay premium regularly.
The Social Security Code Bill is one of three draft labour reform laws that were introduced in the Lok Sabha on Saturday after incorporating some of the modifications suggested by a standing committee.
It seeks to subsume nine existing laws including the Employees' Provident Funds Act and the Payment of Gratuity Act. It mandates the Centre to formulate and notify welfare schemes for unorganised workers and says the states can adopt similar measures too.
The bill stipulates the creation of a social security fund, the money coming (a) wholly from the Centre; (b) from the Centre and the states; (c) from the Centre, states and contributions from the beneficiaries or the employers; or (d) from any source including the Corporate Social Responsibility funds paid by companies.
Shyam Sundar, professor of Human Resource Management at XLRI, Xavier School of Management, Jamshedpur, said the bill's assurances about social security were unconvincing because there's "no clarity on funding".
"The bill is disappointing as the government is unable to provide a roadmap on social security," Sundar said.
Referring to the option of seeking contributions from the workers, he highlighted the problems with the Pradhan Mantri Shram Yogi Maan-dhan, a contributory pension scheme the Centre had launched in 2018 for unorganised workers.
The scheme allowed unorganised workers aged 18 to 40 to become members by paying monthly contributions between Rs 55 and Rs 200, depending on the age at which they were signing up. After turning 60, each beneficiary would be paid a monthly pension of Rs 3,000.
On Monday, labour minister Santosh Gangwar revealed, in reply to a written question in the Rajya Sabha, that the scheme had enrolled 44.44 lakh members.
Labour economist and former JNU professor Santosh Mehrotra said this was just over one per cent of India's unorganised workers, who formed 93 per cent of the country's workforce of 466 million.
Mehrotra added that India was becoming an ageing nation and the government needed to ensure universal social security coverage.
Sundar said the Shram Yogi scheme was failing to attract members because of its long gestation period and because unorganised workers feel unsure about paying regular contributions.