Bureaucrats write to Mark Zuckerberg for audit on FB hate speech policy
Noting that Facebook removed those hate messages on August 17 after the WSJ expose, they said this was a clear indication that the platform itself considered these posts offensive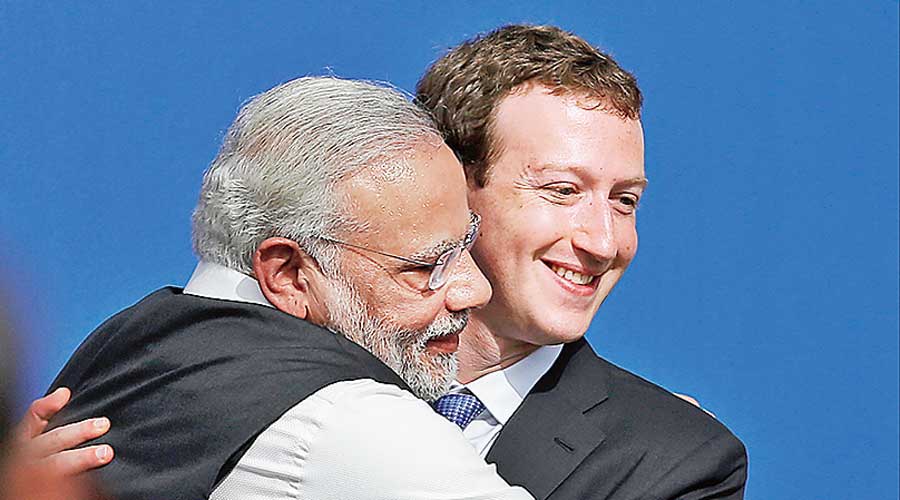 Modi with Zuckerberg in the US in September 2015.
AP
---
New Delhi
|
Published 25.08.20, 01:57 AM
|
---
Over 50 retired senior bureaucrats have written an open letter to Facebook founder Mark Zuckerberg demanding an audit of the company's hate speech policy in India, asserting that to blame the algorithms of artificial intelligence for some hate messages remaining on the platform is to evade corporate responsibility.
Writing in the wake of The Wall Street Journal (WSJ) report on Facebook India policy head opposing the application of the company's hate speech rules to posts by members of the BJP as it could impact business prospects, the retired bureaucrats said: "We are writing to you in the expectation that you will make serious efforts to audit the implementation of Facebook's hate speech policy in India and, while such an audit is under way, ensure that the present Public Policy Head of Facebook, India, is not in a position to influence the investigations."
Further, they said: "We also fervently hope that in future, you will not let your company's business prospects stand in the way of implementing your own policy against hate speech and posts which can lead to hate crimes. This is a sure way of demonising minorities and inflicting violence upon them while undermining the democratic and secular basis of the Indian Constitution."
Noting that Facebook removed those hate messages on August 17 after the WSJ expose, they said this was a clear indication that the platform itself considered these posts offensive. Addressing Zuckerberg in person, they said it cannot be that he is not familiar with the fact that religious unrest has become a serious problem in India, citing the fear created by the new citizenship laws, cow vigilantism, and Delhi riots.
Stating that many of the hate crimes and cases of vigilantism were instigated through hate messages spread over Facebook and WhatsApp — both of which are part of the same company — they expressed disappointment that still the company failed to implement its own policy of discouraging hate speech in India or has implemented it in a clearly "partisan" manner.
"That this seems to have been done to protect Facebook's commercial interests is even more reprehensible. We note that such behaviour on Facebook's part has become a subject of debate in other countries as well. Commercial interests at the cost of human lives? If these are the crass calculations Facebook indulges in, it is no surprise that the calculus of hate is spreading like a virus in many parts of the world. To blame the algorithms of artificial intelligence is both to evade corporate responsibility and to deny the human agency involved in the framing of those very algorithms."
The signatories to the letter are all bureaucrats who retired from some of the senior-most offices in the government; mostly at secretary level.