Gujarat Congress turns out in strength for Rahul Gandhi
Party sends out signal: President or not, Wayanad MP is the leader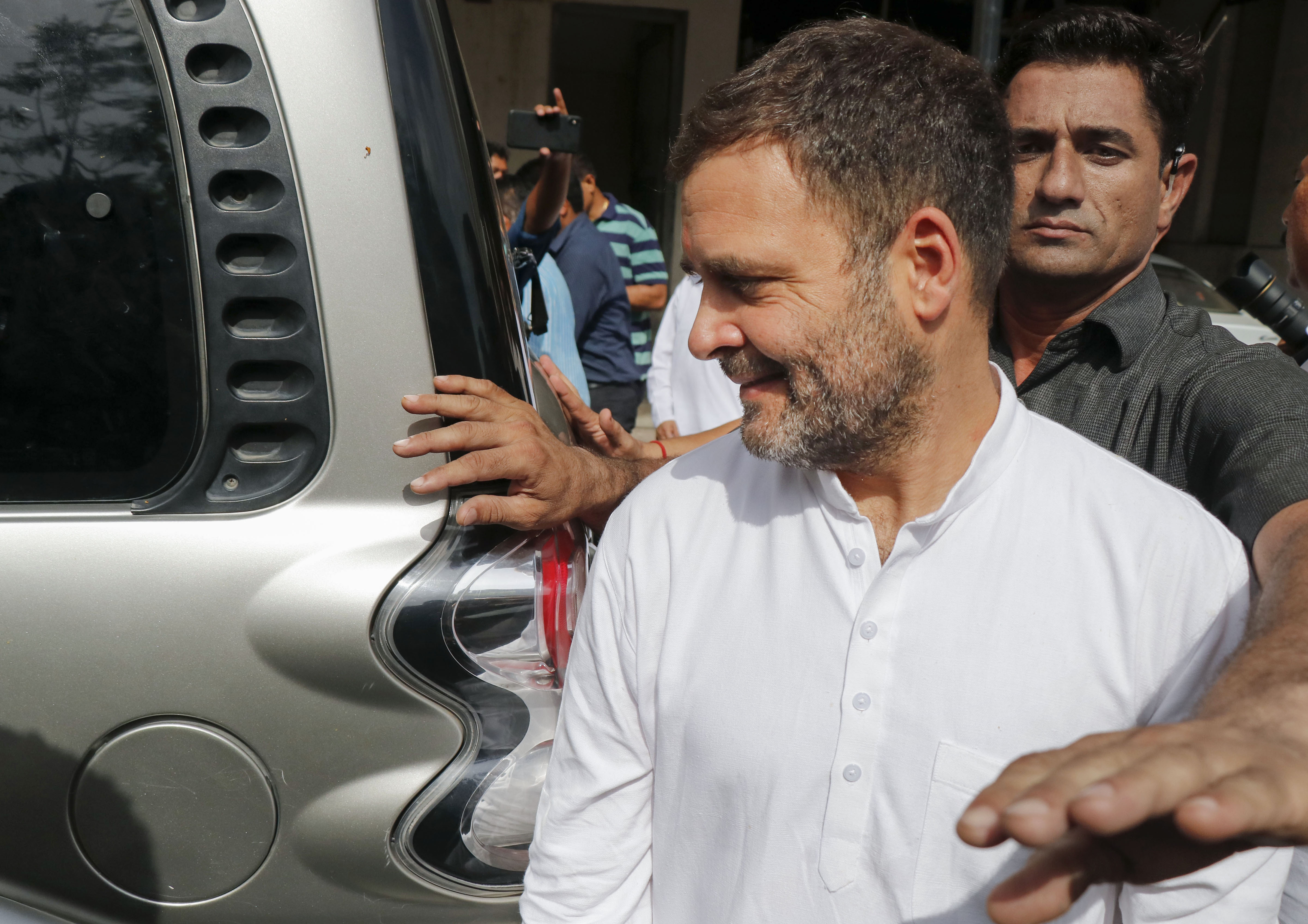 ---
---
The entire Gujarat leadership of the Congress turned out to receive Rahul Gandhi at Ahmedabad airport on Friday, when he arrived to attend court in yet another defamation case, signalling that he remains the party's supreme leader although he has resigned as president.

All the senior leaders accompanied him to the Ahmedabad metropolitan court. In the Congress, equations are known to change so ruthlessly that P.V. Narasimha Rao and Sitaram Kesri had to fight their legal battles alone when they were no longer party presidents.
But workers and leaders are agreed that the new party president will play a supporting role, managing the organisation, while Rahul leads the political fightback.
In Mumbai and Patna, where Rahul had gone to attend court earlier, he had received a similar welcome from the state units. While party workers lined along the route to the courts, all senior leaders made it a point to receive him at the airport.
In Ahmedabad on Friday, party chief Amit Chavda and state in-charge Rajiv Satav were present along with Ahmed Patel, Arjun Modhwadia, Shaktisinh Gohil, Madhusudan Mistry, Sidharth Patel, Paresh Dhanani and Hardik Patel. The state unit also ran a social media campaign under the hashtag #WeAreWithYouForever.
The defamation suit against Rahul filed by the Ahmedabad District Cooperative Bank and its chairman, Ajay Patel, alleged that Congress leaders had levelled "false and defamatory allegations" against the bank.
It said they had claimed the bank was involved in a scam to swap Rs 750 crore in demonetised notes for valid currency within five days of the note ban decision in 2016. Union home minister Amit Shah is one of the bank's directors.
Rahul was granted bail by the court on a bond of Rs 15,000 and the matter was posted for hearing on September 7. When the metropolitan court judge asked if he accepted his crime, Rahul said: "I am not a criminal."
He had tweeted earlier in the day: "I'm in Ahmedabad today, to appear in another case filed against me by my political opponents in the RSS/BJP. I thank them for providing me with these platforms and opportunities to take my ideological battle against them to the public. Satyameva Jayate."
He told journalists in Ahmedabad: "There are attempts to suppress, to frighten me. It makes no difference to me. I am not scared. I will continue to fight. It is a fight for the Constitution, for the country's future, against corruption, against injustice. This fight will continue."
Rahul also spoke on the Karnataka political turmoil for the first time, saying: "The BJP is using money to bring down governments in the states. We have to accept this fact. They have been doing that and we saw that in the Northeast as well."
He has over two dozen cases to attend in different parts of the country. While he was already facing trial in a case for linking the RSS to Mahatma Gandhi's assassination, the others relate to his political attacks during the general election campaign.