Sonia, Pawar, Mamata, Hemant write to President
Govt must free activists jailed in Bhima Koregaon case, demand Opposition leaders
Ten senior politicians write to President Ram Nath Kovind day after Stan Swamy dies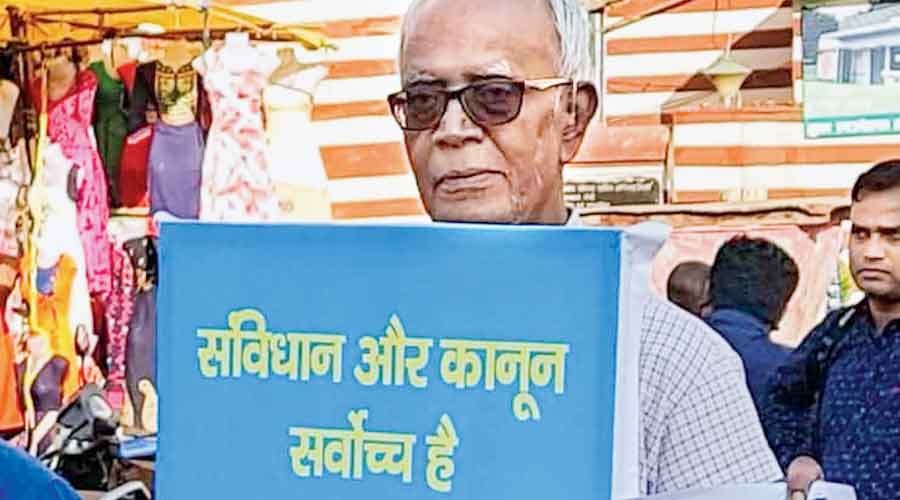 ---
New Delhi
|
Published 06.07.21, 06:41 PM
|
---
Senior Opposition leaders including Congress president Sonia Gandhi, Nationalist Congress Party chief Sharad Pawar, TMC supremo Mamata Banerjee and National Conference leader Farooq Abdullah on Tuesday wrote to President Ram Nath Kovind seeking the release of all activists arrested in the 2017 Elgaar Parishad case, a day after Father Stan Swamy passed away awaiting his bail in the same case.
"We are urging your immediate intervention as the President of India to direct 'your government' to act against those responsible for foisting false cases on him, his continued detention in jail and inhuman treatment. They must be held accountable. It is now incumbent that all those jailed in the Bhima Koregaon case and other detenues under politically motivated cases, misusing draconian laws like UAPA, sedition etc be released forthwith," the letter, as quoted by ndtv.com, reads.
Father Stan Swamy, severely ill and at 84 the eldest prisoner in a case accusing rights activists of Maoist links, passed away in a Mumbai hospital on Monday while waiting for bail.
The announcement of the Parkinson's patient's death came during his bail hearing in Bombay High Court.
"We the undersigned leaders of major opposition parties are writing to you in deep anguish expressing our intense grief and outrage at the death of Father Stan Swamy under custody," the letter signed by ten oOpposition leaders read.
Opposition leaders write to Prez urging his intervention to hold accountable those responsible for detention and death of Stan Swamy @DeccanHerald pic.twitter.com/UthHGVMuas

— Shemin (@shemin_joy) July 6, 2021
Apart from the four leaders, MK Stalin, Hemant Soren, HD Deve Gowda, Tejaswi Yadav, D Raja and Sitaram Yechury also signed the letter.
Stanislaus Lourduswamy was among 16 people arrested in the Elgaar Parishad case, an investigation into alleged Maoist links to an Ambedkarite event on December 31, 2017, that was followed by caste clashes the next day that claimed one life.
The case expanded into a purge of "urban Naxals", a term used by the Hindutva Right to describe academics, writers, lawyers and activists like Fr Stan who are accused of clandestinely working for the banned CPI Maoist. The case was transferred from Maharashtra police to the National Investigation Agency (NIA) soon after the BJP lost power in the western state.
In May, Fr Stan had told the high court he would rather die in jail than go to the state government-run Sir Jamsetjee Jeejebhoy Hospital again.
"I would rather suffer, possibly die very shortly if this were to go on. I would prefer this than be admitted to the J.J. Hospital.... One thing that I would request the judiciary is to consider for interim bail…. Whatever happens to me, I would like to be with my own," he had said.
"When I came to Taloja (prison), whole systems of my body were very functional, but during these eight months there has been a steady but slow regression of whatever my body functions were. Eight months ago, I would eat by myself, do some writing, walk, but all these are disappearing one after another."
The Jesuit's health had continued to deteriorate in jail after his arrest in Ranchi in October last year. He lost his hearing, fell down several times in prison, and developed spinal problems and severe abdomen pain. However, he received little sympathy from the authorities.
Parkinson's Disease having left him unable to hold a glass of water, Swamy had had to move court last November for the use of a straw and sipper in Navi Mumbai's Taloja Central Prison.
After the court gave the NIA 20 days to reply, the agency formally denied having seized the drinking apparatus Swamy had brought with him from Ranchi, shifting the scrutiny to the state authorities. Following this, the state government-run prison, which is responsible for the upkeep of all its inmates, sold a baby sipper to Swamy.
Just before his arrest last year, Fr Stan had said in a video: "What is happening to me is not something unique happening to me alone. It is a broader process that is taking place all over the country.
"We are all aware how prominent intellectuals, lawyers, writers, poets, activists, students, leaders, they are all put into jail because they have expressed their dissent or raised questions about the ruling powers of India. We are part of the process. In a way I am happy to be part of this process. I am not a silent spectator, but part of the game, and ready to pay the price whatever be it."
Fr Stan had denied any knowledge of the purported pieces of communication with Maoists that the NIA had, during his interrogation, claimed were from his computer.