Government's two faces on minorities
New Delhi also expressed its concern at such incidents in an official note to Islamabad's foreign office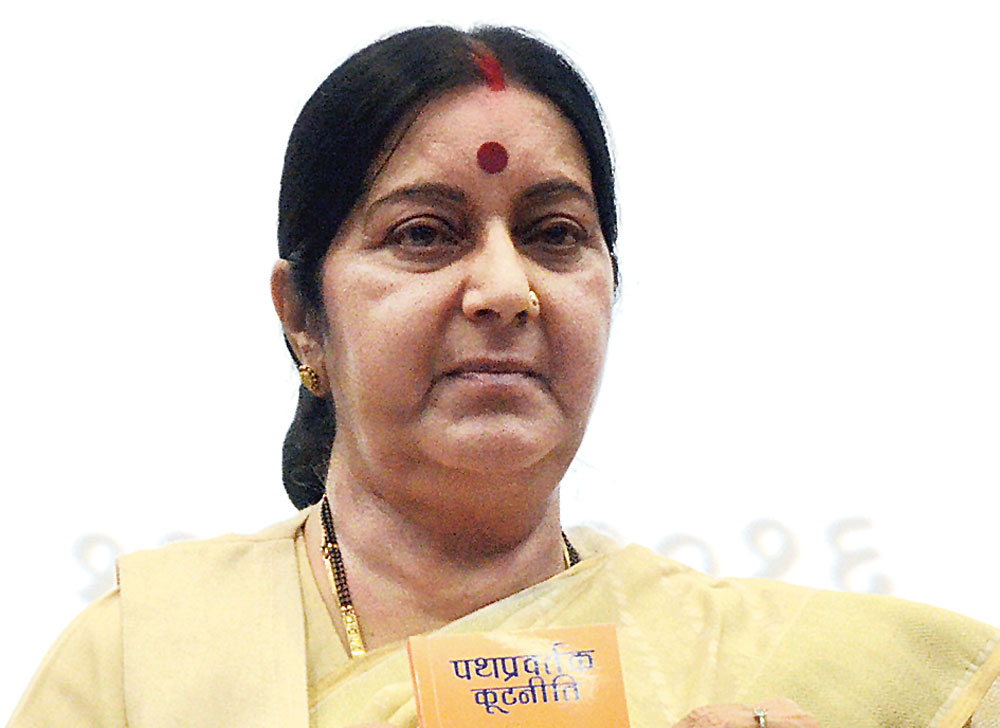 Sushma Swaraj
File picture by Ramakant Kushwaha
---
New Delhi
|
Published 24.03.19, 08:54 PM
|
---
Foreign minister Sushma Swaraj on Sunday tweeted she had sought a report on the abduction and forcible conversion of two minor Hindu girls in Pakistan, the public avowal throwing into relief the Narendra Modi government's habitual silence on attacks on minorities in India, most recently a Muslim household in Gurgaon.
"I have asked Indian High Commissioner in Pakistan to send a report on this,'' Swaraj posted in the morning, citing a newspaper report on the Holi-eve incident at Dharki town in Ghotki district of Sindh.
New Delhi also expressed its concern at such incidents in an official note to Islamabad's foreign office on Sunday, seeking action to protect and promote the safety, security and welfare of Pakistan's own citizens, especially the minorities.
India has periodically raised with Islamabad the subject of the treatment of minorities in Pakistan, but has always treaded carefully for fear of jeopardising their lot further.
Just as Muslims in India are forced to carry the baggage of being identified with Pakistan because of their religion, Hindus in Pakistan are often called "Indians".
Even when the subject of the forcible conversion and marriage of Hindu girls reached Pakistan's Supreme Court in 2012 (Rinkle Kumari case), India had raised the issue through diplomatic channels without commenting too openly on it, except in Parliament in response to a question.
Under the Simla Agreement of 1972, both countries have a policy of non-interference in each other's internal affairs. Any comment from Pakistan on the state of minorities in India has always nettled New Delhi.
Pakistan has in recent times made several such references, a few of which came from Prime Minister Imran Khan. India has rejected the charges, accusing Pakistan of hypocrisy and citing how not just minorities but also the smaller sects of Islam have come under attack in the neighbouring country.
On Sunday, Pakistani information minister Fawad Chaudhry once again referred to the state of minorities in India in response to Sushma's tweet.
"Mam its Pakistin (sic) internal issue and rest assure its not Modi's India where minorities are subjugated its Imran Khan's Naya Pak where white color of our flag is equally dearer to us. I hope you ll act with same diligence when it comes to rights of Indian Minorities," he tweeted.
This set off another exchange, Sushma tweeting back: "Mr Minister — I only asked for a report from Indian High Commissioner in Islamabad about the kidnapping and forced conversion of two minor Hindu girls to Islam. This was enough to make you jittery. This only shows your guilty conscience."
Sushma's initial tweet had already had the desired impact on her constituency, having been immediately welcomed by members of the Right-wing ecosystem.
But some social media users also reminded her of what had happened on Holi just outside the national capital in a state ruled by her party.
For, till then, not one BJP leader or minister had said a word on the video clip showing people barging into a Muslim household in Gurgaon, Haryana, and beating up its members, not sparing even the women.
Gurgaon police have ruled out a communal angle, saying it was a fight over cricket. But the victims have said they were told to "go to Pakistan and play".
This isn't the first time that the Modi government has chosen to maintain a studied silence on attacks on minorities or socially disadvantaged communities in India.
When it has spoken, it has usually done so after several days and its comments have tended to be tangential. Whenever such matters have been raised in Parliament, the government's stock reply has been that law and order is a state issue.