Imran's party does what Modi won't
Several politicians have survived under PM Modi's watch despite making outrageous statements against minorities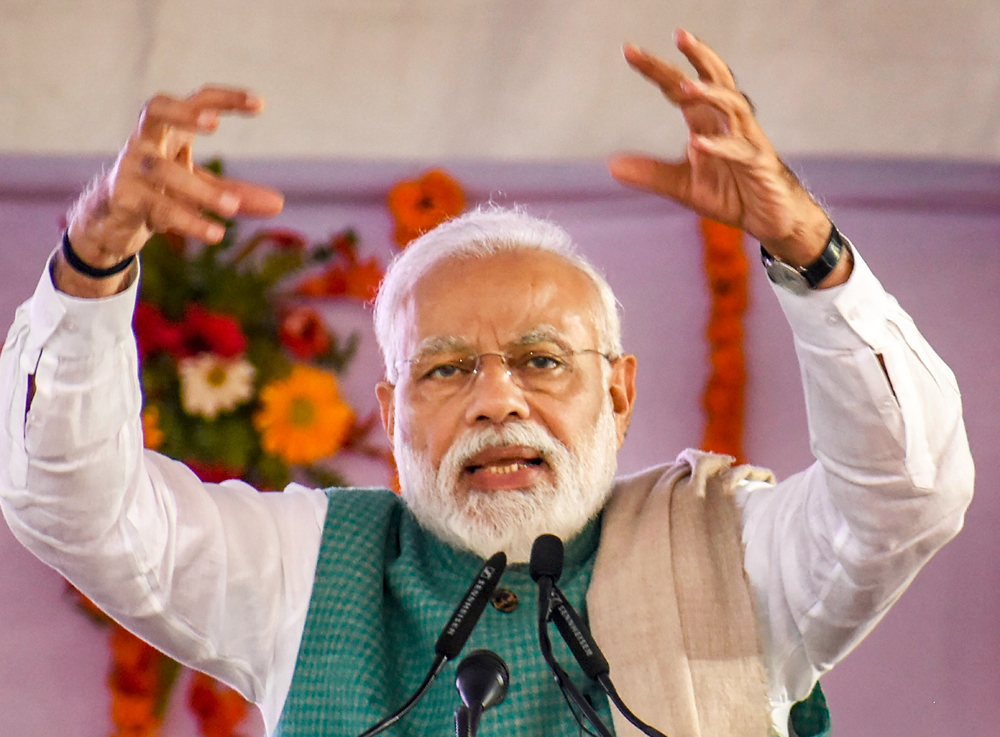 Narendra Modi addresses a rally to launch a Kalashnikov rifle manufacturing facility in Amethi Sunday, March 3, 2019.
PTI
---
New Delhi
|
Published 05.03.19, 09:37 PM
|
---
A minister seeks to denigrate a minority community by making an obnoxious remark about its purported dietary habit. The video goes viral a week later, a domestic uproar follows and within a matter of days, the ruling party forces him to apologise and resign.
Another feather in New India's democratic crown?
Far from it. The right action has taken place in the "wrong" country — Pakistan, of all places.
Pakistani Punjab information and culture minister Fayyazul Hassan Chohan was forced to resign on Tuesday over the crude remark targeted at Hindus. Chohan had sought to put a spin to it by saying he meant the Hindus in India, not in Pakistan, but it did not help him save his skin even in the prevailing climate.
Chohan belongs to the party of Prime Minister Imran Khan who has been piling up brownie points on the public relations front.
"Bashing someone's faith should not be a part of any narrative. Tolerance is the first and foremost pillar on which Pakistan was built," the Pakistan Tehreek-e-Insaf tweeted.
Unwittingly or otherwise, the swift crackdown on the minister has swivelled the spotlight to a glaring contrast in India.
Several ministers and politicians have survived under Prime Minister Narendra Modi's watch despite making outrageous statements against the minorities in India.
Former Jammu and Kashmir chief minister Omar Abdullah tweeted: "In Pakistan, a state minister is sacked for his remarks against Hindus. In India, a state governor isn't even reprimanded for his public call to boycott & ostracise all Kashmiri Muslims. We like to compare ourselves to Pakistan, so compare this fact as well."
"His comments were repugnant. But at least he got sacked. Here ministers garland lynchers and the more anti-Muslim and communal you are, the higher your rise will be in terms of status and power," Mehbooba Mufti, another former chief minister, tweeted.
While Tripura governor Tathagata Roy supported a call to boycott Kashmiris, other government functionaries who have spoken against minorities or sided with people accused of lynching include Union ministers Jayant Sinha, Sadhvi Niranjan Jyoti and Mahesh Sharma. All of them remain ministers till date.
Hindus are Pakistan's largest minority. They constitute about 1.8 per cent of Pakistan's population, and have faced forced conversions, especially of girls.
However, in this particular instance, those in power in Pakistan also spoke up.
Pakistan human rights minister Shireen Mazari tweeted: "Absolutely condemn this. No one has the right to attack anyone else's religion. Our Hindu citizens have given sacrifices for their country. Our PM's message is always of tolerance & respect & we cannot condone any form of bigotry or spread of religious hatred."
Finance minister Asad Umar wrote on the micro-blogging site: "Hindus of Pakistan are as much a part of the fabric of the nation as I am. Remember the flag of Pakistan is not just green... it's not complete without the white which represents the minorities."