Golfer Jyoti Randhawa looks at New Year in jail
His bail petition cannot be heard as courts are closed for winter vacation till December 31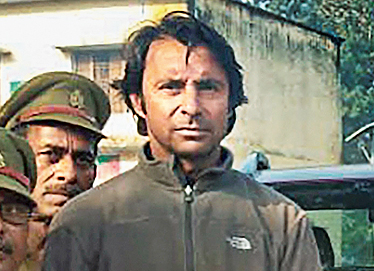 Jyoti Randhawa after his arrest.
(PTI)
---
Lucknow
|
Published 28.12.18, 10:29 PM
|
---
Golfer Jyoti Randhawa will miss the New Year celebrations as he will be in prison at least till January 2, following his arrest on poaching charges on Wednesday and 14 day's judicial remand.
His bail petition cannot be heard before then because the courts have closed for the winter vacation till December 31, and it's a longstanding practice for lawyers in Bahraich not to attend court on the first day of the year.
Nor can Randhawa seek relief in the interim from the high court, which will reopen on January 4 after the winter vacation.
Randhawa and friend Mahesh Virajdar, a former navy captain, were arrested from the Motipur range of the Katarniaghat Forest Sanctuary, a part of the Dudhwa Tiger Reserve that stretches across the Bahraich and Lakhimpur Kheri districts of eastern Uttar Pradesh.
Forest officials have said that a .22-bore rifle, 60 cartridges, an animal hide — possibly of a sambar killed 10 to 12 days earlier — and two dead jungle fowls were found in the golfer's SUV.
Jail superintendent A.N. Tripathi said Randhawa and Virajdar were being served the usual meal of porridge, jaggery and tea in the morning and chapatti, rice, vegetables and dal in the afternoon and evening. There are seven more inmates in Barrack No. 10C, where they have been lodged.
Randhawa often visits Kharia village near the sanctuary to look after his father Ranjeet Singh Randhawa's 95-acre farmhouse.
Ranjeet, a retired army brigadier, arrived in Bahraich on Thursday and met his son in jail. He declined to talk to the media but sources said he had told a district official that his son was jogging in the forest and Virajdar was following him in the SUV.
"He said Randhawa jogged every morning and that he had not committed any crime," an official told reporters.
Randhawa and Virajdar face several charges under the forest and wildlife acts, such as committing prohibited acts in a forest, possessing banned properties, causing destruction in a wildlife sanctuary, entering a sanctuary with a weapon, carrying banned and injurious substances, dealing in animal trophies and animal articles without licence, and the unauthorised purchase of captive animals.
They could be jailed for up to six years if convicted, according to Satrohan Lal, the Motipur ranger-in-charge who had intercepted the SUV.
"During interrogation at the Motipur range office, the golfer kept saying he would present his side of the story in court," Lal said.
Lal has accused Randhawa of "hinting", after he was intercepted, that he was ready to pay a bribe to be let off.