Fear over emergence of new variants
Global policy must weigh risks of adopting booster doses: Doctor
K. Srinath Reddy said if the practice of administering a third dose became established in vaccine-rich countries, it could aggravate shortages for other nations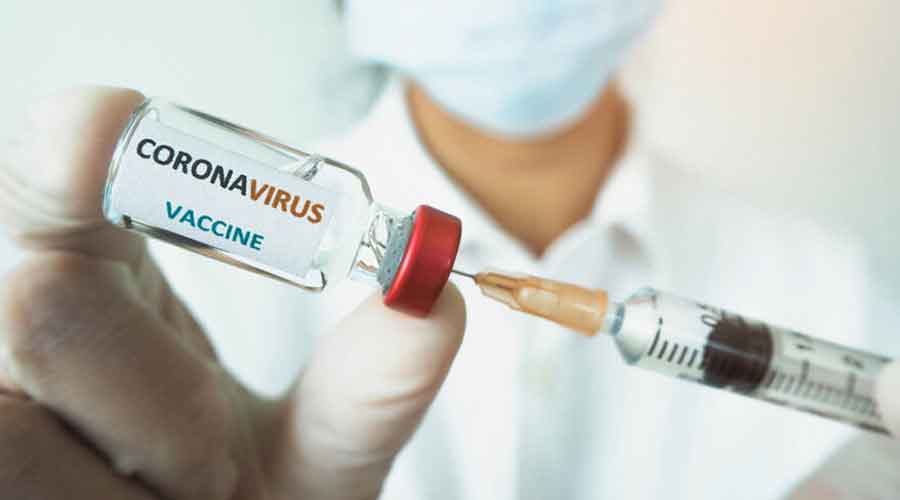 India's Covid-19 vaccination policy is aimed at fully inoculating all adults before any decision on booster doses.
Shutterstock
---
New Delhi
|
Published 31.10.21, 03:08 AM
|
---
Any moves now to offer a third Covid-19 vaccine dose to all people 12 years or older amid vaccine inequity across countries could generate conditions for the emergence of new variants and fresh waves, an Indian public health expert has cautioned.
K. Srinath Reddy, president of the Public Health Foundation of India and member of the Lancet Covid-19 Commission India Task Force, said if the practice of administering a third dose became established in vaccine-rich countries, it could aggravate shortages for other nations.
In this scenario, he said, under-vaccinated populations could generate conditions for the emergence of new variants — not only more infectious, but also with greater immune escape potential — that could trigger fresh waves of infection even in vaccine-rich countries.
"That is not the kind of natural experiment the world would like to see," Reddy said in a commentary on Friday in The Lancet, a medical journal. "Global policy must weigh the risks of adopting booster doses ad libitum across the world at this stage of the pandemic."
His commentary comes amid moves by European and US regulators to recommend booster doses to specific groups of people. The European Medicines Agency recommended earlier this month booster doses for people with severely weakened immune systems.
The US Food and Drug Administration has approved boosters to individuals 65 years or older and those between 18 and 64 either at high risk of severe Covid-19 or with institutional or occupational exposure that puts them at high risk of serious complications of Covid-19 or serious Covid-19.
India's Covid-19 vaccination policy is aimed at fully inoculating all adults before any decision on booster doses. About 734 million (78 per cent) of the country's estimated 944 million adults have received one dose and 330 million (34 per cent) have got both.
Proponents of booster doses have cited studies showing declining antibody levels and real-life evidence of protection against breakthrough infections in Israel. But, Reddy said, there is no consensus yet in any geographical region on when, for whom and for which vaccines a booster dose is needed at present.
The Israel study had reported around 85 per cent reduction in Covid-19 hospitalisation, 76 per cent decrease in severe disease and 94 per cent decline in deaths when the three-dose recipients were compared with those who had got two.
But Reddy said such real-world assessments need to take into account the influence of "confounding variables" or other factors — such as behavioural or biological attributes — that could also determine the outcome of exposure to the virus.
He said booster doses might also bring safety concerns, citing reports from Israel of cases of myocarditis and pericarditis — heart complications — as rare events after receiving mRNA Covid-19 vaccines.
"Concerns exist regarding vaccine-induced thrombotic thromobocytopenia (a blood clotting disorder) in younger recipients of virus vector vaccines," Reddy also said, citing a very rare adverse effect associated with vaccines such as Covishield. "We await data on the safety of third-dose boosters with different vaccines."
Active cases lowest in 247 days
With 12,830 people testing positive for coronavirus infection in a day, India's total tally of COVID-19 cases rose to 3,42,73,300, while the active cases declined to 1,59,272, the lowest in 247 days, according to the Union Health Ministry data updated on Sunday.

The death toll climbed to 4,58,186 with 446 fresh fatalities, according to the data updated at 8 am.

The daily rise in new coronavirus infections has been below 20,000 for 23 straight days and less than 50,000 daily new cases have been reported for 126 consecutive days now.

The active cases comprise 0.46 per cent of the total infections, the lowest since March 2020, while the national COVID-19 recovery rate was recorded at 98.20 per cent, the ministry said.

A decline of 2,283 cases has been recorded in the active COVID-19 caseload in a span of 24 hours.