Gauri Lankesh's associate arrested
Doddipalya Narasimha Murthy is the secretary of the Gauri Media Trust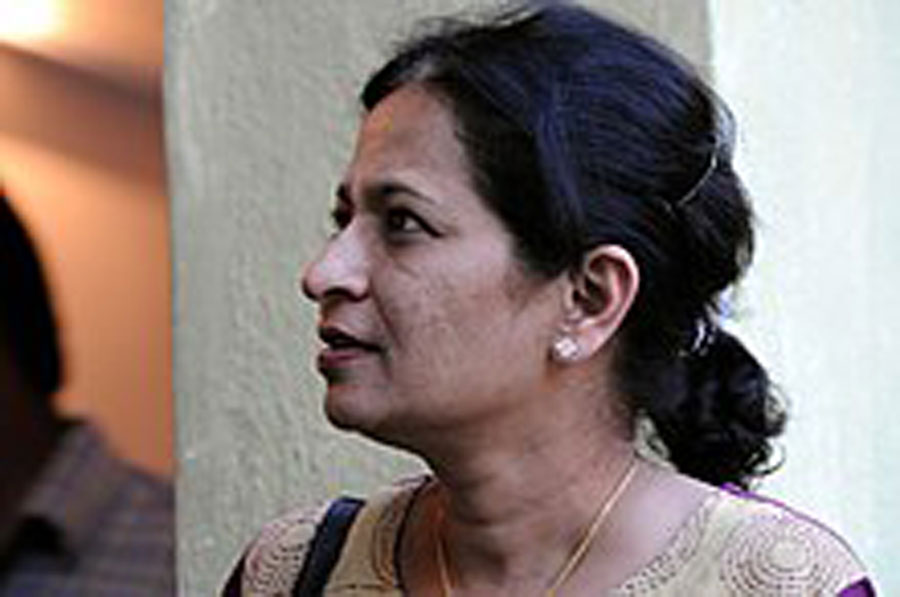 Gauri Lankesh, the slain journalist
(Wikimedia)
---
Bangalore
|
Published 29.10.19, 09:13 PM
|
---
An activist and a close associate of slain journalist Gauri Lankesh has been arrested in Karnataka on charges that include sedition and attempt to murder.
Doddipalya Narasimha Murthy, the state general secretary of Swaraj India headed by Yogendra Yadav, is the secretary of the Gauri Media Trust formed after the journalist was shot dead in 2017. The arrested activist also publishes Nyaya Patha, a Kannada weekly, in place of Gauri Lankesh Patrike.
Murthy was arrested on October 24 while he was at a seminar on alternative media in Raichur in north Karnataka. But word of the arrest spread only on Tuesday. He has since been remanded in judicial custody until November 6.
Police in Raichur said that Murthy was arrested over cases that dated back to 1994, or 25 years ago. The BJP is in power in Karnataka now.
Raichur superintendent of police C.B. Vedamurthy told reporters that Murthy was a wanted man. "There were several arrest warrants against him all these years," he said.
The officer did not speak further but a police source in Raichur said Murthy was linked to a "Far-Left group" and had participated in rioting and an attack on a police station in 1991.
Murthy allegedly changed his name from Vinod to Basavaraj and then to his present name to escape arrest. All these charges were rubbished by his supporters.
His associate Shivasundar told The Telegraph that Murthy's arrest was based on mistaken identity and he was not involved in any of the cases that the police had foisted on him.
"Raichur police had booked cases in 1994 and 2001 against a man named Anand alias Narasimha Murthy. But the man in custody doesn't have a nickname like Anand and he was not involved in any of the specified crimes," said Shivasundar, a well-known columnist and associate of Gauri.
Raichur police said the cases were indeed against Murthy. The Yapaldinni police station in Raichur rural had booked a case in 1994 under the Arms Act, IPC sections 120 B for criminal conspiracy, 307 for attempt to murder, 147 for rioting and 148 for rioting with arms.
The same police station registered another case in 2001 under several sections of the Indian Explosives Act, IPC sections 124 A for sedition, 307 for attempt to murder, 143 for unlawful assembly, 147 for rioting, 335 for assault and 385 for extortion.
Two more similar cases were registered in Raichur a few years later.
"He is a journalist and ran small businesses, and not known for any of the criminal acts he is charged with," said Shivasundar.
The arrest was condemned by more than 900 of his supporters, including freedom fighter H.S. Doreswamy, national president of Swaraj India, and Yadav among others.
"He has been residing in Bangalore for 25 years and has participated in several protests and worked as a journalist. This is an attack by the state government and police," said a letter by his supporters.