Full house at Rahul lunch for envoys
The luncheon interaction hosted by the Congress's foreign affairs department was hailed as a success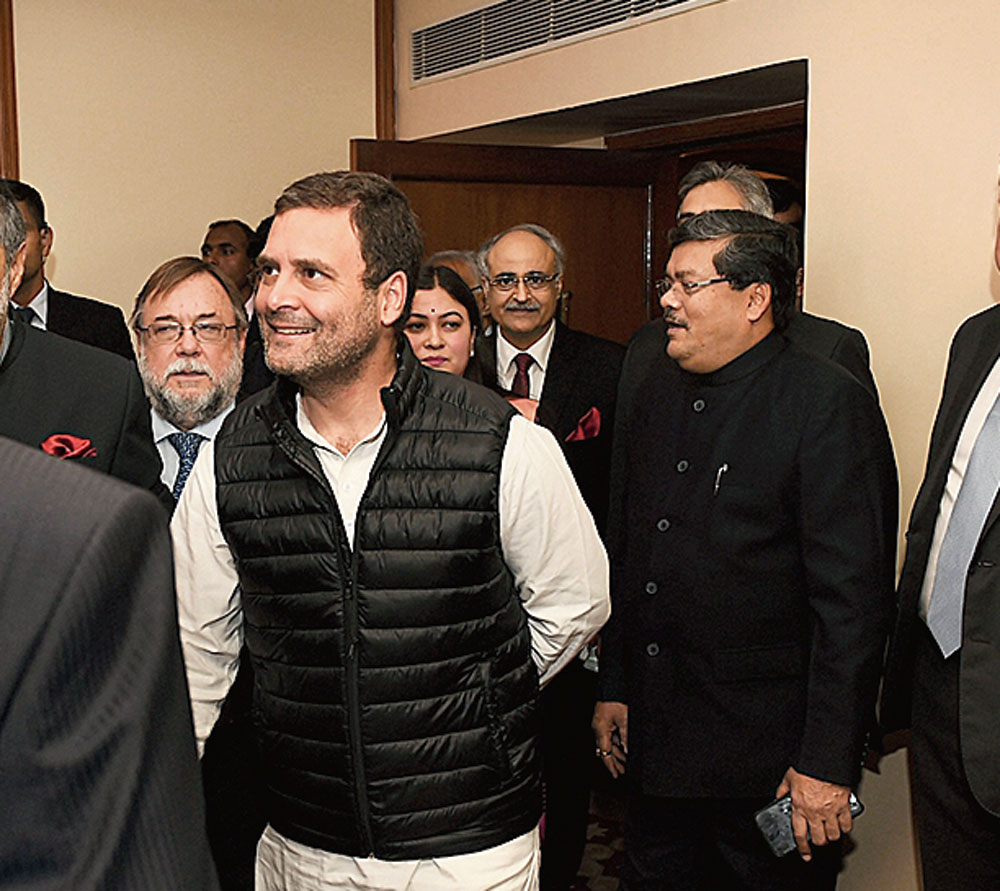 ---
---
Congress president Rahul Gandhi on Wednesday met diplomats from G20 nations and neighbouring countries barring Pakistan to explain the party's foreign policy and his own global outlook.
The luncheon interaction hosted by the Congress's foreign affairs department was hailed as a success both in terms of substance and optics as diplomats from the global powers and other key countries attended an Opposition leader's meeting in the surcharged atmosphere in the aftermath of the Pulwama terror attack and the subsequent air strikes inside Pakistan.
The interaction had initially been scheduled for February 15 but was deferred because of the Pulwama massacre.
In the days that have followed the massacre, the Prime Minister and the BJP have demanded complete loyalty to the government and condemned any kind of questioning as "anti-national".
The Congress has not only questioned the political exploitation of war hysteria but also demanded registration of a criminal investigation against Narendra Modi.
Diplomats and high commissioners of all the G20 members attended the meeting: US, Russia, China, France, Germany, Britain, Argentina, Australia, Brazil, Canada, the European Union, Indonesia, Italy, Japan, Mexico, Saudi Arabia, South Africa, South Korea and Turkey. Among the neighbours, while Pakistan was not invited, diplomats from Bangladesh, Afghanistan, Sri Lanka, Nepal and Bhutan were present.
The ambassadors of Brunei, the Dominican Republic and Romania, who head the regional groups of Asean, GRULAC and Europe, also attended the meet.
Rahul had the company of Congress veterans at the session: Former Prime Minister Manmohan Singh, UPA chairperson Sonia Gandhi and ex-Union ministers Ghulam Nabi Azad, Anand Sharma, Manish Tewari and Mukul Wasnik.
Former national security adviser Shiv Shankar Menon, ex-Indian ambassador to the US and Germany Meera Shankar, former Indian high commissioner to Pakistan Sharat Sabharwal and ex-high commissioner to Bangladesh Pinak Ranjan Chakravarty were also present at the meeting.
The Congress president tweeted later: "We discussed a wide range of issues & are united in our fight against the scourge of terrorism. I enjoyed the exchange of perspectives & ideas & look forward to continuing our dialogue."
While matters related to geo-politics, trade agreements and economic liberalisation were discussed, Rahul explained the fundamentals of the Congress's foreign policy.
Although there was no discussion on Pakistan, the question of terror did crop up as Rahul explained this was not a partisan issue and reiterated India's collective resolve to deal with the challenge. He mentioned how the Congress was standing with the government in the fight against terror.
The diplomats refused to divulge details of the conversation, referring only to the "interesting interaction" and sumptuous lunch.
The chairman of the Congress foreign department, former commerce minister Anand Sharma, described the event as successful and said "meaningful discussions took place over almost three hours".
Wednesday's interaction in the run-up to the Lok Sabha elections was also intended at sending out the message to key players that Rahul was ready for a bigger role.