Fuel price hike row halts House again
Lok Sabha and Rajya Sabha witnessed loud protests, forcing repeated adjournments as presiding officers refused Opposition's demand to suspend the session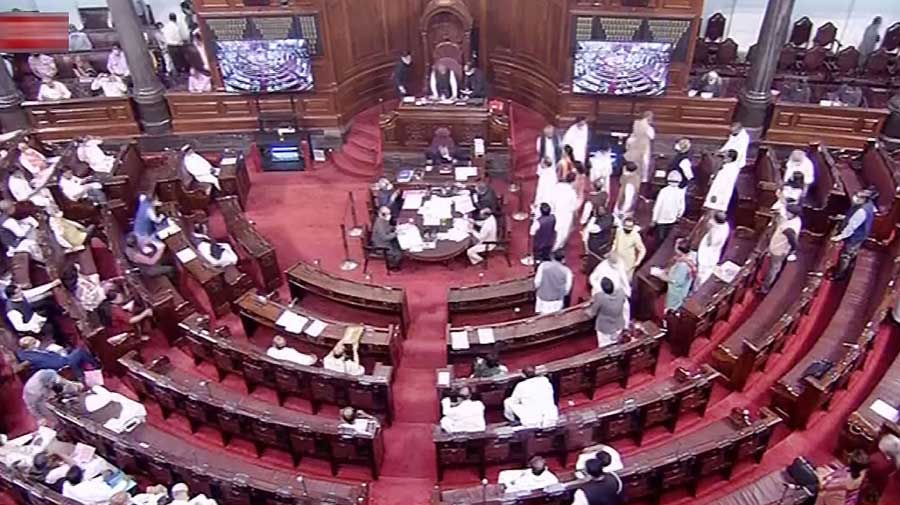 Opposition leaders protest in Rajya Sabha during the Budget Session of Parliament in New Delhi on Tuesday.
PTI
---
New Delhi
|
Published 10.03.21, 01:11 AM
|
---
The Opposition on Tuesday stalled Parliament proceedings for the second day in a row to protest against rising fuel prices, demanding an immediate discussion. 
Both the Lok Sabha and the Rajya Sabha witnessed loud protests, forcing repeated adjournments as the presiding officers refused the Opposition's demand to suspend the scheduled House businesses of the day and discuss fuel prices first.
Lok Sabha Speaker Om Birla conducted Question Hour for sometime in the din but gave up and adjourned the House as the Opposition, mostly Congress members, raised anti-government slogans and demanded reduction in fuel prices. 
As the Lok Sabha assembled for the day at 11am, Congress House leader Adhir Chowdhury complained to the Speaker about "digital discrimination", claiming Lok Sabha TV cameras don't show what the Opposition says. 
Birla objected, saying: "Do you want to show to the people of this country the uproar and placards?" 
Adhir replied: "We don't wave placards.… Parliament is not only for the government." 
Parliamentary affairs minister Pralhad Joshi intervened and asked whether the Opposition wanted the ruckus it created to be shown on TV. 
After taking up a couple of questions related to the agriculture and fisheries sector, Birla adjourned the House till noon. Post-noon the Lok Sabha was adjourned till 2pm and then for the day as the Opposition refused to call off their protest.
Similar scenes were witnessed in the upper House too. Four notices were given on Tuesday for suspension of business to discuss the fuel price hike. Deputy chairman Harivansh said the chairman had already ruled on the issue a day earlier and the decision could not be revisited. The House was adjourned within 20 minutes of the first hour. 
Efforts to take up Question Hour also proved futile as the Opposition continued to demand a separate discussion on fuel prices.