Freedom fighter HS Doreswamy dies at 103
The Gandhian took a plunge into the freedom struggle by taking part in the Quit India movement and was jailed for 14 months from 1943 to 1944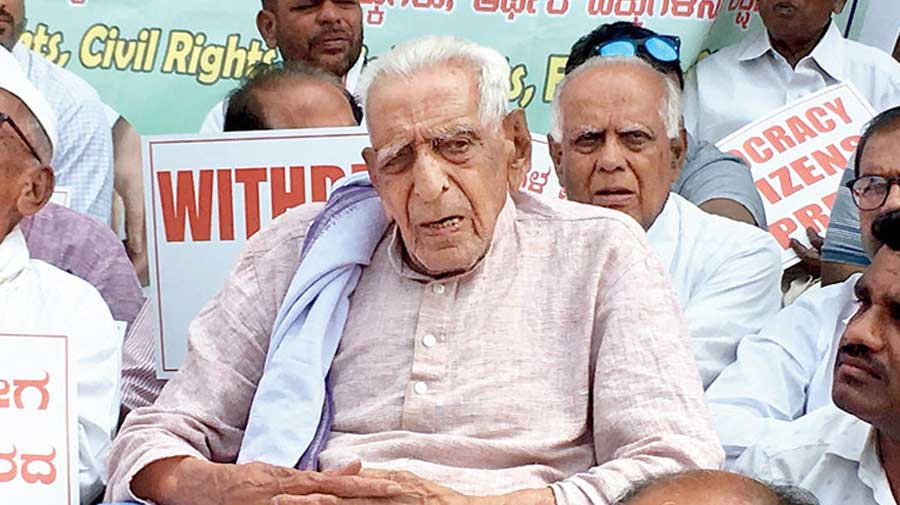 ---
Bangalore
|
Published 27.05.21, 01:16 AM
|
---
Gandhian and freedom fighter H.S. Doreswamy passed away on Wednesday after a cardiac arrest at the Jayadeva Institute of Cardiovascular Diseases, family sources said. He was 103.
"He died of a heart attack at around 1.40pm at the Jayadeva Hospital," his close confidant Sirimane Nagaraj told PTI.
According to him, Doreswamy had contracted Covid on May 8 and was admitted to the Jayadeva Institute for treatment and was discharged on May 13.
"However, on May 14, Doreswamy complained of severe weakness. So he was again admitted to the hospital and was there till he breathed his last," Nagaraj said. 
He added that the centenarian had asthma and was undergoing treatment for a lungs-related ailment. 
Doreswamy is survived by a son and a daughter. 
Born on April 10, 1918, Harohalli Srinivasaiah Doreswamy joined the freedom struggle by taking part in the Quit India movement and was jailed for 14 months from 1943 to 1944.
The Gandhian had also participated in the Mysore Chalo movement to compel the Mysore Maharaja to accede to the Indian State post-Independence.
A bachelor of science from the Central College, Bangalore, Doreswamy joined the teaching profession and tried his hand at journalism by bringing out a newspaper called Pauravani.
He was jailed for four months during the Emergency after he sent a letter to the then Prime Minister Indira Gandhi threatening to launch an agitation against her.
Age did not diminish the spirit of Doreswamy and he remained a social activist till his last breath. He had taken part in various agitations till the Covid-19 pandemic broke out.
The freedom fighter had taken up the battle against the mining mafia in Karnataka till he ended their dominance. He had taken up the struggle to rid the government land in the clutches of land-grabbers.