Free-speech boot on hold, praise for Kerala CM
The face-saving decision came two days after the governor had cleared the ordinance that inserted a Section 118A into the Kerala Police Act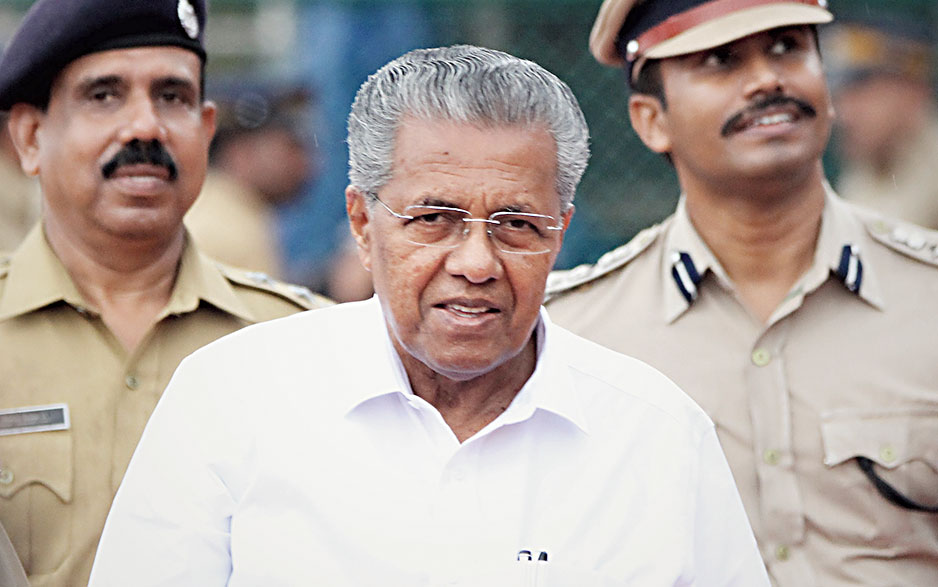 ---
Bangalore
|
Published 24.11.20, 02:01 AM
|
---
The Kerala government on Monday put on hold a new penal provision against "publishing or disseminating" offensive content after it provoked a backlash, with even Left supporters condemning the legislation as a curb on free speech.
The face-saving decision came two days after the governor had cleared the ordinance that inserted a Section 118A into the Kerala Police Act, prescribing up to three years' jail "for making, expressing, publishing or disseminating any matter which is threatening, abusive, humiliating or defamatory".
A day after defending the provision, chief minister Pinarayi Vijayan announced  on Monday morning that its implementation was being stalled taking into account "varying opinions that emerged soon after the amendment was approved".
"Those who support (the ruling) LDF (Left Democratic Front) and those who take a stand on protecting democracy expressed concern at this. In such circumstances, we don't intend to implement the amendment," Vijayan said in a statement.
One of the harshest critics of the ordinance, senior lawyer Prashant Bhushan, lauded Vijayan, saying: "Glad to hear this @vijayanpinarayi. It is gratifying to learn that there are still some CMs who are sensitive to independent public opinion."
Vijayan's statement came shortly after CPM general secretary Sitaram Yechury told reporters in Delhi that the party had "proposed" to the Kerala government that it reconsider the ordinance.
"The party had proposed (reconsideration) and the state government will now decide how to go about it. How it will be handled is the business of the government, not the party," Yechury said.
Vijayan issued his statement after a CPM secretariat meeting had discussed the matter. He said further action would be taken after a discussion in the Assembly.
While the state cabinet had on October 21 decided to bring in a penal provision against those engaging in character assassination or misogyny on social media, the scope of Section 118A was more sweeping.
Its reference to "whoever makes, expresses or publishes or disseminates through any kind of mode of communication, any matter or subject for threatening, abusing, humiliating or defaming a person or class of persons..." made it applicable to the mainstream media too. It prescribed a jail term of up to three years with or without a fine of Rs 10,000.
Around the time Vijayan was announcing the freeze on the provision, Opposition politicians, activists and NGOs were filing petitions before Kerala High Court asking that the section be quashed as unconstitutional.
N.K. Premachandran, Shibu Baby John and A.A. Aziz of the Revolutionary Socialist Party, which is part of the Congress-led alliance in Kerala, moved a joint petition. Among the other petitioners were state BJP president K. Surendran, a Kochi resident named Nandini Praveen and lawyer Anoop Kumaran.
Kumaran's lawyer Prashanth Sugathan, legal director of Software Freedom Law Centre -- an NGO that works for rights in the digital space -- said he wanted the ordinance struck down, not just held in abeyance.
"There are sufficient provisions with adequate safeguards in the Indian Penal Code and the IT Act to take care of all the offences mentioned in the ordinance," he told The Telegraph. "It is dangerous to have a new penal provision with no safeguards."
An early example of how Section 118A could be leveraged had come hours before Vijayan's announcement on Monday, with a local leader of the Indian Union Muslim League, a Congress ally, lodging a police complaint under the provision.
The complainant alleged that some pro-Left Facebook pages were engaged in the character assassination of Muslim Youth League general secretary P.K. Firos. But Firos and senior League leaders quickly asked the party leader to withdraw his complaint.