Form high level panel for strategy to tackle crimes against women: DCW to MHA
This heinous incident on the night of New Year again raises serious concerns over the functioning of Police in the Capital, says Swati Maliwal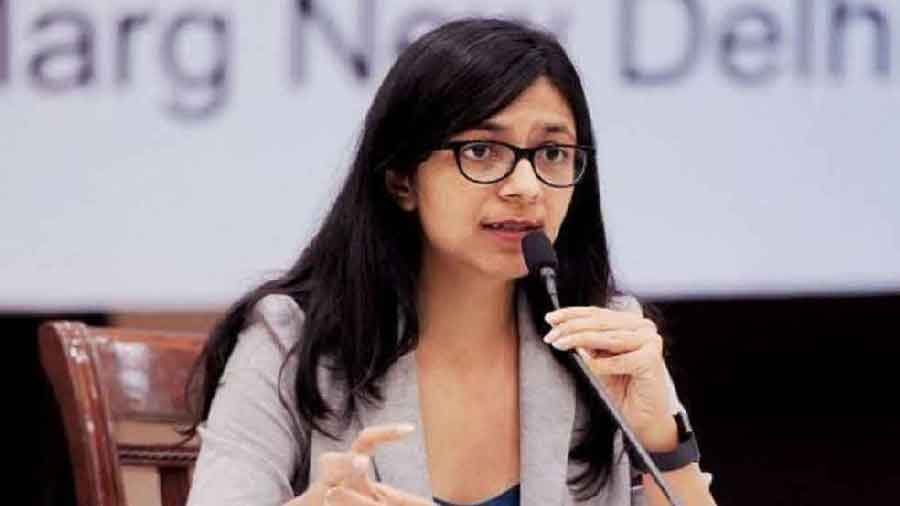 DCW chief Swati Maliwal
File picture
---
New Delhi
|
Published 03.01.23, 02:43 PM
|
---
The Delhi Commission for Women has written to the Union home secretary in the wake of a woman being killed after beng dragged under a car, suggesting that a high-level committee be formed for a coordinated strategy to tackle crimes against women.
In her letter to Union Home Secretary Ajay Bhalla on Tuesday, DCW chief Swati Maliwal recommended that the panel be chaired by the Union home minister and include Delhi's lieutenant governor, chief minister and the police commissioner.
It should meet once a month and "create a coordinated strategy for tackling crimes against women and girls in the capital", Maliwal said.
The 20-year-old was killed after her scooter was hit by a car. She was dragged by the car for 12 kilometers and her body was found in Kanjhawala area.  
"This heinous incident on the night of New Year again raises serious concerns over the functioning of Police in the Capital," Maliwal said.
She said India would be hosting the G20 summit this year and the government must take urgent steps to improve law and order in the capital.
Maliwal recalled the 2012 Nirbhaya gang rape and murder and said nothing much had changed since. On an average, Delhi continues to witness over six rapes daily. Even an eight-month-old child and a 90-year-old woman have been brutally raped in the capital, she said.  Lack of police resources and accountability are the major reasons for high crime rate against women and girls in Delhi, she said.
The proposed high-level panel, she recommended, should take urgent steps to increase the accountability of Delhi Police and sensitise its officers.  "The Home Ministry must set up an example in the Kanjhawala case by taking action against those police officers who failed in protecting the woman while she was being dragged for 12 kms on the streets of Delhi," the letter said.
It also suggested an increase in human resources in Delhi Police.  Presently, due to shortage of resources, Delhi Police personnel are made to work long hours and handle hundreds of cases, Maliwal pointed out. Delhi Police demanded 66,000 additional police personnel 20 years but this has still not been provided to them, she said.
The DCW chief also recommended an increase in the strength of women police staff, who form just nine per cent of the police force.   "Through media reports, it has been learnt that in the Kanjhawala case, eye witnesses made several calls to the emergency helpline number of Delhi Police, but allegedly no PCR van reached the spot for several hours. It is recommended that the PCR unit of Delhi Police should be strengthened so that it is equipped to deal with emergency situations," the letter said. PTI SLB    MIN MIN