For Delhi polls, BJP turns Akalis around
Akali Dal leader Sukhbir Singh Badal said the alliance with the saffron party was 'emotional'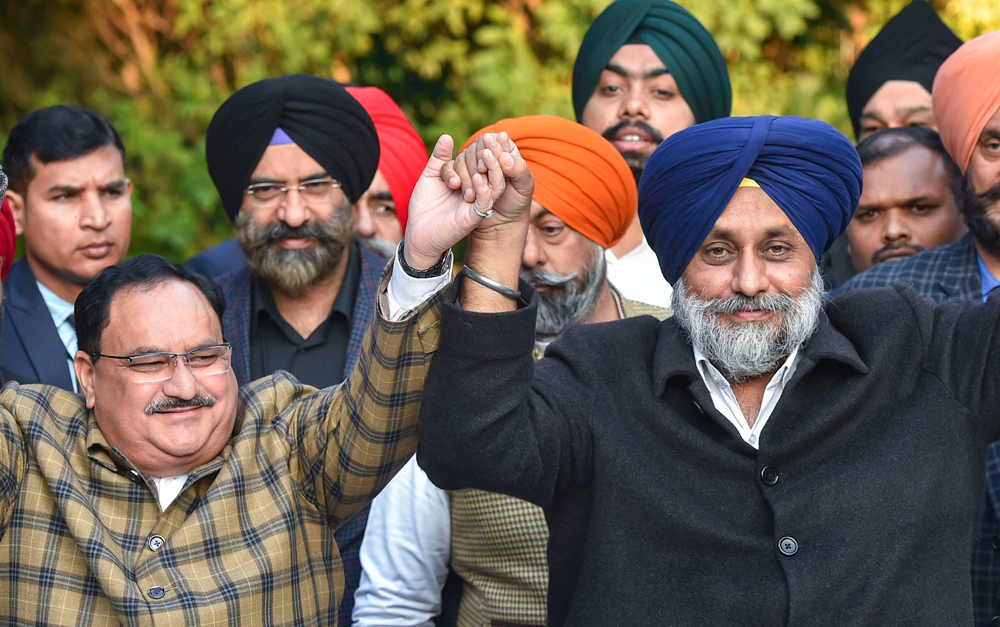 ---
---
The BJP on Wednesday managed to woo the Shiromani Akali Dal and secure its backing for the Delhi Assembly polls, days after the ally announced it would not contest the elections in protest against exclusion of Muslims from the Citizenship Amendment Act.
With BJP president J.P. Nadda by his side, Akali Dal leader Sukhbir Singh Badal heaped praise on Prime Minister Narendra Modi and said the alliance with the saffron party was "emotional".
"There were some misunderstandings and a communication gap but they have been sorted out. The SAD will extend its full support to the BJP in the polls," Sukhbir announced.
Sukhbir skirted a direct reply on the party's stand over the exclusion of Muslims from the CAA. "The Akali Dal had always supported the CAA since it allows Sikhs persecuted in Pakistan and Afghanistan to get citizenship of India. We have always been raising this issue," he said, asked about the party's stand against the CAA and the demand that Muslims be included in the law.
On January 20, the Akali Dal had announced its decision not to contest the Delhi polls in alliance with the BJP, saying it had been asked to change the stand on the CAA, which the party refused.
"The nation can't be divided over religion. We will prefer to not contest the polls than change our stand. The National Register of Citizens should also not be introduced either," Delhi Akali Dal leader Manjinder Singh Sirsa had said.
The SAD had been contesting the Delhi polls in alliance with the BJP. The Akali Dal supported the citizenship bill in both Houses of Parliament but expressed differences as well, saying it wanted Muslims also included in the CAA.