Flood situation grim in south Bihar
Small and big rivers flowing in the state swelled following heavy rainfall in Jharkhand and Madhya Pradesh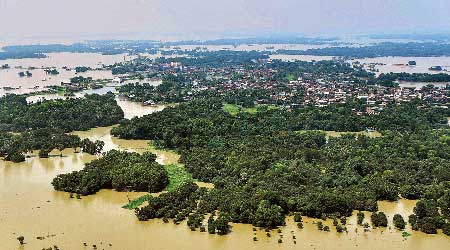 The deluge has affected parts of Patna, Jehanabad, Nalanda, Gaya, Aurangabad and Rohtas districts
File picture
---
Patna
|
Published 03.08.21, 12:50 AM
|
---
Several districts in south Bihar have been affected by floods as small and big rivers flowing in the state swelled following heavy rainfall in Jharkhand and Madhya Pradesh.
The deluge has affected parts of Patna, Jehanabad, Nalanda, Gaya, Aurangabad and Rohtas districts. Floodwaters are causing damage of crops and household belongings. Embankments and roads have also been damaged at several places.
"What we are seeing is the outcome of very heavy rains in Jharkhand on July 30 and 31. It led to much water flowing into the rivers in the southern parts of Bihar. Around 74,000 cusecs were released from the Uderasthan barrage into the Falgu river on Saturday night, topping its highest flood level by around 70cm. The water has spilled over and spread to parts of Nalanda and Patna districts," chief engineer (flood control and drainage), water resources, Shailendra, told The Telegraph.
Similarly, the water of the Punpun and Morhar rivers spilled over their embankments around Masaurhi in Patna on Sunday night.
"Water is still spreading in parts of Patna district. We are trying to contain the deluge. The destruction due to floods is widespread," Shailendra added.
Panic prevailed as floodwaters spread across four blocks of Patna district — Dhanarua, Fatuha, Daniyawan and Masaurhi — affecting agricultural fields and homes.
Several smaller rivers are also in spate and have spilled their banks. The floodwaters damaged embankments at several places, and also cut off road links between dozens of panchayats.
"Water entered our village suddenly and its level started increasing. We realised that floods have come. Everybody rushed to save their household goods and food grains. We are just hoping that the situation does not worsen," said Sundari Devi, a resident of Berwa village in Patna district.
High volume of water was being released into the Sone river from the Indrapuri barrage, though the flow has reduced from 3.35 lakh cusecs on Sunday to 2.26 lakh cusecs on Monday.
The Ganga, which acts as the master basin for almost all the rivers in Bihar, was in spate, though flowing below the danger level. This has slowed down the flow of the Sone, Punpun and other rivers into the Ganga, worsening the situation.