Five poll-bound states record rise in new Covid-19 infections
The Election Commission and the Union health ministry have not discussed any ban on large rallies yet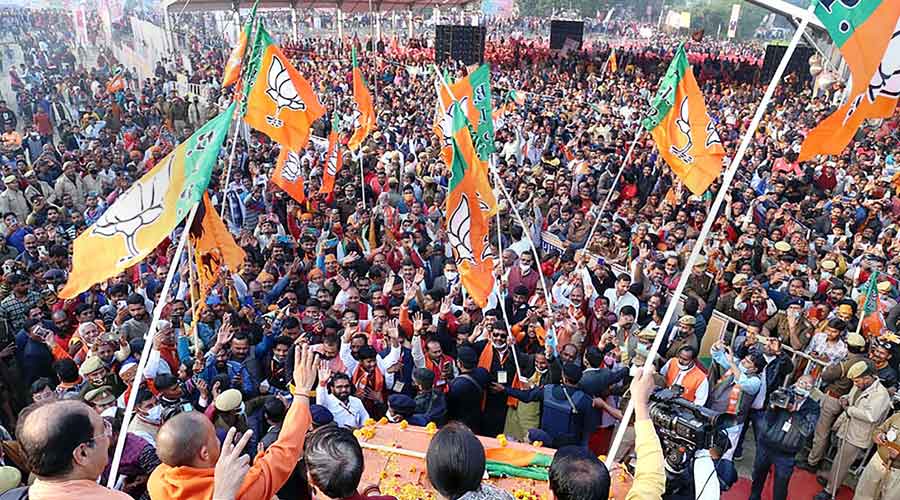 Chief minister Yogi Adityanath waves towards supporters during the Jan Vishwas Yatra ahead of the upcoming Uttar Pradesh Assembly elections in Amethi.
PTI Photo
---
New Delhi
|
Published 07.01.22, 03:24 AM
|
---
The five poll-bound states have recorded 13-fold to 47-fold increases in new Covid-19 infections over the past three weeks but the Election Commission and the Union health ministry have not discussed any ban on large election rallies yet.
Health ministry officials met EC officials on Thursday and discussed Covid-19 trends and vaccination coverage in the five states — Uttar Pradesh, Punjab, Uttarakhand, Manipur and Goa.
But there was no discussion on banning poll rallies, officials in both departments told The Telegraph.
"The health ministry did not say anything about banning rallies. They only advised that Covid-19 appropriate behaviour be followed," a top EC official said.
"They told us that the position of the five states is good and that the current prevalence of Covid-19 is not much."
A health official, too, said a ban on poll rallies "has not been discussed".
The absolute counts of new infections in the five states are currently low (daily infections in all are below 1,000), compared to counts in states with large epidemics such as Maharashtra, Bengal or Delhi. But health experts are worried at the sharp spikes in infections in four states.
In Uttar Pradesh, the seven-day average daily new infections has jumped 47-fold from 15 cases on December 15 to 709 cases on January 5. Goa has recorded a 13-fold increase (37 to 485), Uttarakhand a 14-fold rise (16 to 227), and Punjab an 18-fold increase (34 to 614) over the same period.
The health ministry had last month asked states to prohibit political, cultural, religious or other congregations in any district where the test positivity rate exceeds 10 per cent or where the oxygen-supported or intensive care unit bed occupancy exceeds 40 per cent.
But some experts believe the current speed of India's Covid-19 surge by itself should be sufficient to deter any congregations.
A physician and public health specialist said: "We should be wary of people coming together even in teashops, leave alone large congregations."
India on Thursday recorded over 90,000 new Covid-19 cases, a 55 per cent rise over the 58,000 new infections detected over the previous 24 hours. The epidemic is already spreading faster than it was during the peak of the second wave in early May.
"The current wave is already a tsunami and states such as Punjab and Uttar Pradesh where elections are due have had relatively low vaccination coverage," said Rijo John, health economist and adjunct professor at the Rajagiri College of Social Sciences in Kochi.
The EC official said the health ministry informed the commission that "most of the poll-bound states" have had high vaccination coverage. Goa has more than 100 per cent coverage with the first dose because people from outside the state have also taken vaccines there.
The health ministry had said on December 27 that Uttar Pradesh had administered first doses to 84 per cent of the population, but second doses to only 46 per cent. In Punjab, 75 per cent of adults have received the first dose, but only 40 per cent have got second doses.
In Manipur, 56 per cent of the population is covered by the first dose, and a little over 40 per cent by the second dose. Manipur has told the EC that the low coverage is because many have migrated for work and were unavailable at their places of residence recorded in census documents, the poll panel source told this paper.
During last year's Bihar elections, the EC had reduced the voter strength of a polling booth from 1,500 to 1,000 to improve social distancing. In the upcoming polls it will allow 1,250 voters per booth.
The Congress and the Aam Aadmi Party have announced the cancellation of all their campaign rallies in Uttar Pradesh.