3rd farmer suicide on Delhi-UP border
Farmers' protest: Congress slams Modi govt's apathy
The government has so far chosen not to even express sympathy for the farmers who have either committed suicide or died during the protests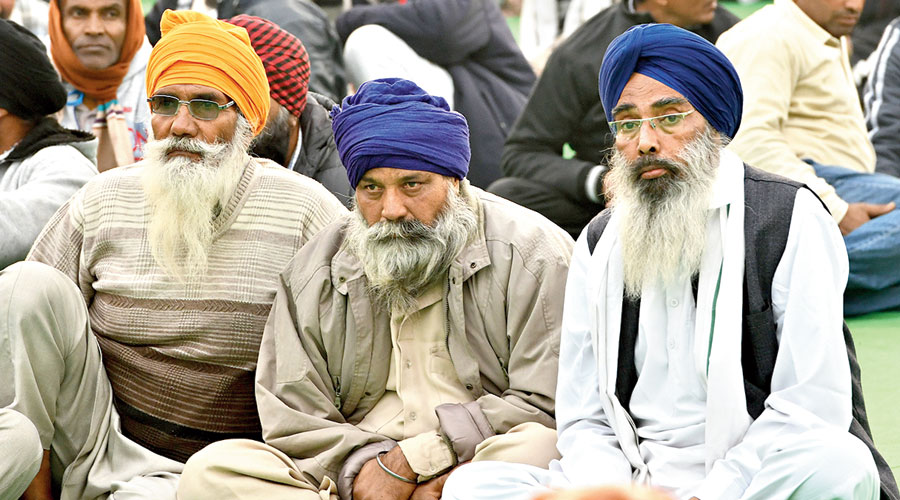 ---
New Delhi
|
Published 03.01.21, 02:56 AM
|
---
The Congress on Saturday slammed the Narendra Modi government's apathy as another protesting farmer committed suicide at the Delhi-Uttar Pradesh border, wondering how many more deaths it would take to wake up the administration.
Party communications chief Randeep Surjewala tweeted: "The suicide of Kashmir Singh, a farmer from Uttarakhand's Bilaspur, after the suicides of Sant Baba Ram Singh of Haryana's Karnal and Amarjit Singh of Fazilka in Punjab, is extremely sad. The cruel government must shed its obstinacy and withdraw the three black laws immediately."
Surjewala posted a news report that mentioned a purported suicide note left behind by Kashmir Singh that said: "Till when will we sit in this winter? This government is paying no heed. That's why I am giving up my life, so that some solution can be found. My rituals should be conducted here only (at the protest site on the Ghazipur border)." 
Surjewala had tweeted on Friday about the death of 57-year-old farmer Galtan Singh at the same Ghazipur border, asking: "The BJP government should clarify how many more deaths it needs instead of killing farmers in instalments. Let them fulfil their blood lust and withdraw these black laws."
Congress general secretary Priyanka Gandhi Vadra tweeted: "The news of deaths of farmers sitting in this cold outside Delhi's border is distressing. Reports in the media suggest at least 57 farmers have lost their lives till now and a large number of protesters are ill. The government is demonstrating shocking insensitivity by not conceding the genuine demands of the farmers sitting in protest for over 30 days."
Although the farmers have not allowed political parties to take part in their movement, the majority of them are not happy with the role played by the Opposition so far despite the lapse of a month and the deaths of 57 farmers. 
They feel the Opposition, including the Congress, is just taking positions verbally to express solidarity instead of acting as a force multiplier. Many farmers argued that the entire country would have erupted in protests had the Opposition parties decided to physically support them in different states.
The government has so far chosen not to even express sympathy for the farmers who have either committed suicide or died during the protests. 
Congress leader Rahul Gandhi did take out a tractor rally in the beginning but there has been no political action after the farmers' agitation peaked, apart from submitting a memorandum to the President and condemning the government through social media.