Farmers' protest: Bulandshahar cultivators gift 'Vijay Rath'
They said the chariot is a symbol of their commitment to continue the agitation till they 'dislodge the BJP from power'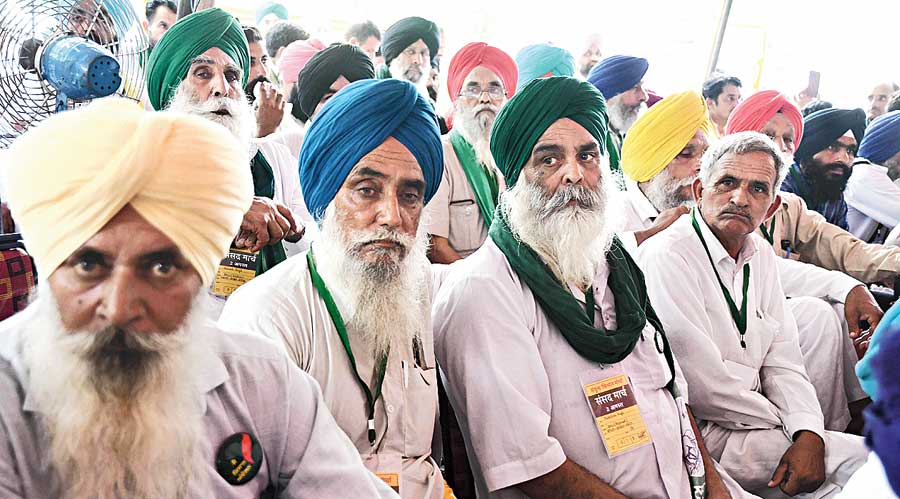 Farmers attend the Kisan Sansad at Jantar Mantar in New Delhi on Monday.
Prem Singh
---
Lucknow
|
Published 04.08.21, 01:46 AM
|
---
Farmers of Bulandshahar in Uttar Pradesh gifted a "Vijay Rath" (victory chariot) on Tuesday to fellow peasants sitting at Delhi's Ghazipur border for the last eight months demanding repeal of the Centre's three farm laws.
The farmers said the chariot is a symbol of their commitment to continue the agitation till they "dislodge the BJP from power".
"The Narendra Modi government believes that one day we would become tired and return home without winning. This rath tells the Prime Minister that we are not returning before our victory or before throwing him out of power," said Bharatiya Kisan Union leader Guddu Pradhan, who led the procession that reached the Ghazipur border after a journey of six hours.
"About 50 farmers can take rest in this air-conditioned rath. It was originally a bus which was redesigned and turned into a rath — which is itself a symbol of victory. The farmers contributed for the rath," he said.
Pradhan claimed that 30,000 farmers followed in cars and motorcycles behind the chariot.
"From today, at least 2,000 more farmers from western Uttar Pradesh will come to the Ghazipur border every day. We will encourage those who have been at the border for a long time to return home for a few days and then rejoin the dharna. The world is watching everything and wants to know from India's Prime Minister why he is so insensitive towards the demand of the farmers," he said.
Om Pal Malik, divisional in-charge of the BKU, told reporters in Meerut that the mahapanchayat in Muzaffarnagar on August 5 would be attended by farmers from across the country.
"We are going to launch a campaign against the BJP government to defeat it in the 2022 UP Assembly elections," said Malik.