Farmers launch 'MSP loot calculator'
It is an initiative of the Jai Kisan Andolan, a constituent of the Samyukta Kisan Morcha that is spearheading the movement across the country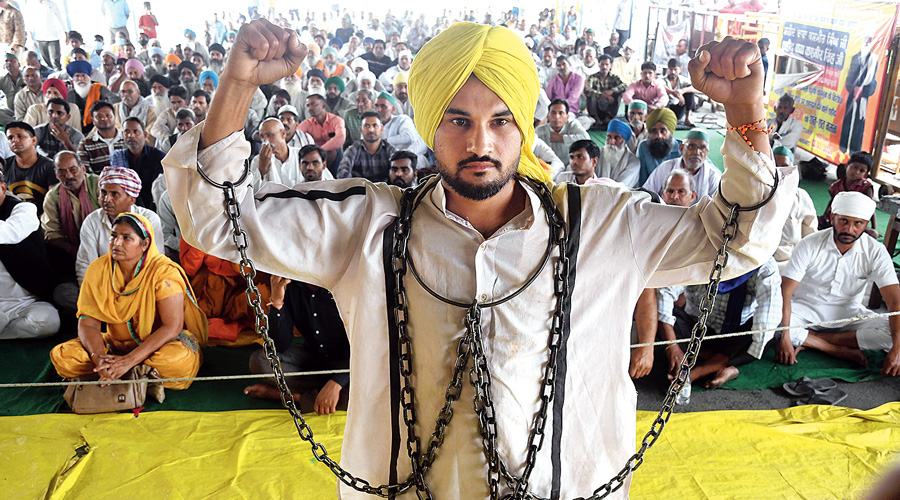 ---
---
The protesting farmers have launched an "MSP loot calculator" to counter the Centre's narrative on the minimum support price for crops, using official data to show how the farming community is being paid way below the rates announced by the government.
The "calculator" is an initiative of the Jai Kisan Andolan, a constituent of the Samyukta Kisan Morcha that is spearheading the farmers' movement across the country. It is primarily aimed at the middle class which, the protesters feel, is buying into the government's narrative that farmers are receiving the MSP and so their movement is unjustified.
Announcing the calculator's launch at a news conference, the Andolan's Yogendra Yadav cited data relating to the daily procurement and modal price of the Bengal gram in all the mandis as published on agmark.net — a government website — between March 1 and 15.
Yadav said the MSP had been fixed at Rs 5,100 per quintal but the farmers received an average price of Rs 4,663 — a loss of Rs 437 a quintal. Similar data will be released daily across social media platforms to show that the Bengal gram story repeats itself with most of the 22 other crops for which MSPs are announced.
This "loot", Yadav said, is not new. "Farmers were (robbed of) Rs 884 crore in 2020-21 for their gram crop; they got Rs 800 less than the MSP," he said.
"In 2019-20, the farmers were robbed of Rs 957 crore. This trend continues every year as the government has not made any arrangement for the purchase of gram."
The already agitated farmers are now up in arms against the new specifications proposed by the Food Corporation of India (FCI) for procurement of food grains for the central pool.
An FCI committee on Monday recommended a reduction in the moisture content and foreign matter — and in slightly damaged grains and shrivelled and broken grains — in the food grains procured for the central pool, arguing this would improve shelf life and marketability.
The SKM deliberated on these proposals along with the requirement of furnishing land records for the direct transfer of procurement payment into bank accounts. It termed these moves by the FCI an "attack on the ongoing movement, and on Punjab which is in the forefront of the struggle".
Since the FCI procures wheat and rice at MSP for the central pool, Punjab and then Haryana will be affected the most by these proposals.
The 32 Punjab farmer unions have decided that the state's farmers will refuse to submit land-record-related papers in a mark of solidarity with the many farmers who only till the land and do not have ownership documents to show.
They have appealed to the farmers of Haryana, Madhya Pradesh, Rajasthan and other states to also refuse to furnish these documents to the FCI.