Khattar to seal Haryana-Punjab border
Farmers get ready to march on Delhi
Haryana Chief minister Manohar Lal Khattar on Tuesday said Haryana's borders with Punjab will remain sealed on November 26 and 27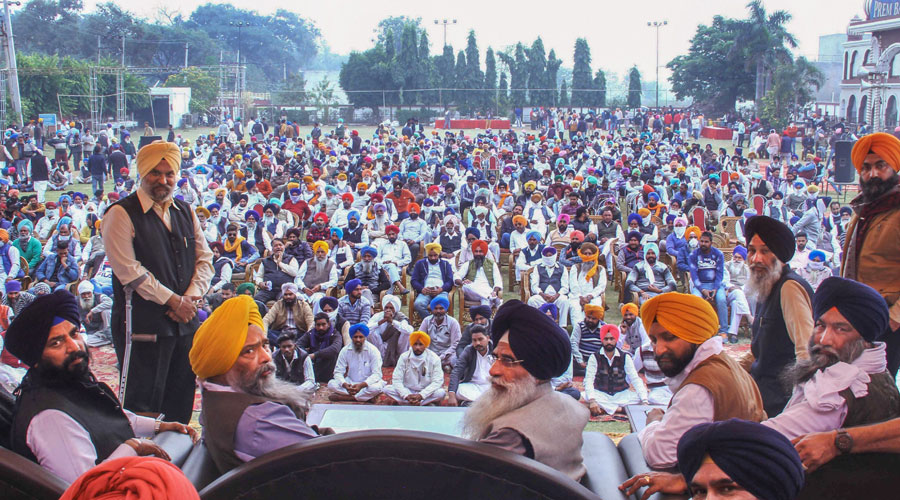 ---
---
Farmer organisations on Tuesday said their "Dilli Chalo" call to press for repeal of the three farm laws enacted amid Opposition protests in the monsoon session of Parliament could turn into an indefinite agitation beyond November 26 and 27 if the government does not pay heed to their demand.
Briefing the media as farmers from across north India set out for the national capital with rations for more than two days, leaders of the All India Kisan Sangharsh Coordination Committee said the agitation for repeal of the new farm laws and withdrawal of the Electricity Bill 2020 will intensify with the "Dilli Chalo" protest action.
Since trains are limited because of the pandemic, only farmers from Punjab, Haryana, Madhya Pradesh, Uttar Pradesh and Rajasthan are expected in Delhi. A large contingent of farmers from Punjab has already begun proceeding towards Delhi but the farm leaders anticipate that they will be stopped at the Haryana border since the Manohar Lal Khattar government has already arrested several farmer and trade union leaders on Monday night.
Chief minister Khattar on Tuesday said Haryana's borders with Punjab will remain sealed on November 26 and 27. Some farmer leaders have been taken into custody, he added.
"We appeal to the public that on November 25 and 26, they should avoid coming to Haryana and Punjab borders. On November 26 and 27, they should avoid going to the Haryana-Delhi border. We will take every step required to maintain law and order," Khattar said.
"I appeal to farmers that the Delhi Chalo call given by some outfits has no meaning because the three laws which the Centre enacted are pro-farmer," he added.
Congress spokesperson Randeep Singh Surjewala said it was "shameful" that the state government had taken farmers into custody.
"Is a farmer a criminal? Have farmers committed a crime? Is the raising of voice by them for their rights a crime? The Congress demands that farmers should be allowed to march to Delhi," he said.
Farmers from Punjab announced that they would reach Delhi through five highways connecting the national capital and if they were stopped anywhere, they would hold dharna there for an indefinite period.
"We strongly condemn the Haryana government's move of sealing the borders with Punjab. They have also taken several farmers leaders into preventive custody," said Bharatiya Kisan Union (Rajewal) chief Balbir Singh Rajewal.
How they could impose such restrictions to prevent farmers from moving towards the national capital, he asked.
"Farmers will move towards Delhi on their tractor-trailers," Rajewal said, adding that they have collected ration, tents, blankets and other essentials for the protest. "Some farmers who stay at far-off places have even left their homes today for participation in the protest march. They will stay at gurdwaras for a night and then move ahead," he said.
Hannan Mollah of the All India Kisan Sabha said: "If the farmers from Punjab are stopped at the Haryana border, they will picket the place and agitate there itself just like farmers from other parts of India will be protesting in their own places on both days in response to the 'Dilli Chalo' call.''
On Thursday, farmers all over the country are expected to observe Grameen Hartal in solidarity with the call for a nationwide strike given by trade unions against the "anti-people" and "anti-worker" decisions of the Narendra Modi government.