Farmer protest: Dushyant meets Rajnath, Tomar
'I am hopeful that in the next 24 to 48 hours, the final round of talks would be held between the government and the farm leaders and it will lead to a conclusive result'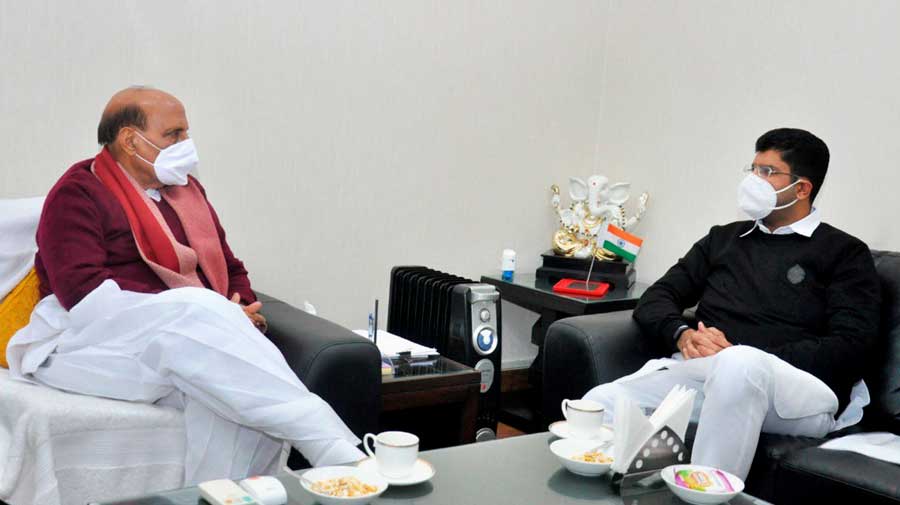 ---
New Delhi
|
Published 13.12.20, 02:12 AM
|
---
Haryana deputy chief minister Dushyant Chautala on Saturday prodded the Centre to resolve the deadlock with the agitating farmers, under intense pressure from his support base and party MLAs.
Jannayak Janata Party leader Dushyant first met defence minister Rajnath Singh and then agriculture minister Narendra Singh Tomar in Delhi and said a "conclusive result" would emerge in the next 24 to 48 hours. 
"I discussed the matter with the Union ministers. I am hopeful that with mutual consent, a way will be found and the standoff resolved," Dushyant, deputy chief minister in the BJP-led government in Haryana, said. 
"I am hopeful that in the next 24 to 48 hours, the final round of talks would be held between the government and the farm leaders and it will lead to a conclusive result," he added. 
Sources said Dushyant had communicated to Rajnath that he, like the Shiromani Akali Dal of Punjab, could be compelled to snap ties with the BJP if the deadlock with the farmers was not resolved.
The pressure from the Haryana ally came on a day Prime Minister Narendra Modi iterated that the new farm laws were beneficial for the farmers, indicating that the government remained firm on not scrapping them as demanded by the farmers.
The BJP government in Haryana is dependent on Dushyant's  support. Many MLAs of the Dushyant-led JJP want their party to sever ties with the BJP if the government doesn't agree to the farmers' demands. 
The JJP draws its strength from the landowning Jat community and is under intense pressure from supporters. 
Talking to reporters, Dushyant stressed it was his duty to protect the rights and interests of the farmers and disagreed with the charge levelled by sections in the BJP that "Khalistani" elements from Punjab were leading the agitation. "
Those who have come from Punjab have a positive conduct and hope it remains the same," he said. 
The government has been desperately trying to divide and isolate the protesters, aiming to paint the picture that only farmers from Punjab are opposing the "positive reforms". A sustained social media campaign has also been launched to portray many of the farm leaders as having links with "Khalistani" and "Maoist" outfits. 
But another ally of the BJP, Rashtriya Loktantrik Party chief and MP Hanuman Beniwal from Rajasthan, is firm on his demand for scrapping the new farm laws. 
"If I were in the Lok Sabha when the bills were passed, I would have opposed them like the Akali Dal and torn the bills into pieces," he said. 
Like Dushyant, Beniwal too draws his strength from the agrarian Jat community in Rajasthan. If he too, despite being the only MP of his party in the Lok Sabha, is taking a firm stand, it means there is strong pressure from the ground.