Fani-hit Puri back on feet
Temple town gears up for winter tourists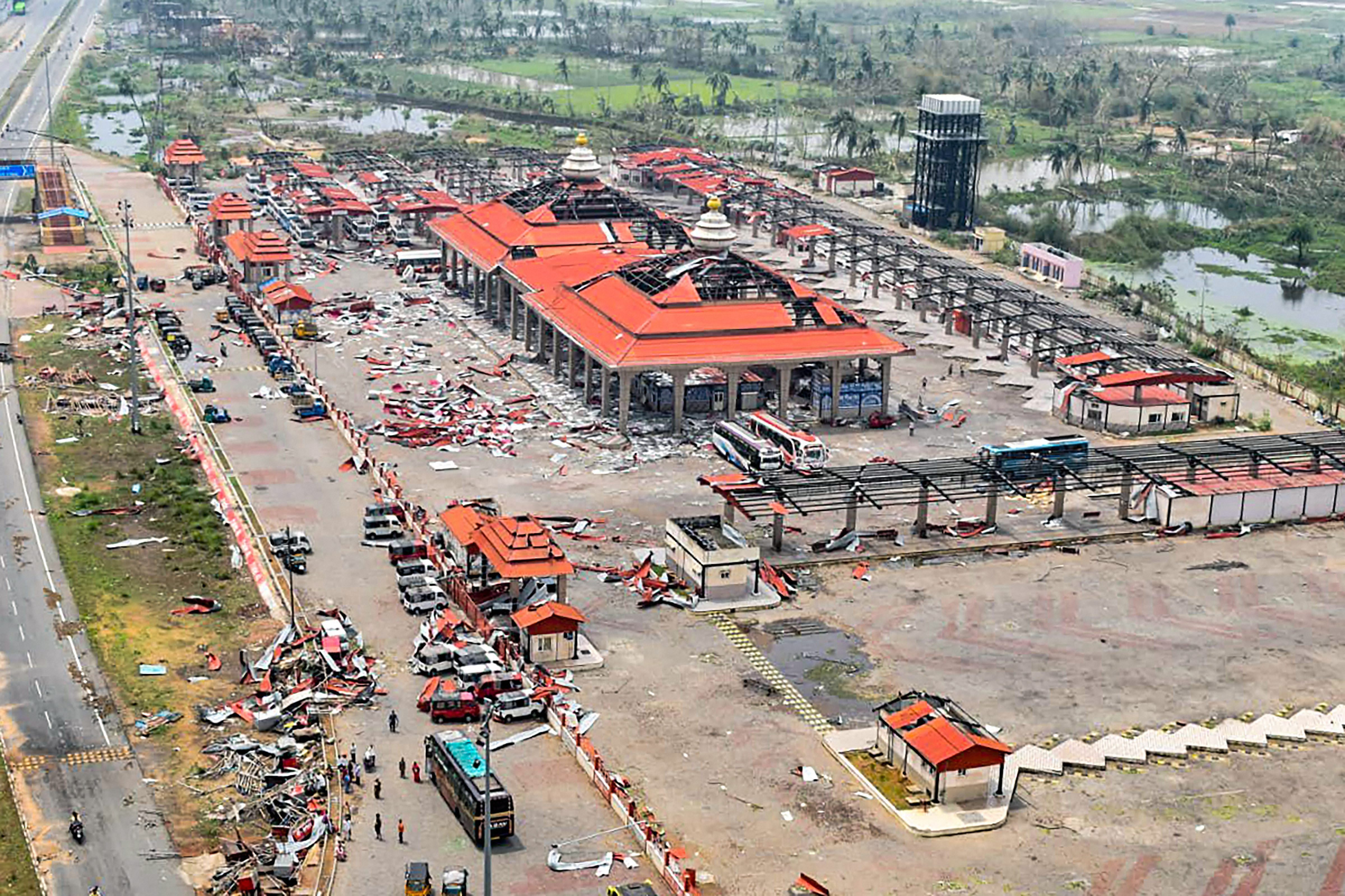 A bird's eye view of the destruction caused by Cyclone Fani, taken during aeriel surveillance by the coast guard's Dornier aircraft, shows a bus terminus near Puri.
PTI
---
Puri
|
Published 03.11.19, 08:45 PM
|
---
Puri has overcome the effects of Fani, the severe cyclonic storm that hit the coastal belt of Odisha exactly six months back on May 3 and flattened the pilgrim town.
The town is now gearing up to welcome tourists in the upcoming winter season. Roads are no more littered with uprooted electric poles and telephone towers.
Early on Sunday, hundreds of people gathered in front of the 12th-century Shree Jagannath Temple to join a religious congregation organised by the district administration in collaboration with the temple administration.
The place where the congregation was held had earlier been occupied by dilapidated buildings of the 900-year-old Emmar mutt. Now this place has been cleared and roadside vendors have been shifted to other places.
"We have undertaken all the repair works and the damages caused by Fani have been repaired. The temple is completely safe and no one needs to be worried about it," Arun Malik, superintending archaeologist, ASI (Bhubaneswar circle), said.
The seaside hotels that had suffered extensive loss because of Fani have been refurbished.
"The tourists need not worry. Power and water connections have been restored. Even though we did not get any assistance from the government, we, from our own resources, repaired the damaged parts of the hotels. The manpower required for the hotel industry has come back to Puri. We have got our business back by 60 per cent," said Puri Hotel Owners Association president Rama Krushna Das Mohapatra.
The cyclone had ravaged the seaside hotels, stripping off doors and air-conditioners and spitting them out onto the streets.
Almost all the beachfront hotels had lost their doors and glass panes, while lounge sofa sets at the reception had been blown away at many hotels.
Das Mohapatra said: "Mobile phone connections have been restored. But the BSNL landline networks are yet to be fully restored."
Also, the lighting system on a part of the beach is yet to be fully restored, he added.
Strong winds had blown sand away from the sea and onto the main marine road, making it impossible to even walk. Now vehicles can ply once more on the road.
Hundreds of small shops on the beach that were flattened have resumed business.
"But it will take another six months to get business back on its feet again," said Appa Rao, who sells conch shells and bangles on the beach.