EWS quota: Social groups express disappointment at Supreme Court's verdict
Idea of reservation based solely on economic criteria questioned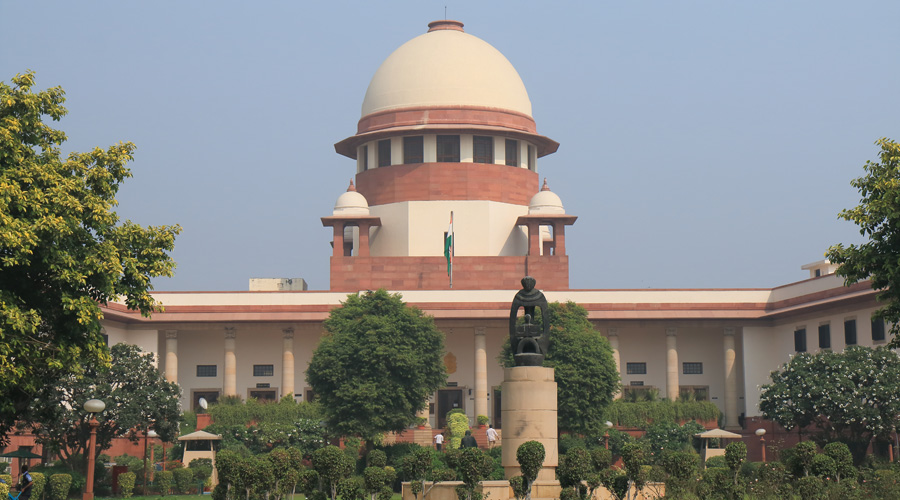 Supreme Court of India
File Photo
---
New Delhi
|
Published 08.11.22, 04:00 AM
|
---
Organisations representing various disadvantaged social groups on Monday expressed disappointment at the Supreme Court upholding the validity of the 10 per cent reservation for the Economically Weaker Sections among the dominant castes, and spoke of seeking a review.
They questioned the idea of reservation based solely on economic criteria and faulted the five-judge verdict for failing to consider bringing under the EWS quota the poor among the Scheduled Castes, Scheduled Tribes and Other Backward Classes.
G. Karunanidhy, general secretary of the All India OBC Employees Federation and a petitioner in the case, said the petitioners who had challenged the EWS quota would seek a review of Monday's judgment by a larger bench.
"The EWS quota is against the concept of social justice. The Constitution makers did not create any provision for reservation based on economic criteria. The provision of welfare measures for socially and educationally backward castes was made to correct the gross imbalances created by the Indian caste system," he said.
"The government created a provision for affirmative action in favour of economically weaker sections among the socially advanced castes. There are poor among the SCs, STs and OBCs too but they have been excluded. This is unacceptable."
Ashok Bharati, chairperson of the National Confederation of Dalit and Adivasi Organisations, said: "This judgment will act as a unifying factor for the Bahujans (the socially disadvantaged sections who constitute the majority of the population in India). This will catalyse the non-Savarnas to unite to assert and claim their proportionate representation in every sphere of society."
At present, the SCs, STs and OBCs are entitled to 15per cent, 7.5 per cent and 27per cent reservation in higher education seats and jobs decided by the Centre and its arms. The population shares of the SCs and the STs are 16.6and 8.6 per cent, respectively. According to a report by the National Sample Survey Organisation, an official body, the OBCs make up over 40 percent of the population.  
Bharati said the judgment would spur the disadvantaged castes to demand an increase in their reservation quotas to match their population shares.
"The Supreme Court had set a ceiling of 50 per cent on reservation, barring exceptional circumstances. With the approval to the EWS quota, which has raised the total volume of reservation to 59.5 per cent, that ceiling is gone. So this judgment has paved the way for demands to raise the reservation volumes for the SCs, STs and the OBCs," Bharati said.
Shashank Ratnoo, a Supreme Court advocate, said that providing reservation on economic grounds was deeply problematic, and so was the income cut-off of Rs 8 lakh a year— the same as the one used for identifying the creamy layer among the OBCs.
He said that using the same criterion of Rs 8 lakh a year to decide eligibility for reservation among the forward castes and the OBCs made no sense "because they are socially unequal groups".