Events that led to the tap on NiMo's shoulder
What had intrigued The Daily Telegraph was not how Nirav Modi defrauded PNB but how he took London's luxury scene by storm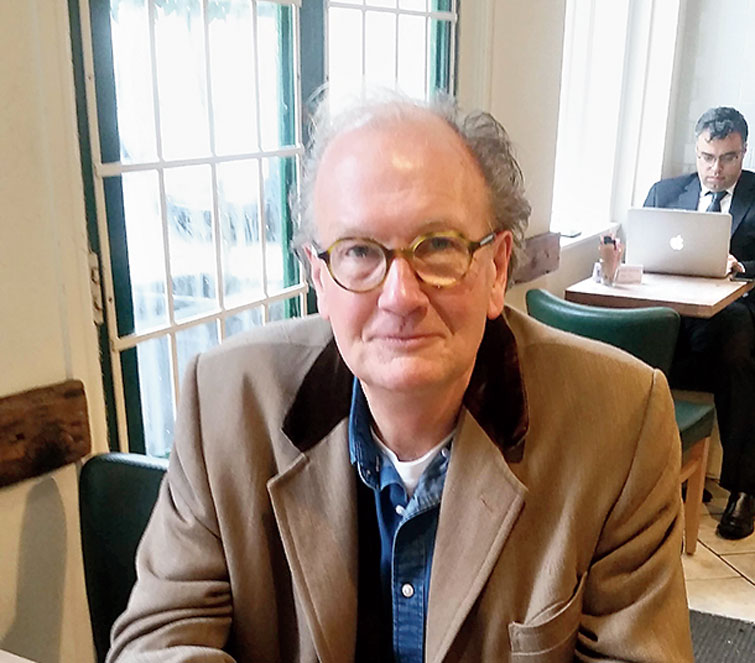 Journalist Mick Brown tracked the absconding Nirav Modi down
Picture by Amit Roy
---
London
|
Published 18.03.19, 10:00 PM
|
---
Having found Nirav Modi in London, The Daily Telegraph had approached Indian government sources for a response — and got none.
Mick Brown, the reporter who had tracked the absconding diamond jeweller down, says he was not prepared for the political fallout in India after his story was published.
"No, I was completely taken aback by the reaction in India," he admits.
The newspaper uploaded footage on its website of Brown asking Nirav several questions, such as, "Have you applied for political asylum?"
All the questions were met with a "No comment."
In London, the Serious Fraud Office will not discuss Nirav and nor will the home office. It's believed, though, that his case will be, or has been, sent to Westminster Magistrates' Court — in the way Vijay Mallya was dealt with — for the possible issue of an arrest warrant.
Brown assumes that "what captures people's imagination is the visual impact of that little two-and-a-half-minute film seeing him on the street: 'That's what he looks like…. He's wearing a leather jacket'."
It was the newspaper's fashion desk that supplied the detail that Nirav was wearing an ostrich-hide jacket costing £10,000 (almost Rs 9.2 lakh).
"It's almost got a Twitter feed of its own — the jacket," remarks Brown, who is still bemused by the political storm triggered by his story.
"It's been staggering. I had no idea that it would be such a big story in India. I had no anticipation of that."
Brown talks of the sequence of events that led to the discovery that Nirav was living in an apartment in Centre Point, a landmark London building near the Tottenham Court Road underground station.
What intrigued his newspaper was "not how did he manage to defraud Punjab National Bank" — allegedly out of Rs 13,000 crore — but "about how Nirav Modi took the London luxury scene by storm".
Part of the credit for spotting that there was a story has to go to Sasha Slater, who heads the Telegraph Magazine and its supplements, including one focused on "luxury".
"She came to me and said, 'Wouldn't it be interesting to write about this guy, Nirav Modi?' and my first question was, 'Who?'"
Brown, whose long article on Nirav appeared in December last year, explains: "It was a roundup of 'Who is Nirav Modi? How did he manage to make such a rapid impact on the world of luxury?'"
The article, republished recently in the main newspaper, had pinpointed: "The most intriguing thing about Modi is how he was able, by a mixture of big spending, shrewd marketing and celebrity association, to mount an assault on the traditionally conservative and tightly knit world of luxury jewellery in the West, and establish himself so rapidly…. For his American launch, he employed one of New York's biggest PR companies, M&C Saatchi."
Nirav came up on The Daily Telegraph's crosshairs when he opened his store in Old Bond Street in London. Brown's article glittered with several celebrity names, from supermodels Rosie Huntington-Whiteley ("she's huge"), Karlie Kloss and Andreea Diaconu to actresses Kate Winslet, Naomi Watts, Taraji P. Henson and Lisa Haydon, veteran photographer Peter Lindbergh, and Donald Trump Jr.
In November 2017, Nirav had been photographed shaking hands with Prince Charles in India. Two months later, he appeared in a group photograph with Prime Minister Narendra Modi at the World Economic Forum in Davos, Switzerland.
But once Nirav was declared a wanted man in India and the brand had turned toxic, no one returned Brown's repeated calls.
There had been reports of Nirav sightings in several cities, including London. This had aroused Brown's interest.
"That sort of led me to think, this is kind of interesting, this guy is running around in London — if he's in London how come he's still in London, and on what sort of basis is he living here? That forced us to start asking questions."
The newspaper deployed a team of five: "There was myself, Robert Mendick, chief reporter with high-level contacts (it is as much his story as mine), a couple of photographers and a videographer…. (We had) gained some sort of insight into where he was and what he was doing," Brown says.
"We then had to obviously establish beyond a shadow of doubt we could identify the right individual. That involved — I guess you could call them old-fashioned — methods of staking him out. Once we had sight of him, establishing his movements so that we could finally confront him is what I did."
Brown recalls the moment he "tapped" Nirav on the shoulder: "He went into instant defence mode. He was very shocked and very taken aback and you could see him struggling to compose himself. Then he started to walk away and so the natural thing to do was to fall into step beside him, with the videographer beside me.
"There was nowhere for him to go. He walked up to Oxford Street and then he crossed over Oxford Street. He was obviously looking for a taxi — you can't get a taxi at Oxford Street at lunchtime. He looked rather at a loss."
Brown, who has travelled widely in India and has written several books on Buddhism and Indian spirituality, was very polite with Nirav.
"Before we started the film I said to him, 'I don't wish to embarrass you on the streets. Shall we go back to your office? We can talk quietly there. Shall we go somewhere else?' If I had been more abrasive or more interrogative, perhaps I would have got more out of him but I don't think he was going to say anything."
What about Nirav the jeweller?
"Clearly, he was a very gifted jeweller. To be honest I don't know how much they were actually his designs, how much he literally sat there with a pen and paper and drew the design. Once he launched the jewellery business, he had a team of designers working with him. What I was told was that what excited people in the jewellery world was this fusion of east and West," Brown says.
"These jewels are woven together in a much lighter, free-flowing way, so that was what the jewellery writers and jewellery experts were excited about. I don't think there's ever been an Indian jeweller who's taken the West by storm and in quite the way he did. He's obviously very, very shrewd and very adroit in the way in which he marketed the brand and marketed himself and he knew the right people to go to."
Brown observes: "The man who once boasted that nobody in Mumbai knew who he was is now the man that nobody anywhere wants to admit to having known."