Ostrich hide for Nirav, rhino hide for 'refugee' spotters
'Many of these who cheated India… are living the life of fugitives and refugees'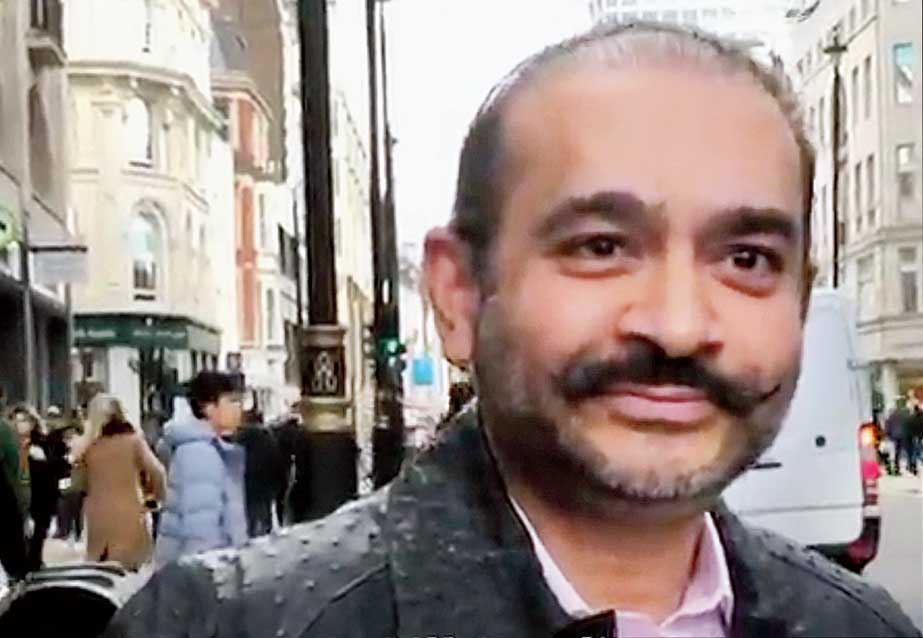 Nirav Modi on Oxford Street in London.
Footage recorded by The Daily Telegraph, London
---
London
|
Published 09.03.19, 08:24 PM
|
---
Light has been shed on how Nirav Modi looks and lives since he posed for a group photograph with Prime Minister Narendra Modi last year and soon after became one of the most infamous Indian fugitives.
Stung by a disclosure by a London-based newspaper and the resultant political backlash in India, the BJP tweeted on Saturday: "Many of these who cheated India… are living the life of fugitives and refugees."
The following is an account of the "refugee life" being led by Nirav, the diamantaire accused of defrauding Punjab National Bank out of Rs 13,000 crore, as described by The Daily Telegraph, London.
Nirav, also called NiMo since he hit the headlines last year, is living in a central London flat that costs £8 million (around Rs 74 crore).
Nirav is operating a new diamond business from an office in nearby Soho, the fashionable district of upmarket restaurants and media offices.
Britain's department of work and pensions has issued him with a National Insurance number, although Interpol has put out a "red notice" requesting his arrest at India's behest.
"This means he can work legally in the UK and can claim benefits," a department spokesperson told The Telegraph.
He has been able to operate online bank accounts in the UK while wanted by Indian authorities…. He has also been in contact with a wealth management company based in west London, "which specialises in advice to rich foreigners", The Daily Telegraph reported.
Nirav "appears to have adopted a surprisingly nonchalant attitude to his fugitive status, walking his small dog each day between his apartment and the diamond company's office in a town house in Soho, just a few hundred yards from his Centre Point home", the British newspaper reported.
When the newspaper tracked Nirav down, he was wearing an ostrich-hide jacket that is estimated to cost £10,000 ( around Rs 9.2 lakh). Evidently, Nirav could not afford a suit as expensive as the monogrammed one that was gifted to Prime Minister Narendra Modi in 2015. In that sense, NiMo is leading a "refugee life".
The BJP and the British newspaper differ in their description of the life of the fugitive. If the BJP says fugitives are living the life of refugees, the newspaper found this particular fugitive "living a privileged lifestyle in London".
The last time India had seen a clear picture of Nirav was early in 2018. That picture was taken on January 23, 2018, at Davos and shows Nirav as well as Prime Minister Modi. Footage uploaded by The Daily Telegraph shows a plumper and visibly aged Nirav.
All the questions The Daily Telegraph put to Nirav were met with a polite "no comment". He would not say whether he has applied for political asylum.
On Saturday, India's foreign ministry said the government was aware of Nirav's presence in Britain, which is why it had sent an extradition request last August, to which the British authorities had sent no official response so far.
"Just because he has been spotted in the UK does not mean that he can be immediately brought to India,'' ministry spokesperson Raveesh Kumar said.
The Indian Enforcement Directorate issued a statement saying the extradition request was sent in July 2018. "The UK central authority of home office has confirmed that the extradition request has been sent to the Westminster Magistrate Court for the district judge for further proceedings," the directorate said in a statement in New Delhi.
According to the British newspaper, Nirav is living in a three-bedroom flat in Centre Point, a high-rise building next to the Tottenham Court Road underground station.
"(Nirav) Modi could be seen this week on the phone at the window of his new offices," The Daily Telegraph said. "The business describes itself on Companies House as a wholesale trader in watches and jewellery and a retailer of watches and jewellery in specialised stores."
Nirav is not listed as a director.
The newspaper says "the ability of Modi to continue living a privileged lifestyle in London will raise serious questions potentially threatening a rift between the UK and India. It is not clear why the British government has given him a National Insurance number and yet has apparently failed to act on the Interpol red notice. A red notice is a request to locate and provisionally arrest an individual pending extradition.
"It is not an international arrest warrant and Interpol cannot compel any member country to arrest an individual who is the subject of a red notice."
Speaking to The Telegraph, the spokesperson for the department of work and pensions said: "We don't comment on individual cases."
But he drew attention to the rules governing the issue of a National Insurance number. They state: "You can only apply for it once you're in the UK. You must have the right to work or study in the UK to get a National Insurance number."
A senior Indian businessman told The Telegraph: "What the Indian government has to show to the courts is that the crime for which anyone is sought back in India is also a crime in the UK. It doesn't take much to get a National Insurance number. A lot of people come from India and manage to get one."