'Sagacity' of eternal foes speaks volumes
Naidu had called on Rahul at his residence, marking a shift in the Telugu Desam's politics that has till now hinged on anti-Congressism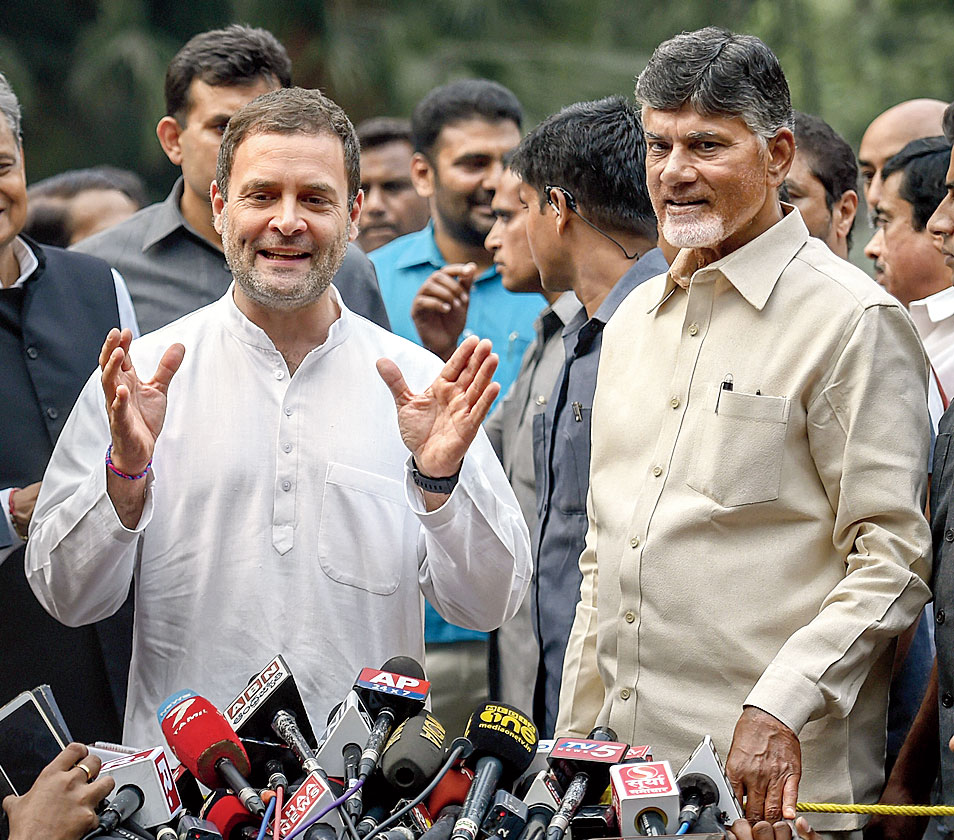 Rahul Gandhi with Chandrababu Naidu in Delhi.
PTI
---
New Delhi
|
Published 01.11.18, 09:40 PM
|
---
N. Chandrababu Naidu met Rahul Gandhi on Thursday and declared later: "Not just Rahul Gandhi, anybody will do better than Narendra Modi."

One swallow does not a summer make. But the significance of the event was underscored by Arun Shourie, the former NDA minister and crusading editor: "The very fact that eternal foes are coming together shows how bad the situation is."
"It speaks to their sagacity," Shourie said, adding that the Opposition parties understand there is a need and an opportunity to come together. "You cannot say the country is in danger, and then keep up your own rivalries."
Naidu had called on Rahul at his residence, marking a shift in the Telugu Desam's politics that has till now hinged on anti-Congressism.
Later, in response to a question, the Andhra Pradesh chief minister articulated his choice of anybody but Modi. "Narendra Modi got a clear mandate. He let down the nation, betrayed the nation," Naidu added.
After their meeting, Rahul tweeted: "I look forward to carrying forward our dialogue and to working together…."
Asked about his meeting with Rahul, Naidu said there was no discussion on tying up in Andhra or on the coalition the two parties have stitched in Telangana. "We are talking about national politics, you want to go down to constituency level," the Desam leader said, echoing Rahul's reply to a question about state-level electoral understanding after they emerged from their interaction.
For Naidu, teaming up with the Congress was a bit of a homecoming – he had started his political journey with the Congress before joining his father-in-law N.T. Rama Rao in the Desam.
To start with, Naidu Pawar, and Rahul were one in keeping their eye on the ball – Modi's dismal performance as Prime Minister – instead of being deflected by emotive and polarising issues like the Ram temple.
Naidu, who worked with the Prime Minister as an ally for four of the past four-and-a-half years, on Thursday offered the "anybody-but-Modi" narrative as a counter to the "there-is-no-alternative" or TINA factor the BJP has been throwing at the Opposition's efforts to stitch a coalition against the Modi-Amit Shah election juggernaut.
The Desam leader spent the day meeting Opposition leaders in his second visit to the capital in six days as part of efforts to build a national appetite for coalition rule at a time when the "Modi government seems adrift".
Before calling on Rahul, the Andhra Pradesh chief minister had lunch with NCP president Sharad Pawar and National Conference leader Farooq Abdullah, and the three agreed that Naidu would talk to all non-BJP leaders to build a momentum for collectively chalking out a programme to save the nation and democracy.
Naidu also met Samajwadi Party leaders Mulayam Singh Yadav and Akhilesh Yadav, RLD head Ajit Singh and the CPM's Sitaram Yechury though the Left party is fighting the TDP in Telangana and also exploring an understanding with Pawan Kalyan's Jana Sena Party in Andhra Pradesh.
Having dealt with such contradictions in the past, Naidu sought to dismiss them and argued that nothing is static in politics. The Desam leader said it was a "democratic compulsion" for his party to work with the Congress in the fight to save the nation.
"The Telugu Desam Party has always played a crucial role in providing an alternative to the country. Whenever there is a need, we have tried to provide an alternative," he said, underlining that India had never seen a situation like the present where everyone lived in fear, the economy was in "doldrums" and institutions were being undermined.
Shourie, who too met Naidu during the day, again said the Prime Minister had lost his grip on the administration. Since March he has been saying that real control of the government has slipped from Modi's hands into BJP president Amit Shah's.