Naidu's 'national party' hint
He later met Mayawati, who has refused to tie up with the Congress for the upcoming Chhattisgarh and Rajasthan polls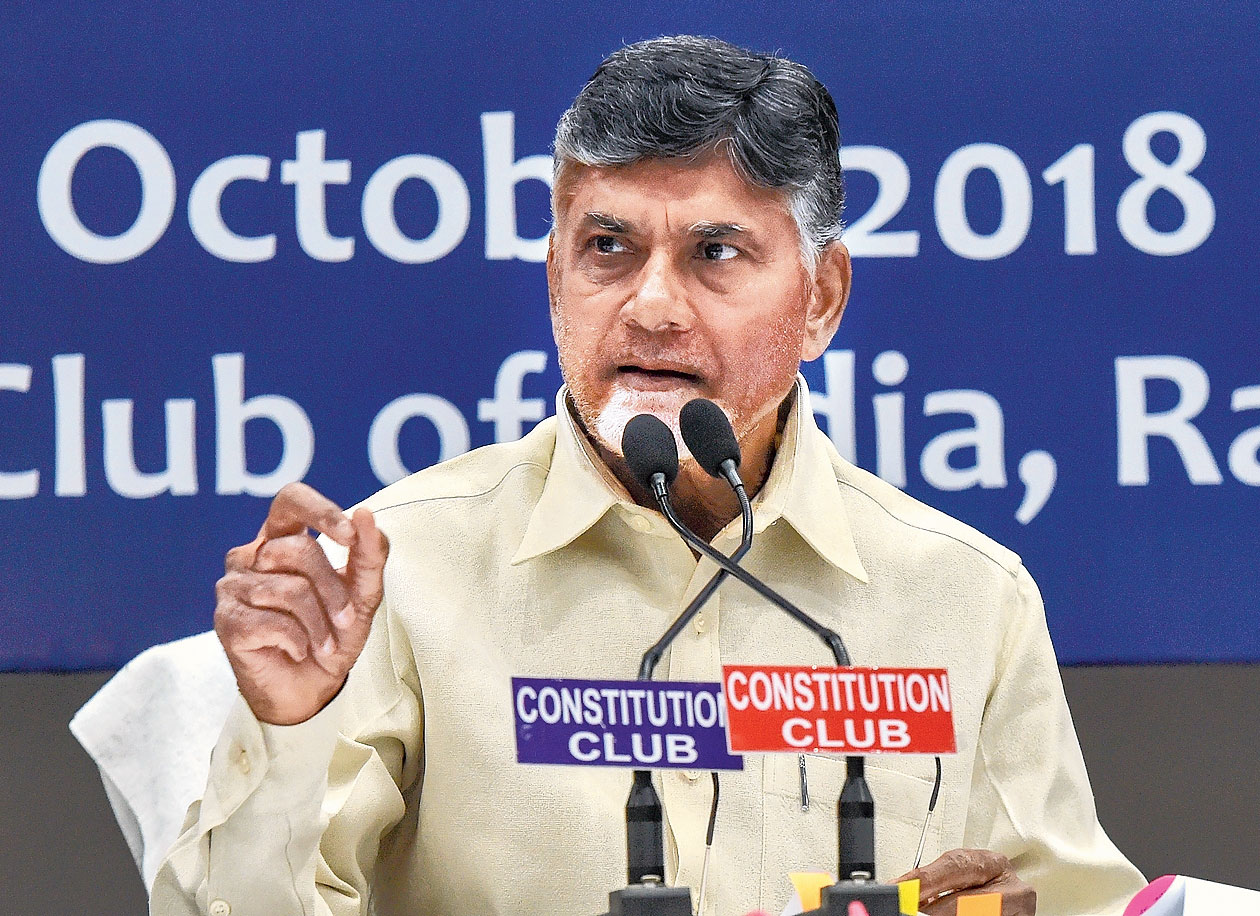 ---
New Delhi
|
Published 27.10.18, 08:41 PM
|
---
Andhra Pradesh chief minister N. Chandrababu Naidu on Saturday made out a case for coalitions and asked what use a strong government like Narendra Modi's was if it failed to deliver on every front, including election promises.
"If the leader is good, there will be development. During coalitions, there has been more development, more growth… and also more consensus can be built. Today, there is no consensus. They are committing so many mistakes," Naidu told a news conference, days after national security adviser Ajit Doval advocated a "strong" one-party rule at the Centre till 2030.
Batting for a coalition government, Naidu appeared to suggest it would not be possible without the Congress. "Without a national party, we cannot form a government," he said. The Congress is the only pan-India party in the Opposition.
Naidu later met BSP chief Mayawati, who has refused to tie up with the Congress for the upcoming Chhattisgarh and Rajasthan polls.
"All of us need to work together and give confidence to the people that there are leaders and performers in other political parties. Keep in mind that the P.V. Narasimha Rao government, which brought in economic reforms, was a minority government. All coalition governments have done well,'' Naidu said.
He accused the Modi government of using investigating agencies to further its political agenda.
"Till we walked out of the alliance with the BJP, there was no income-tax evasion in Andhra Pradesh. All of a sudden, there is income-tax evasion. One day they sent 19 teams to Andhra Pradesh. They want to demoralise and victimise us and also scare away business houses who may want to fund an Opposition party," he said.
The Telugu Desam chief also met Delhi chief minister Arvind Kejriwal, former Jammu and Kashmir chief minister Farooq Abdullah, Sharad Yadav and Yashwant Sinha during his half-day visit to the capital.
About his decision to join a coalition including the Congress in Telangana and to
work for a power-sharing arrangement at the Centre while fighting the party in Andhra, Naidu said these are "political and democratic compulsions" and the "overall interest of the nation" has to take priority.
In an indication of the Desam's shifting position on the Congress, he recalled Rahul Gandhi's acknowledgment of the injustice done to Andhra in Parliament, and billed Modi's betrayal worse than the bifurcation of the state by the UPA.
But where the BJP disappoints the most is in its take-no-prisoners approach towards political rivals, an attitude that does not augur well for a democracy, he said.