Eloquent rulings of Madras HC chief justice tipped for transfer
The lawyers protesting the move have asked whether this is a 'punishment transfer' for an 'honest and fearless' judge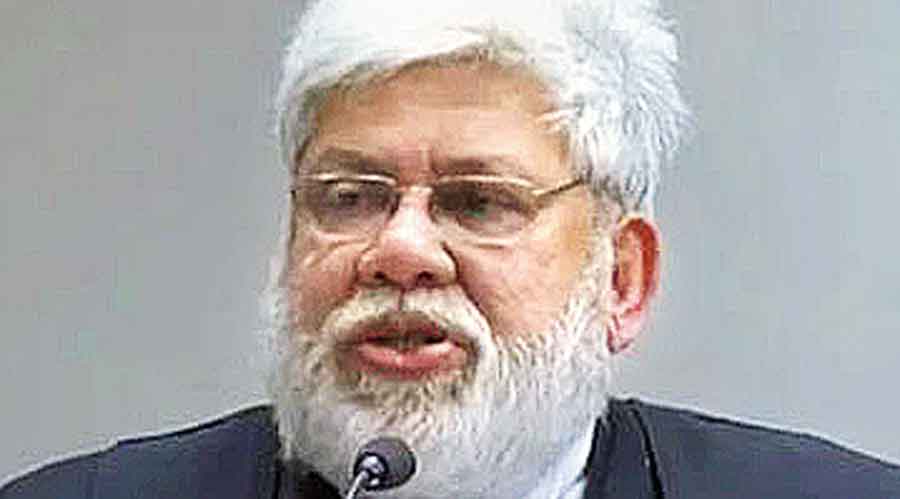 Justice Sanjib Banerjee.
File photo
---
Chennai
|
Published 14.11.21, 01:55 AM
|
---
Justice Sanjib Banerjee, the Madras High Court chief justice who has been earmarked for transfer to Meghalaya in a decision that has prompted a protest by several lawyers, has delivered key judgments upholding constitutional rights, values of free speech and secularism.
The lawyers protesting the move to transfer him have asked whether this is a "punishment transfer" for an "honest and fearless" judge.
The Supreme Court collegium has recommended the transfer of Justice Banerjee who has, during his 10 months as Madras High Court chief justice, castigated the poll panel for allowing large campaign rallies amid the pandemic, directed the Centre to more widely implement OBC quotas in MBBS seats, upheld media freedom and rapped a BJP unit over questionable electoral practices.
He also prevented a move to curb Tamil Nadu chief minister M.K. Stalin's powers over the management of the state's temples, excoriating "prejudice and vendetta" over religion and stressing "this is a secular country".
In an open memorandum to the apex court collegium, a group of 237 advocates practising at Madras High Court have urged a reconsideration of Justice Banerjee's proposed transfer to Meghalaya High Court.
The "lack of stated criteria" (for the transfer recommendation) has spawned a perception of "arbitrariness", the memorandum says.
Until members of the Bar and the public know the reasons for the transfer, "the only conclusion that can be drawn is that a judge is being rebuked for discharging his duties without fear or favour", the memorandum says.
It says Justice Banerjee's transfer from a high court with a sanctioned strength of 75 judges to a younger and smaller high court, set up only in 2013 and with a current strength of just two judges, is "raising disconcerting questions".
Justice Banerjee, a former Calcutta High Court judge, was appointed chief justice of Madras High Court on January 4 this year and is due to retire on November 1, 2023.
The memorandum flags several judgments that benches headed by Justice Banerjee have delivered over the past 10 months and says these may have earned him the "ire of those in power".
It says these judgments upheld "constitutional rights, values of free speech, secularism, free and fair elections, right to health and state accountability".
Some of these judgments were:
⚫ Dismissal of a public interest litigation (PIL) plea that sought to prevent Stalin from chairing the state-level advisory committee under the Hindu Religious and Charitable Endowments (HR & CE) Act until he had taken a pledge of allegiance to a Hindu deity at a temple.
Justice Banerjee's order said: "There has to be a time when the prejudice and vendetta have to be shed particularly when it comes to practising religion. This is a secular country and secularism implies tolerance for the other religion."
⚫ Dismissal of a PIL in July that sought the reopening of all temples in Tamil Nadu amid the pandemic. Justice Banerjee ruled that citizens' right to practise their religion was "subservient to their right to life".
⚫ Interim stay on provisions of the Information Technology (Intermediary Guidelines and Digital Media Ethics Code) Rules, 2021, in the interests of media freedom and free speech.
⚫ In April, Justice Banerjee had, while hearing a case on the enforcement of Covid norms, orally observed that Election Commission of India officials "should be probably booked for murder" for allowing large campaign rallies (for Assembly elections, including one in Bengal) amid a deadly second wave of the pandemic.
⚫ A directive to the Centre in July to implement OBC reservation in MBBS seats under the all-India quota at state-run medical and dental colleges.
⚫ Justice Banerjee came down heavily on the Puducherry unit of the BJP while hearing a PIL that alleged misuse of voters' Aadhaar details to boost the party's Assembly election campaign.
⚫ A bench headed by Justice Banerjee asked uncomfortable questions to the central government on Covid vaccine pricing.
The memorandum says the transfer recommendation may have sent out an "alarming signal that honest and fearless judges are subjected to political retribution and the independence of the judiciary is under threat".
"While transfers for better administration of justice may be necessary in principle, members of the Bar have a right to know why a competent, fearless judge and an efficient administrator of a large high court where more than 35,000 cases were filed this year should be transferred to a court where the total number of cases instituted in a month is on an average 70-75," the memorandum says.
The memorandum cites how the collegium had recommended Justice Banerjee's appointment as Madras High Court chief justice less than a year ago in December 2020, obviously after considering his competence and experience as a Calcutta High Court judge.
"It is therefore inexplicable that in ten months, the collegium should revise its opinion and recommend that such a person should be transferred to a court where any avenue for utilising his vast experience would be severely limited," it says.
Justice Banerjee "is known to be impartial, open to suggestions from all quarters for improving the functioning of the justice system and has taken proactive measures to strengthen the judiciary", the memorandum says.
According to the signatories, it's well known in Tamil Nadu legal circles that inquiries have been under way on Justice Banerjee's watch to check corruption in the judiciary. The memorandum says his intolerance for corruption and inefficiency is widely appreciated, and his transfer would quell the efforts to strengthen the judiciary in the state.
"This representation ought not to be seen as espousing the cause of an individual but as an earnest request to protect the institution and the independence of the judiciary," the memorandum says.
It adds that "short tenures and abrupt transfers" hardly do any good to the judicial administration.
A similar controversy had struck Madras High Court in 2019 when then Chief Justice V.K. Tahilramani — a woman judge from Maharashtra with a reputation for impartiality and competence — was suddenly transferred to Meghalaya High Court. The judge felt so humiliated that she resigned without accepting the transfer.
Justice Banerjee specialised in corporate and intellectual property law and was appointed a permanent judge at Calcutta High Court on June 22, 2006.