Elgaar Parishad case: NIA searches Delhi University teacher Hany Babu flat
He had been active in the defence committee for Saibaba, a disabled DU professor serving life sentence for alleged Maoist  links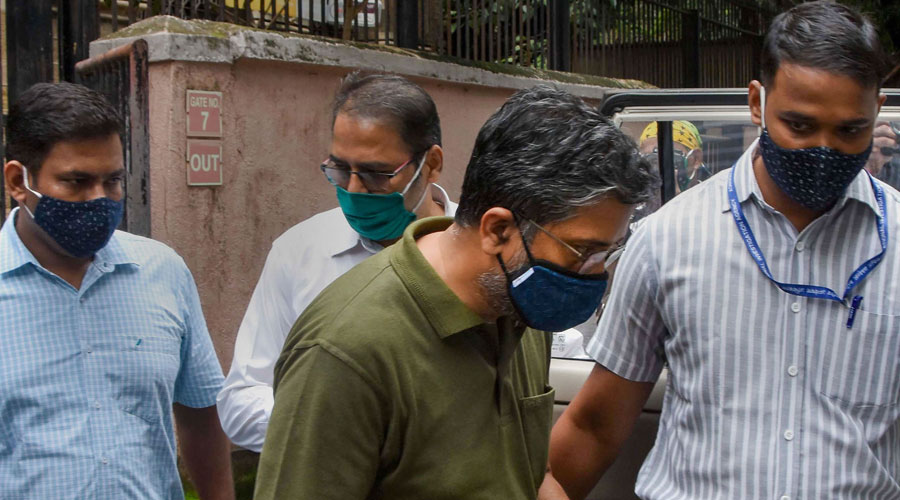 Hany Babu of Delhi University being produced in NIA court in Mumbai on Wednesday.
PTI
---
New Delhi
|
Published 03.08.20, 03:25 AM
|
---
The National Investigation Agency on Sunday searched the Noida home of Delhi University teacher Hany Babu M.T. whom it had arrested last week in a case that links an Ambedkarite event in 2017 to an alleged terror plot.
Hany Babu's wife Jenny Rowena, who teaches at DU-affiliated Miranda House, told The Telegraph the sleuths searched the flat for two hours. She said they took away an external hard disk, two pen drives, expenditure receipts of the Committee for Defence and Release of G.N. Saibaba, and all remaining copies of a pamphlet printed by the group.
Hany Babu had been active in the defence committee for Saibaba, a disabled DU professor serving a life sentence in Nagpur for alleged Maoist  links. Hany Babu, an associate professor of English, had earlier been known for his activism for the implementation of OBC reservation in higher education.
Rowena said: "All these items were present in the house during the search last year by the Pune police, who had also taken away six copies of the pamphlet, published before this case took place (at the end of 2017)."
The case relates to the Elgaar Parishad public meeting in Pune on December 31, 2017, to commemorate the bicentenary of a Dalit battle victory against the Peshwa's army. The annual Ambedkarite pilgrimage to the victory monument was attacked by Right-wing groups the next day.
Now the Elgaar Parishad is being probed for incitement of the violence that followed, alleged Maoist links and a plot to attack the Prime Minister's rallies.
Hany Babu was arrested on Tuesday after five days of interrogation by the NIA in Mumbai, where he had been summoned from Delhi. He has been accused of "propagating Naxal activities and Maoist ideology" along with 11 other academics, writers, lawyers and rights activists who were already in jail in Mumbai.
Hany Babu has consistently denied any links with the banned CPI Maoist or any role in organising the Elgaar Parishad.
"I asked them (agency sleuths) for the hash value (digital equivalent of a fingerprint for files on a computer) of the electronic items. They said they do not give this and that it is sealed, so it is safe," Rowena said.
"During his interrogation in Mumbai, he had called me up and said they were claiming that several incriminating letters exchanged with top Maoists had been found in a folder in one of his two laptops seized by the Pune police last year. He had no such folder and has never seen such letters. More than two years after the case happened, why would anyone keep such letters on their laptop?"
Rowena and her 17-year-old daughter were present during the search, conducted by around a dozen officers, including two women.
Hany Babu's friends and DU colleagues were allowed to meet them only after the search ended at 9.30am.
The NIA later said in a statement: "Further, the investigation also revealed that accused Hany Babu was in contact with Paikhomba Meitei, secretary information and publicity, military affairs, Kangkeipak Communist Party (MC), an organisation banned under the Unlawful Activities (Prevention) Act.
"An interview of Ganapathy, general secretary of CPI Maoist, was shared by Paikhomba Meitei with the accused Hany Babu. Communications of Hany Babu with other Maoists of Manipur have also been retrieved."
The statement added: "The investigation also revealed that after the release of CPI Maoist leader Pallath Govindankutty, Hany Babu M.T. along with co-accused Rona Wilson took the initiative to help him financially by raising funds.... Hany Babu, along with other accused persons namely Rona Wilson, Anand Teltumbde, P. Varavara Rao and Surendra Gadling, formed a committee for the release of G.N. Saibaba who was sentenced to life imprisonment for his links with CPI Maoist."