Prime Minister Narendra Modi has virtually launched the 2019 campaign on New Year's Day, delivering what sounded like an address to the nation through an interview that was telecast widely.
In the 90-minute interview to ANI, a news agency, where at least 7,000 words were exchanged, the following factors stood out.
The Prime Minister sought to convert the upcoming general election into a "People vs Grand Alliance" contest, virtually making himself synonymous with the people and attempting to resurrect the Modi-centric, presidential-style bout that had paid rich dividends in 2014.
"It is going to be Janta versus Gathbandhan. Modi is just a manifestation of public love and blessings," Modi said in response to a question on the Opposition efforts to close ranks.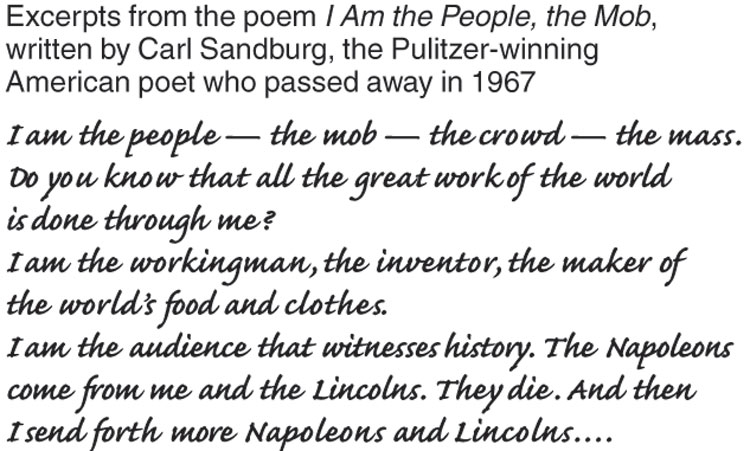 The Telegraph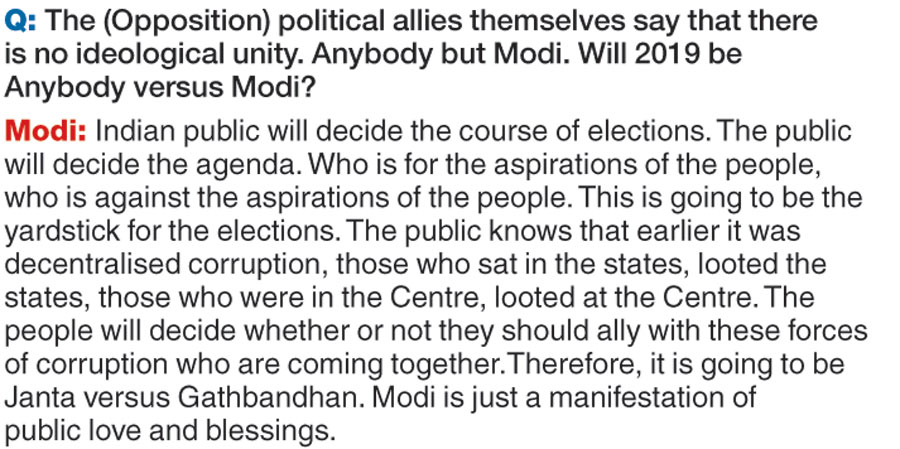 The Telegraph
By casting himself as the "manifestation of public love", Modi has stepped into a sparsely populated terrain. When the hyperbolic "Indira is India, India is Indira" slogan was coined, Indira Gandhi had not done so herself. The then Prime Minister needed the Congress loyalist D.K. Barooah to come up with the proclamation.
The stress on himself was evident even on a topic like the Rafale deal. "This is not an allegation against me personally but against my government. If there is any allegation against me personally, let them dig who gave what, when and where to whom," Modi said, before pointing out that the matter had been cleared by the Supreme Court.
Modi also dusted the "outsider" theme of 2014 that had sought to set him apart from the "elitist" political class of Lutyens Delhi.
"I leave it to the people to decide whether they are satisfied or not with my work. But one thing I am not surprised, I could neither make the Lutyens world part of me or me part of them. I did not want them to be part of me as my background is different. I am a representative of the non-elite world. I could not win them over, still trying how to win over such forces," Modi said, asked about any regret during his term.
However, this time there is a difference. Modi is suggesting that he is still an outsider after an unchallenged stint in Delhi, where he enjoyed the full-throated support of the Establishment, including large sections of the media.
Modi passed up an opportunity to publicly take responsibility for the loss of the three states after the recent elections although he had campaigned extensively.
The Prime Minister acknowledged defeat in just one state, Chhattisgarh, and said the other two — Madhya Pradesh and Rajasthan — threw up "hung" Assemblies. He also cited 15 years of anti-incumbency.
In the interview, Modi touched upon a wide range of issues. It appeared to be an attempt to address criticism over his refusal to address even a single media conference, where uncomfortable and unscripted questions can crop up, since becoming Prime Minister.
On the cycle of lynchings linked to cows, Modi stuck to the middle path. He made a general statement against such incidents ("totally wrong and totally condemnable") but added that what Vinoba Bhave (who had campaigned against cow slaughter) used to say and "sentiments reflected in the Constitution" should be respected by every citizen.