Election Commission cold to Opposition demand for VVPAT tallying before counting
The EC has been arguing that such verification would delay the results by at least six days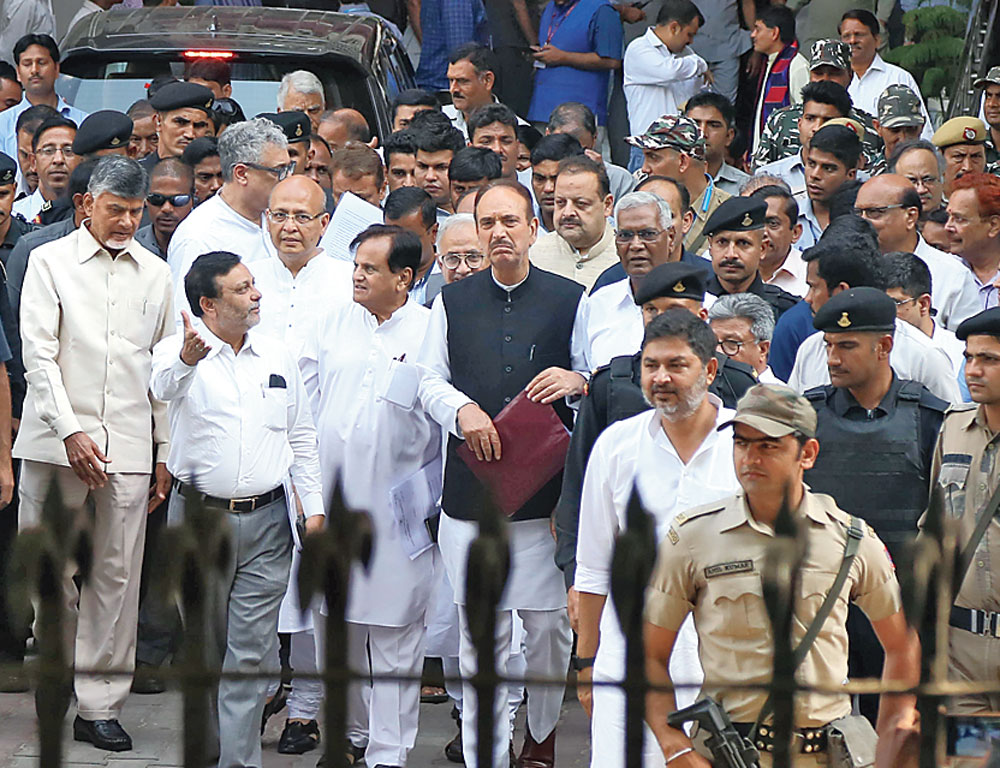 ---
---
Twenty-two Opposition parties met the Election Commission on Tuesday to request that tallying of votes with the paper trail — at five random polling stations in each Assembly segment — be taken up at the start of counting on May 23 and that in case of a mismatch, all paper slips in all polling stations of that segment be counted.
The EC responded by saying that even in a medical check-up, blood is drawn only once, sources said.
Andhra Pradesh chief minister N. Chandrababu Naidu retorted that if one test shows something wrong, then more tests are ordered, including a full body scan.
After an almost hour-long meeting in which the 22 parties jointly raised their common concern, the EC remained non-committal and did not even explain why it wasn't accepting the suggestion. "We did not get any categorical response," a party leader said.
The EC will take a decision on Wednesday.
The Opposition believes the votes polled in the EVMs should be tallied with their corresponding voter verified paper audit trail (VVPAT) machines at the beginning, rather than the end, of counting. The Supreme Court had ruled that the votes be tallied in five randomly picked polling stations in each Assembly segment.
Should there be a mismatch anywhere, then the ECI should mandate cent per cent counting of the paper slips of all polling stations in that segment, the Opposition said.
The Opposition also screened a short video, showing reports of EVMs being transported without security, and pointed to statements of two former chief election commissioners, T.N. Seshan and S.Y. Quraishi, stressing the need for the EC to instill confidence among voters.
Briefing the media later, Congress leader Abhishek Singhvi said: "We only want VVPATs tallied. Remember, Rs 9,000 crore was spent to make sure every EVM had a corresponding VVPAT. Why keep them as decoratives and not tally them once a discrepancy has been found?"
The EC has been arguing that such verification would delay the results by at least six days. But many who have recollection of the paper ballot point out that even then counting did not take so long.
Others point out that voters who voted in the early phases have already waited over a month. Why should a few more days matter if it helps instill confidence in the process.
"What prevents the @ECISVEEP from counting all the #VVPAT slips to increase transparency, trust and credibility in #2019Elections and put at rest fears of #EVMHacking,'' tweeted activist Nikhil Dey who has been campaigning for cent per cent verification.