Call for ballot paper status to VVPAT slips
Activists will launch a "constant vigil" on May 17 demanding that all VVPAT slips in the Lok Sabha polls are counted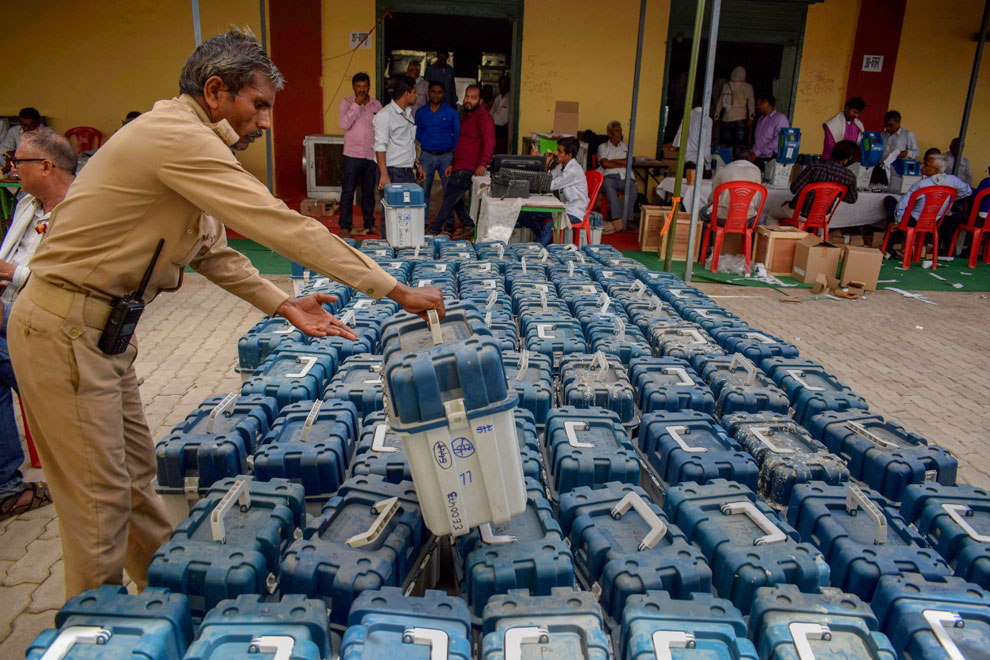 A polling official arranges Voter Verified Paper Audit Trail machines (VVPATs) at a distribution centre for the upcoming fifth phase of the 2019 Lok Sabha elections, in Prayagraj, Friday, May 03, 2019.
(PTI)
---
New Delhi
|
Published 08.05.19, 12:23 AM
|
---
Several eminent citizens have demanded that paper trails from VVPAT machines be "recognised" as ballot paper, and all such slips counted.
Activists will launch a "constant vigil" on May 17 demanding that all slips from voter-verified paper audit trail (VVPAT) machines in the Lok Sabha elections are counted. They will also seek the repeal of Conduct of Elections Rule 49MA, which criminalises complaints against malfunctioning VVPATs that cannot be proven.
The signatories of the petition to count all VVPAT slips include former naval chief L. Ramdas, former ambassador K.P. Fabian, former National Minorities Commission chairperson Wajahat Habibullah, former National Commission for the Protection of Child Rights chairperson Shantha Sinha, former Planning Commission member Syeda Hameed, bureaucrat-turned-activists Aruna Roy and Harsh Mander, eminent academics including former University Grants Commission chairperson Sukhadeo Thorat, Ramachandra Guha, Prabhat Patnaik, Aditya Mukherjee, Mridula Mukherjee, Nandini Sundar and Zoya Hasan, jurists such as former Delhi Chief Justice A.P. Shah and Fali S. Nariman, and activists such as Medha Patkar, Kavita Srivastava, Lalita Ramdas and Swami Agnivesh.
Their open petition cites the Supreme Court's 2013 judgment that says "paper trail" is an indispensable requirement of free and fair elections. "The confidence of the voters in the EVMs can be achieved only with the introduction of the 'paper trail'," the judgment said.
The petition says: "If the VVPAT slips were to be used for counting, it would eliminate the doubts that are raised about manipulation, and the malfunction of the machines, as well as delink the debate about audit methodologies from the ballot.
"We therefore strongly suggest that the VVPAT slip be recognised as the ballot paper — and as a consequence — each voter slip be counted. There is no reason why this cannot be done in the 2019 Lok Sabha elections."
The petition adds that in future, VVPAT slips should be received by voters who will drop them in boxes to be counted, thereby turning the EVMs into slip-printing machines.
RTI activist Nikhil Dey said: "We will petition the EC, but also protest. This movement will not stop even after the elections. We will have a continuous vigil for this from May 17."