ED raids Amnesty office
A media release from the ED said Amnesty had received Rs 36 crore as inward remittances to AIIPL, which were in violation of FDI guidelines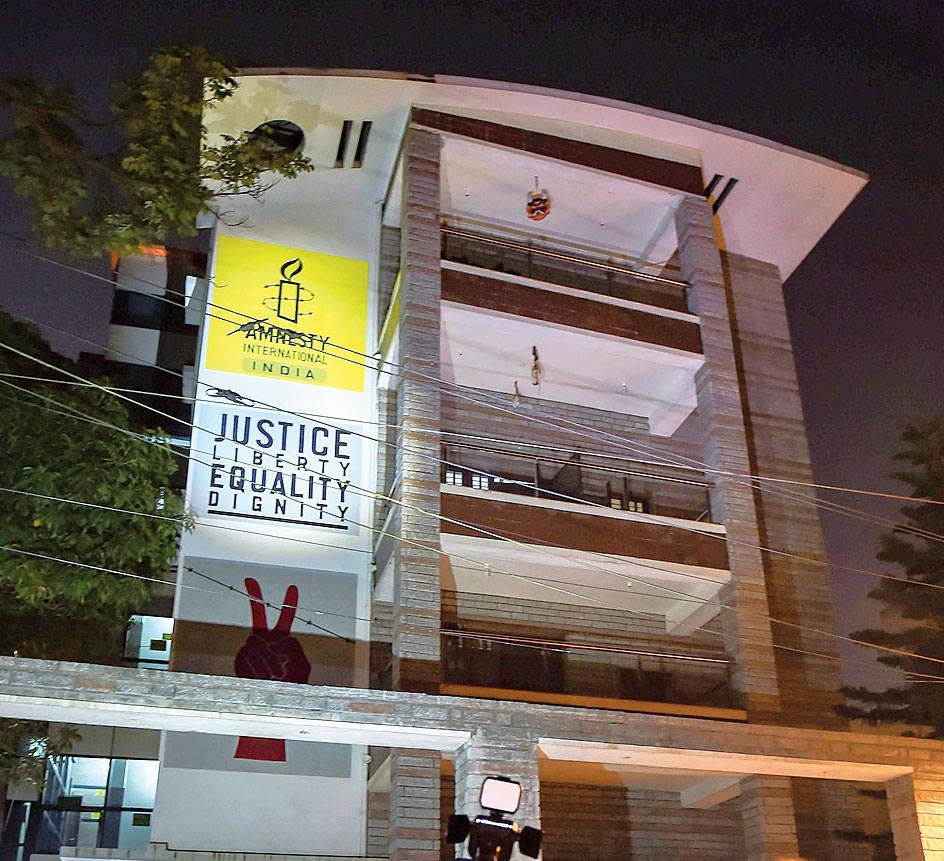 The Amnesty building in Bangalore.
PTI
---
Bangalore
|
Published 25.10.18, 08:18 PM
|
---
Enforcement Directorate officials raided the Amnesty International India office in Bangalore on Thursday for alleged violation of foreign funding norms.
"After Amnesty International India Foundation Trust was denied permission/ registration under FCRA (Foreign Contribution Regulation Act) 2010 by MHA (ministry of home affairs), they resorted to bypass the FCRA Act by floating commercial entity in the name of Amnesty International India Pvt Ltd (AIIPL)," a media release from the ED said.
It said Amnesty had received Rs 36 crore — Rs 10 crore of it as long-term loans — as inward remittances to AIIPL, which were in violation of FDI guidelines. So the searches were conducted.
The ED said that while the sum of Rs 10 crore was kept in the form of fixed deposits, another entity named Indians for Amnesty International Trust received an overdraft facility of Rs 14.25 crore with the Rs 10 crore as collateral.
The remaining Rs 26 crore was kept in two other bank accounts of AIIPL as "consultancy services", it said.
An Amnesty source said the officials arrived around 2pm, went through employees' laptops and questioned them about foreign remittances. They locked the building down, preventing anyone from leaving.
Amnesty had been slapped with sedition charges in August 2016 when, at an event titled "Broken Families" it had organised in the city, a few attendees allegedly shouted "anti-India" and "pro-Kashmir independence" slogans.
An FIR that did not name any individual was filed on the basis of a complaint by the RSS student arm, ABVP. Little progress has been made in the case.
On October 5, the ED had raided the office of Greenpeace, an environmental organisation, in the city for alleged foreign exchange violations.
Greenpeace had in a statement denied any violations, saying it received all its funding from within India.
"Every rupee that goes into Greenpeace India's environmental work is a donation made by ecologically conscious people in the country," the statement said.
Karnataka Youth Congress president Rizwan Arshad criticised Thursday's raid.
"Any NGO working for restoration of human rights and against the decimation of democratic institutions is being raided," he said.
"The ED, CBI or the Intelligence Bureau have nothing to do except protect the government's interests. Mr Modi (Prime Minister Narendra Modi), who claims to be a very honest man, is protecting the corrupt."