Economy finger at Modi's 'incompetence'
The Congress said blaming the coronavirus alone was incorrect as the downslide had begun with the November 2016 demonetisation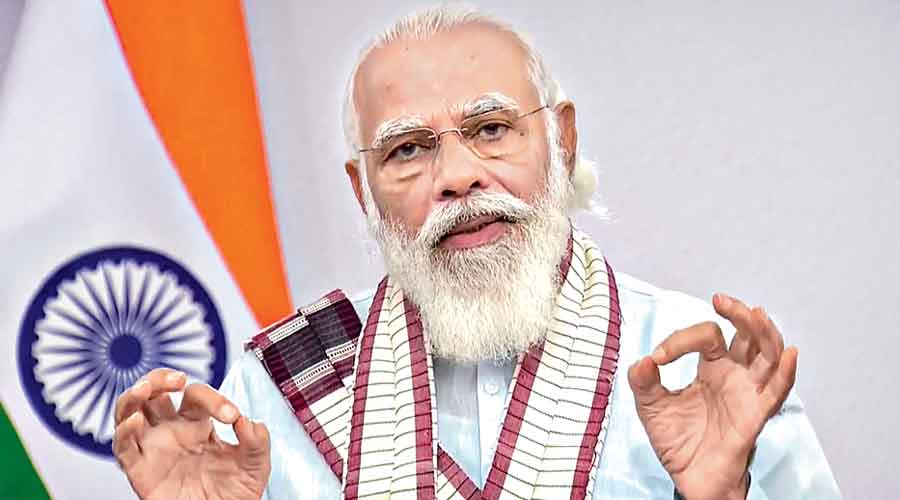 ---
---
The Congress on Friday wondered whether Prime Minister Narendra Modi's "incompetence" was responsible for one of the world's fastest-growing economies becoming one of its worst performers.
"It is true Narendra Modi handled Gujarat. But in states, financial management is all about expenditure and revenue. At the Centre, you have to oversee macroeconomic management, which is an altogether different game," Congress spokesperson Supriya Shrinate said.
"But Modi cannot hide behind inexperience as he has spent over six years in office now. It is incompetence."
Shrinate said the government had "messed up" the economy and "presided over the death of various sectors".
"The economic managers and advisers of this government seem to lack basic understanding of how the economy works. There is no strategic thinking," she said.
"The government is still in denial of the grave crisis. We were among the three fastest-growing economies. Now we are at the bottom; among the seven worst-performing countries."
Shrinate said blaming the coronavirus alone was incorrect as the downslide had begun with the November 2016 demonetisation. Further mismanagement had led to the GDP growth rate falling for eight consecutive quarters, she added.
"There is no concerted effort to boost investment, lift exports, push consumption and create more jobs. Empty promises and divisive social agenda will not help in economic revival," she said.
As if to flaunt the talent within Congress ranks in contrast to the government's alleged incompetence, Sonia Gandhi has formed a committee to keep a watch on the economy and periodically prepare reports on its various aspects.
The committee includes former Prime Minister Manmohan Singh, former finance minister P. Chidambaram, former railway minister Mallikarjun Kharge, former rural development minister Jairam Ramesh and former chief minister Digvijaya Singh.
Sonia, who has travelled to Goa on medical advice as extreme pollution worsens her chest congestion, also formed two other committees on foreign affairs and national security.
The first is made up of Manmohan, Anand Sharma, Shashi Tharoor, Salman Khurshid and Saptagiri Ulaka. The national security committee includes Manmohan, Ghulam Nabi Azad, Veerappa Moily, Vincent Pala and V. Vaithilingam.
The formation of these committees also sends out a conciliatory signal to dissenters within the party who felt they were being sidelined for questioning the drift in the Congress.
Azad, Sharma, Moily and Tharoor were among 23 signatories to a letter to Sonia that had spelt out the organisational problems and alleged a leadership crisis. By engaging them under the leadership of Manmohan, Sonia has tried to contain resentment before the upcoming Congress plenary.
The party will use these committees' reports and assessments to corner the government. The Congress has consistently criticised the government's handling of the economy over the years, alleging wrong measures were being taken and expert advice was being ignored.
On Friday, the Congress questioned the move to freeze the dearness allowance of public sector unit employees instead of cutting wasteful expenditure on vanity projects like the Central Vista and bullet trains.
"Food inflation has crossed 11% but Modi government is freezing DA of central PSUs instead of increasing it," Rahul Gandhi tweeted.
"While crony capitalists are making profits, government employees are in distress."
Rahul accused the government of crushing the rights of the poor, first through an ill-planned lockdown and then by bungling with the rural job guarantee scheme.
Shrinate said: "In yet another move that will hit incomes, through a circular dated November 19, the government has frozen additional instalments of DA for PSU employees till June 30, 2021.
"This impacts over 14.5 lakh employees across 339 central PSUs. It follows the retrospective cut in DA for 113 lakh central government employees and pensioners, including our armed forces, that was done in April 2020."
Shrinate said one could only imagine the plight of unorganised-sector workers when even government employees were suffering so much.
"Instead of extending income support to revive demand (among) those who are the most vulnerable, the government is foolishly denting consumption even for those who have an assured income," she said.
"Does the government not understand that reducing the income of middle-class employees and pensioners is not just immoral but fiscally imprudent because it further squeezes demand?"