An engineering student at the National Institute of Technology (NIT) in Durgapur was beaten up by some of his classmates over social media posts linked to the Pulwama attack.
Srijan Goswami, a 21-year-old third-year student hailing from Burdwan town, returned home on Friday, fearing more assaults.
Srijan had made some posts and shared others on his Facebook wall that raised questions and mentioned the "56 inch chest hero". He also shared a post condemning the terror strike and offered condolences for the family of the dead CRPF personnel.
"…Why are we seeing such frequent terrorist attacks? Or is it something else to attract the masses and divert the public rage towards surgical strikes and Pakistan… such easy methods to come out as 56 inch chest hero…. Whatever may be the case… lives are not so cheap … the soldiers die whereas the scoundrels rest in air-conditioned rooms and give public speeches, benefiting from death and destruction," a post by Srijan read.
A Bengali post shared by Srijan from a Facebook page said: "To cover their own corruption and worthlessness, the leaders play war games with the jawans. The jawans, who are the pawns of the chessboard, die."
Another Bengali post shared by Srijan says: "The election is round the corner. Now if some jawans don't become martyrs, then how can patriotism overflow?"
On February 15, around 30-odd students came to Srijan's room in Hall-1 after lunch break and told him to delete the posts. He was allegedly beaten up and his shirt torn after he refused.
Srijan said they dragged him outside, pushed and punched him.
"They beat me up for expressing my opinion over a burning issue on social media. I doubt whether I am living in an independent nation," he said.
"I told them that my posts were not to humiliate or to send anti-national messages. I expressed my opinion on social media which is my right and I will not delete them," Srijan said over phone from home in Burdwan town.
Some of his classmates, however, stood behind him and rescued him.
Srijan's father Shyam Sundar Goswami, a medicine whole-seller, has emailed a complaint to the NIT director, urging him to ensure safety of his son and punishment for those who attacked the youth.
Soumen Sen Sharma, registrar of NIT, said: "It was a very small incident and was solved immediately after it was brought to our notice. We will ask the students not to post anything controversial on social media."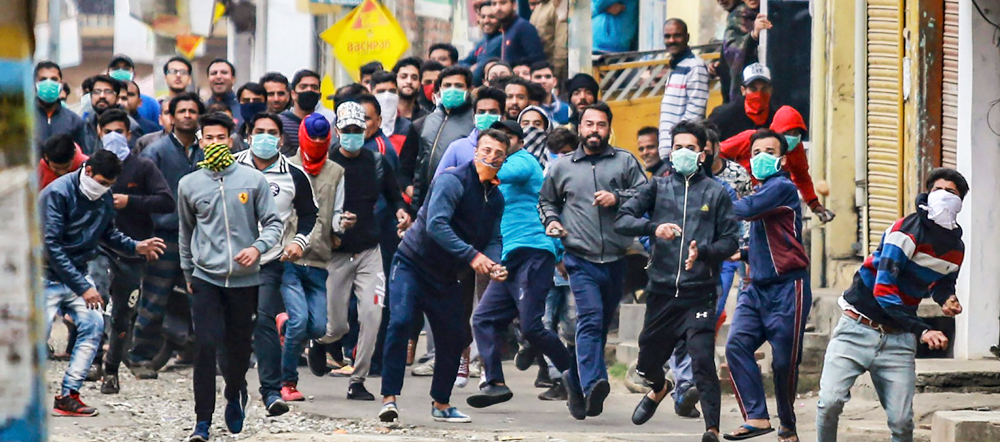 Protestors clash with police personnel during a curfew, imposed on the third day after the clash between two communities over the protest against the Pulwama terror attack, in Jammu, on Sunday. (PTI Photo)
Teacher axe
Papri Banerjee, a teacher of Icon Commerce College in Guwahati, was suspended and two police cases were registered against her for a Facebook post in which she appeared to suggest that the Pulwama attack was retaliation for atrocities committed on Kashmiris.
Chandmari police station in the city registered a suo motu case against her on Sunday, a day after Silchar Sadar police station in Barak Valley's Cachar district had lodged a case on an FIR filed by Silchar resident Subhashish Choudhury.
Papri was booked in Chandmari under sections dealing with intent to incite any class or community of persons to commit any offence against any other class or community and sending offensive messages through communication service. In Silchar, Papri was charged with criminal intimidation. She was detained for four hours on Saturday.
The teacher had been criticised on Facebook and other social media platforms for her post, which was deleted on Saturday night.
Papri said on Sunday: "The post was made on the spur of the moment as I was extremely saddened by the death of the jawans."
Sedition case
In Jaipur, four Kashmiri paramedical students have been slapped with sedition charges after being suspended from a private institute here for allegedly celebrating the Pulwama terror attack by posting "anti-national" messages on WhatsApp.
The second-year students of the National Institute of Medical Science (NIMS) — Talveen Manzoor, Iqra, Zohra Nazir and Uzma Nazir — were suspended for posting on WhatsApp a picture in which they were purportedly seen celebrating the terrorist attack in Kashmir that claimed the lives of 40 CRPF personnel.
In the suspension order, the NIMS registrar said: "You have posted an anti-national message on your WhatsApp for celebrating the killing of Pulwama terrorist attack martyrs. The university will not tolerate and strictly condemns such activities. The act is grave and serious in nature."
A case was registered against the four students following a complaint by the university administration, a police officer said. The students have been booked under IPC Sections 124A (sedition) and 153A (promoting enmity) and relevant provisions of the Information Technology Act.
Arrested
Tahseen Gul, a Kashmiri student of a private university in Himachal Pradesh's Solan district, was "rusticated" and later arrested for allegedly making "anti-national" remarks on social media, the police said on Sunday.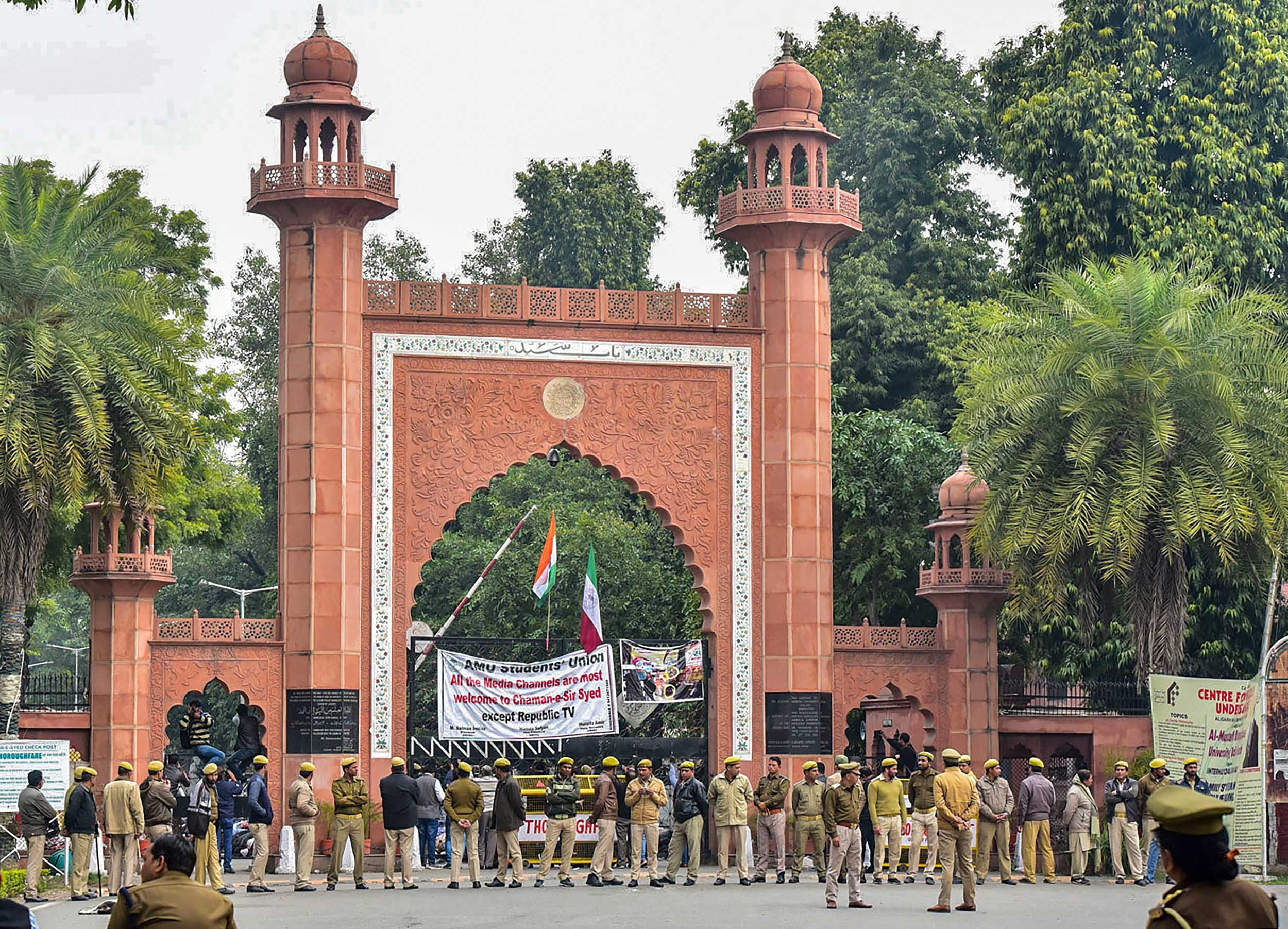 Police deployed on the campus of Aligarh Muslim University in the view of protests after students were booked on alleged sedition charges, in Aligarh, on Friday. (PTI Photo)
AMU advice
Aligarh Muslim University has issued an advisory to its Kashmiri students asking them "not to move out of the campus" as a precautionary measure.
AMU proctor Mohsin Khan said: "The university authorities are maintaining constant vigil on the law-and-order situation on the campus, especially in the wake of highly inflammatory social media posts emanating from the city."
He said a Kashmiri student Basim Hilal had been suspended from the university after an objectionable tweet and was no longer on the campus.
Additional reporting PTI