Don't kill Varavara in jail: Wife and daughters
The litterateur has been in Taloja Central Prison since 2018, facing investigation for his alleged role in the Bhima Koregaon case, being probed by the NIA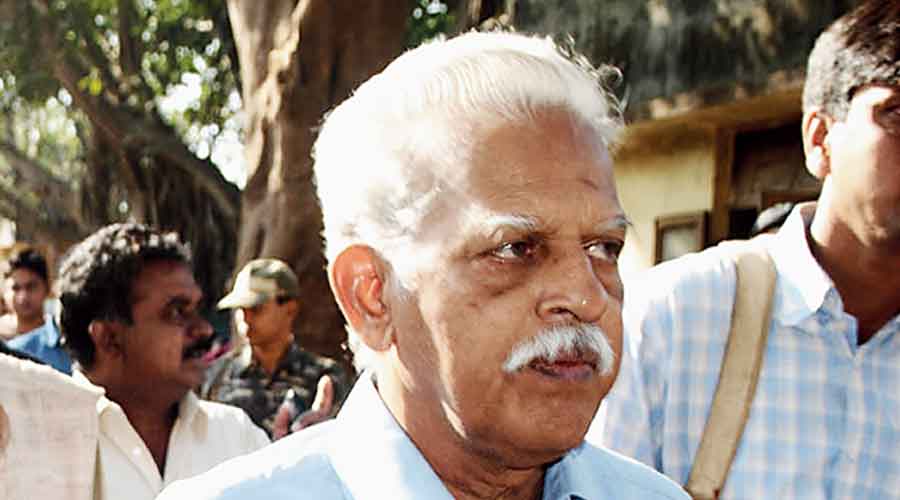 ---
---
The family of jailed revolutionary poet Varavara Rao on Sunday publicly appealed to the Maharashtra government to shift the 79-year-old to a hospital, saying he seemed to be hallucinating when he spoke to them over the phone on Saturday.
The Hyderabad-based Telugu litterateur has been in Navi Mumbai's Taloja Central Prison since 2018, facing investigation for his alleged role in the Bhima Koregaon case, being probed by the National Investigation Agency (NIA).
Rao and 10 other eminent rights activists are being probed in connection with caste violence near Pune on January 1, 2018, and an alleged Maoist plot to attack the Prime Minister's rallies.
Rao's wife P. Hemalatha and daughters Sahaja, Anala and Pavana have issued a statement titled "Don't Kill Varavara Rao in Jail!"
"The latest call, on July 11, is much more worrisome as he did not answer straight questions on his health and went into a kind of delirious and hallucinated talk about the funeral of his father and mother, events that happened seven decades and four decades ago, respectively," the statement said.
"Then his co-accused companion (academic-activist Vernon Gonsalves) took the phone from him and informed us that he is not able to walk, go to the toilet and brush his teeth on his own. We were also told that he is always hallucinating that we, family members, were waiting at the jail gate to receive him as he was getting released.
"His co-prisoner also said he needs immediate medical care for not only physical but also neurological issues," according to the statement from the family.
The statement added: "The confusion, loss of memory and incoherence are the result of electrolyte imbalance and fall of sodium and potassium levels leading to brain damage. This electrolyte imbalance may be fatal also. Taloja Jail Hospital is not at all equipped to handle this kind of serious ailment, either in medical expertise or equipment."
Rao's family said the prison officials had admitted him to Mumbai's Sir Jamsetjee Jeejebhoy Hospital on May 28 in an unconscious state, and that he remained there for three days.
A special NIA court had last month rejected bail pleas from Rao and co-accused Shoma Sen, a 61-year-old professor. They had sought bail on the basis of a Delhi High Court committee's recommendation to decongest prisons during the epidemic.
Both suffer from multiple ailments. Sen had moved a fresh bail plea on health grounds in July, but this one was rejected too.
Co-accused and lawyer Sudha Bharadwaj, 58, who suffers from several ailments that would put her at great risk if she catches the coronavirus infection, too had her bail plea rejected in May.
Taloja jail superintendent Kaustubh Kurlekar told The Telegraph that Rao's condition was stable.
"The reports from J.J. Hospital, where he was admitted, show that he is normal. His issues, if at all, are due to old age. He has a caretaker with him and the prison hospital has three doctors. His condition is monitored daily," he said.
"He is being given the medicines prescribed by J.J. Hospital, and we are trying our best to arrange for a follow-up at the hospital within two days. His pulse, oxygen and blood pressure are normal."
In May, a Taloja prisoner had died of multiple ailments and another committed suicide. Both corpses tested positive for Covid-19. The jail, with a capacity of 2,134, has more than 2,600 prisoners.
Last month, 14 Opposition MPs had written to Maharashtra chief minister Uddhav Thackeray to shift Rao and G.N. Saibaba — a differently abled professor serving a life sentence in Nagpur jail since 2013 for alleged Maoist links — to hospital immediately.
Rao's daughter Pavana, talking to reporters over Zoom, highlighted that Maharashtra's ruling Shiv Sena-NCP-Congress coalition "had spoken a lot on how this case is false when they came to power".
"Although he is eligible for bail, today we are merely asking the Maharashtra government to shift him to a better hospital and treat him immediately," she said.
"My father was part of every struggle for Telangana's statehood, which we now enjoy. Yet (chief minister) K. Chandrashekar Rao has not even responded to my mother's letter asking for his intervention.
"After my father fainted in jail, my mother publicly appealed to the Union minister of state for home affairs, G. Kishan Reddy, too, as he is from Telangana. If a creative person, and an important intellectual from the state, dies in jail because of negligence of the government, then Kishan Reddy and the Telangana government will also have to answer."
Five eminent citizens who had petitioned the Supreme Court against the arrests in 2018 issued a statement on Sunday seeking treatment and family care for Rao.
"Even before Mr Rao was arrested, we had been arguing that the investigation should be impartial, speedy and supervised by the judiciary. We have now reached a stage where his life is at stake. To knowingly risk the life of a person in state custody by refusing proper medical treatment would amount to a form of the 'encounter', an extra-legal punishment which the State institutions are duty-bound to forego," the statement said.
"We appeal to the authorities to assure the nation that the Indian State respects the rule of law and the Constitution, by ensuring that P. Varavara Rao receives immediate and proper treatment and that his family is allowed to look after him during his illness."
The signatories were historian Romila Thapar, economists Prabhat Patnaik and Devaki Jain, legal activist Maja Daruwala — daughter of the late Field Marshal Sam Manekshaw — and sociologist Satish Deshpande.
Academic summoned
The NIA has summoned Delhi University associate professor of English Hany Babu M.T. to Mumbai on Wednesday.Babu was raided in the case last year and all his electronic devices, which contained his research work, among other things, were seized.
"I don't see why sufficient notice could not be given to me. I can't just travel and put myself and my family at risk of Covid-19," Babu told this newspaper on Sunday.
"But I will have to, even though I don't see any emergency for the NIA to do so (summon him) as they have not contacted me since the raid last year."
Babu lives in Noida and has been vocal against the imprisonment of Saibaba and the others.