Donald Trump tough on India, soft on Narendra Modi
On Tuesday, Trump said: We're not treated very well by India, but I happen to like Prime Minister Modi a lot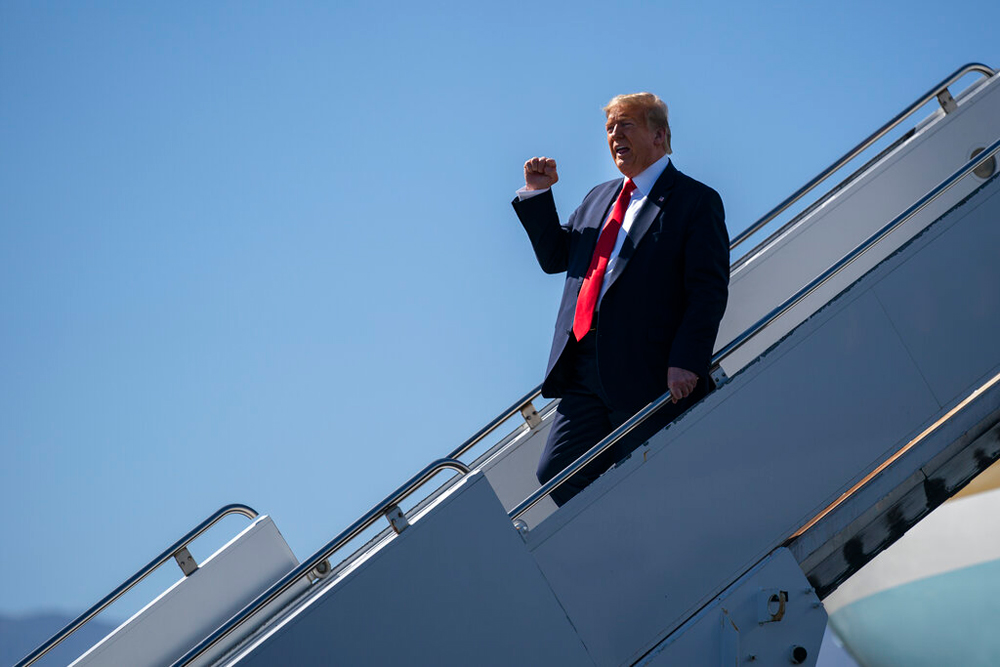 ---
---
After President Donald Trump made it clear on Tuesday that his India visit would not deliver a big trade agreement, government sources in New Delhi said commerce minister Piyush Goyal and US trade representative Robert E. Lighthizer had agreed not to rush into a deal given the accompanying economic consequences.
By way of deliverables, India sought to rein in expectations from Trump's first trip to the country, with the government sources insisting that the bilateral relationship has evolved to a state where it does not need "big ticket announcements" in every visit.
"Much of our work with the US is private sector-driven, not government-to-government," a source said.
The sources said there was a possibility of the $2.6-billion deal for 24 naval helicopters — MH-60R — being signed during or in the run-up to the visit but even this would be part of an ongoing process. "Defence purchases are ongoing processes and have nothing to do with a visit. Some deals may fructify close to the visit or during the visit," a source said.
In response to a question in Maryland on Tuesday whether there would be a trade deal with India during the visit, Trump said: "Well, we can have a trade deal with India, but I'm really saving the big deal for later on."
He said: "We'll have it. I don't know if it'll be done before the election, but we'll have a very big deal with India. We're not treated very well by India, but I happen to like Prime Minister Modi a lot."
Trump was instead focused on the "millions" he expected to see lined up to greet him when he lands at Ahmedabad airport on Monday and drives to the Motera Cricket Stadium where a "Namaste Trump" show is being mounted on the lines of the "Howdy Modi" event in Houston last September.
"He (Modi) told me we'll have seven million people between the airport and the event. And the stadium, I understand, is sort of semi-under-construction, but it's going to be the largest stadium in the world. So it's going to be very exciting. But he says between the stadium and the airport we'll have about seven million people. So it's going to be very exciting. I hope you all enjoy it," the US President said.
Asked if seven million people, which is more than the population of Ahmedabad city, will be lined up along the route, government sources said "there is always a problem between lakhs and millions".
Foreign secretary Harsh Vardhan Shringla said in a statement: "The route of their travel to the stadium is expected to have tens of thousands of ordinary citizens of India as well as artistes showcasing the performing arts from different states and Union Territories of India."
Every state of the country will be represented on 28 stages that will be mounted along the route to showcase the diversity of the country in what will be called the "Indian Road Show". Also along the route will be a depiction of events from the life of Mahatma Gandhi.
The stadium, which has a capacity to accommodate 110,000 people, is expected to be filled to capacity.
The President, according to Shringla, was keeping a promise made to Modi during their first meeting in June 2017 that he would visit India in his first term. That he is undertaking a standalone visit to India in the midst of election season was underscored by government sources to stress that the visit by itself is a big deal for New Delhi, even if there are no immediate deliverables. The need to engage regularly to strengthen the cooperation on security, geopolitics and defence issues is a big takeaway, the sources said.
Pointing out that this would be the fifth Modi-Trump engagement since the Prime Minister was re-elected in May last year, Shringla said this reflects the "renewed intensity of the high-level bilateral engagement since the NDA Government returned to power".
Of the view that the relationship with the US had evolved to one of "our most consequential relationships today", Shringla said the Trump visit would be "brief but intense with all essential elements of a state visit and two additional legs in Ahmedabad and Agra, all squeezed into less than 36 hours".