Divided on meet, united on CAA
Most seemed uncomfortable with the Congress taking the lead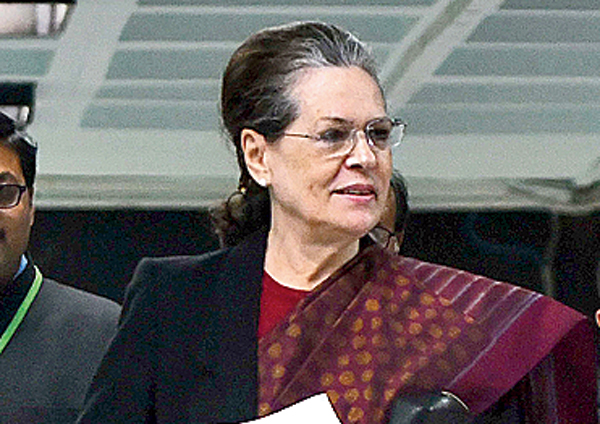 ---
---
Political compulsions and differences kept several parties away from the meeting Congress president Sonia Gandhi had convened to build on the public anger against the citizenship act, the National Population Register and the National Register of Citizens, but they all signalled a collective resolve to fight the "unholy trinity".
All those that stayed away — be it the DMK, Trinamul, BSP, the Samajwadi Party or the Swabhimani Shetkari Saghatna — remain determined to oppose the CAA-NPR-NRC but most seemed uncomfortable with the Congress taking the lead.
At the meeting, attended by the JMM, Left parties, NCP and the RJD, among others, the Opposition urged chief ministers who have announced they wouldn't implement the NRC to suspend work on the population register.
They also gave a call for action on three days this month — January 23 to mark Netaji Subhas Chandra Bose's birthday, January 26 (Republic Day) and January 30 (Mahatma Gandhi's martyrdom day).
The parties in a statement said a "spirit of resistance has awoken" and urged everyone to show solidarity with this sentiment, especially on these three days.
While the meeting went along expected lines, it was the absentees that drew all the attention, particularly key allies Shiv Sena and the DMK.
Sena Rajya Sabha MP Sanjay Raut said the party didn't attend because of a "miscommunication", adding that the three key constituents of the Maha Vikas Aghadi — the Congress, NCP and the Sena — were on the same page on the citizenship law.
On the NRC, the Sena hasn't been categorical in rejecting it, but Maharashtra chief minister Uddhav Thackeray has said he wouldn't allow detention camps in the state.
The DMK apparently stayed away to signal its unhappiness over differences with the Tamil Nadu Congress leadership. DMK leader and former Union minister T.R. Baalu had reached the capital for the meeting but the leadership decided eventually that he shouldn't attend.
The BSP's decision to stay away came as no surprise as the party has been striking out on its own for a while now, working with the Opposition on a case-by-case basis in Parliament.
In a series of tweets, however, BSP leader Mayawati made it clear her party was not attending the meet to protest the poaching of her MLAs in Rajasthan by the Congress, adding the Opposition to the CAA-NPR-NRC would continue.
The Samajwadi had initially decided to send Rajya Sabha MP Javed Ali Khan but decided against it at the last minute like the DMK. Party leaders didn't elaborate on the change of plan but maintained that their opposition to the three evils would continue.
Trinamul had said last week itself that it wouldn't join the meeting.
Raju Shetti of the Swabhimani Shetkari Saghatna said he stayed away not because he had changed his position on the CAA-NPR-NRC. "We remain opposed to the three but the Congress only remembers us when it needs to fight the BJP," he told The Telegraph. "Otherwise, it does what it pleases."