Discovery's tribute to Kerala flood heroes
The total damage is estimated at Rs 40,000 crore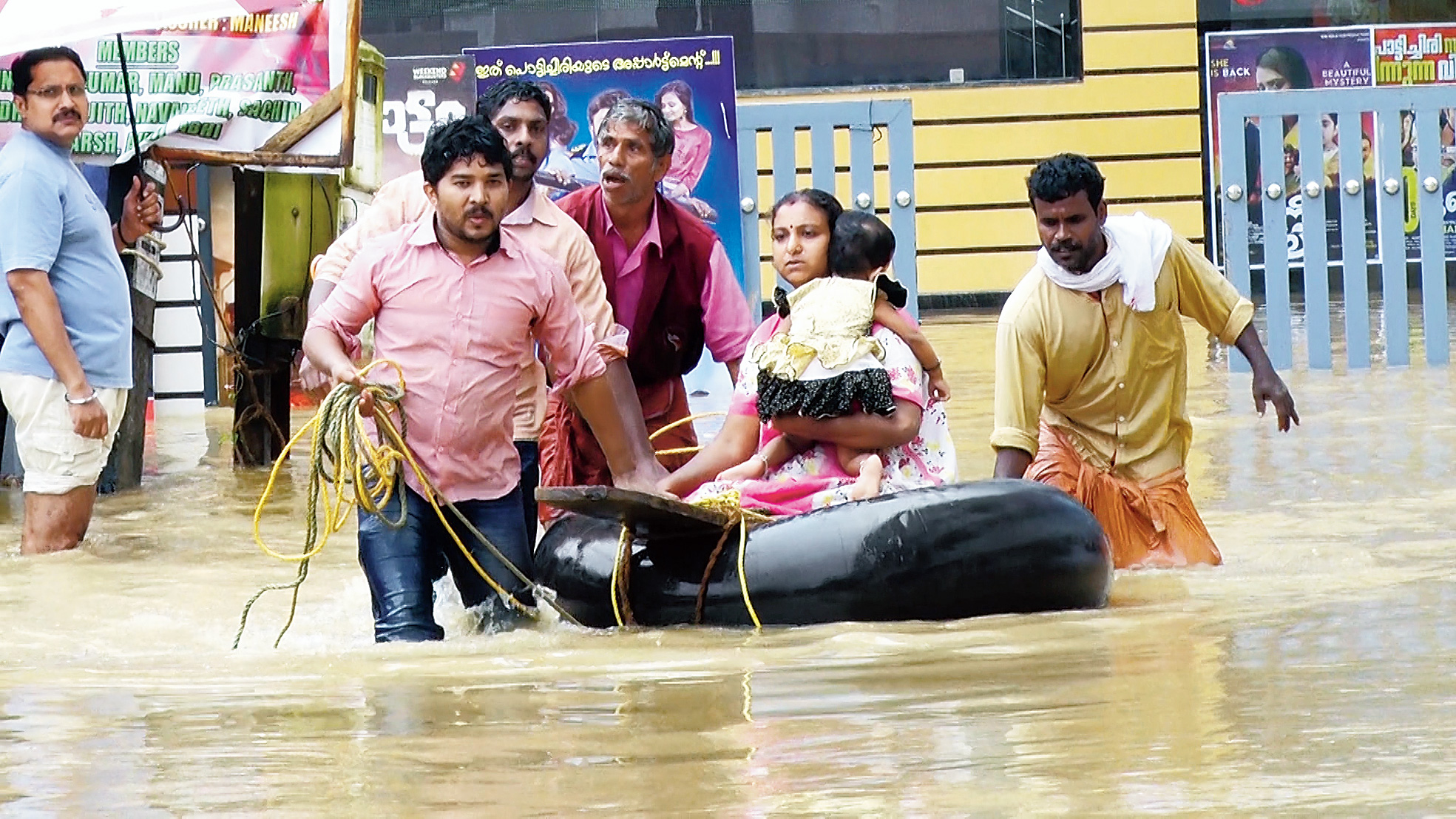 ---
---
Discovery Channel will air a one-hour documentary on the recent Kerala floods on Monday night as a tribute to the courage and humanity of the state's people, who had stood by one another when thousands of homes were flooded or washed away.
Kerala Floods — The Human Story, to be beamed from 9pm, highlights some of the deluge's most poignant stories about the rescue operations by fishermen, altruism shown by ordinary people and the solidarity among different religious communities.
Within days of the onset of the state's worst floods since 1924, Discovery had deployed its camera crews across Kerala.
"We placed four camera units on the ground to capture live images," Zulfia Waris, vice-president and head of Premium Digital Networks of Discovery Communications India, told The Telegraph.
"The documentary features brave rescue operations like the one involving the fully pregnant Fajitha Jabil."
Fajitha, a 25-year-old housewife, was winched up by a navy helicopter from the roof of her home in Alva, Ernakulum, where floodwaters had reached the first floor.
First, the helicopter had sent down a doctor after being alerted about her pregnancy. Fajitha's water broke before she was rescued. She delivered a boy, Subhan, within minutes of being taken to the naval hospital in Kochi.
Her grateful family painted "Thanks" on the roof for rescue choppers over-flying the house to see.
"The documentary is also about how people stood by each other irrespective of caste, class or religion," Waris said.
More than 13 lakh displaced people were accommodated in about 2,800 relief camps, which offered them food, clothing, medical care and even counselling if they had suffered extreme mental trauma.
Temples, mosques and churches were thrown open for the flood-hit, and religious institutions placed their resources in the service of the displaced.
Hundreds of fishermen launched their own rescue missions and helped with relief, putting to good use their skill in manoeuvring rough waters.
"We have also focused on how the displaced returned home only to find their possessions, including important documents, washed away or destroyed," Waris said.
One story missing from the documentary, however, is that of the chivalrous Jaisal K.P. from Malappuram, who had spontaneously got down on all fours to act as a footboard for a pregnant woman to climb into a rescue dinghy in Vengara.
Impressed with reports of the act, Mahindra group chairman Anand Mahindra had donated a Mahindra Marazzo SUV to the 32-year-old fisherman.
Eleven days of continuous rain since August 15 had burdened Kerala with nearly 25 trillion litres of water. The state had to release water from all its 61 dams as the reservoirs were flooded. The death toll crossed 450, counting the landslide victims.
The total damage is estimated at Rs 40,000 crore, with the state needing to rebuild more than 200 bridges, 35,000km of roads and about 1.74 lakh houses.
Discovery had earlier produced and broadcast documentaries on the Uttarakhand floods of 2013 and the Chennai deluge two years later.