Dhanbad fire exposes safety gaps
Jharkhand, which witnessed a mushrooming of highrises and malls in the past five-six years, has never conducted surprise inspections of such buildings to check if they conform to fire-safety norms or if mandatory fire safety drills are taking place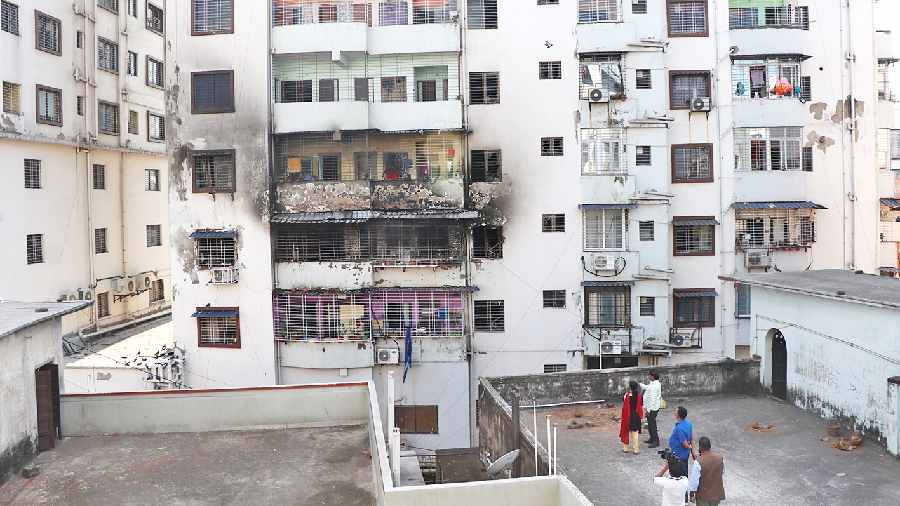 The fire-ravaged Ashirwad Tower at Joraphatak in Dhanbad on Wednesday.
Shabbir Hussain
---
Jamshedpur
|
Published 02.02.23, 03:03 AM
|
---
The blaze in a Dhanbad highrise that killed 14 people on Tuesday has exposed a glaring chink in the fire-safety system in Jharkhand.
The state fire services, which functions under Jharkhand police, is "severely understaffed" and is currently operating at 50 per cent of its sanctioned strength.
Moreover, out of the 41 fire stations across the state, only Dhurwa in Ranchi has a hydraulic platform fire tender.
The remaining 40 have to depend solely on the traditional ladder fire tenders that can at best cope with three-four-storey buildings.
Jharkhand, which witnessed a mushrooming of highrises and malls in the past five-six years, has never conducted surprise inspections of such buildings to check if they conform to fire-safety norms or if mandatory fire safety drills are taking place.
Deputy inspector -general of Jharkhand home guard and fire services, Deepak Kumar Sinha, admitted that there was a shortage of personnel in fire services.
"I do not think there has been any recruitment in fire services in the past six-seven years. At present, most of the fire stations are functioning at around 50 per cent of their sanctioned strength," Sinha said. He also confirmed that there was only one hydraulic platform fire tender stationed in Dhurwa.
"The hydraulic platform fire tenders need to be imported and each unit costs over Rs 6 crore. We have only one in Dhurwa in Ranchi. However, in view of the growth in real estate and multi-storey buildings across the state, a proposal has been sent to the government for procurement of more hydraulic platform fire tenders in major cities," Sinha said.
A senior officer at the fire services unit in Ranchi claimed that there was no coordination between urban bodies and fire stations in terms of fire-safety drills or audits.
"It is an open fact that builders and real estate developers grease the palms of civic authorities to get plans of highrises passed in major cities, at times even ignoring mandatory fire-safety clearances from fire stations. The builders do not bother to inform us of safety drills or audits, which are mandatory under the National Building Code of India," the official said.
Jharkhand chief secretary Sukhdev Singh said a meeting of all stakeholders would be convened to discuss ways to prevent such tragedies. 
"The district administration of Dhanbad has already been directed to conduct a probe into the fire and submit a report," Singh added.
State disaster management minister Banna Guptasaid all steps would be taken toprevent such incidents.
"We will ensure that fire stations are properly equipped and also highrises across the state meet the mandatory fire-safety standards. We will fix the responsibility on urban bodies to ensure compliance," Gupta said.
According to a statement issued by Dhanbad deputy commissioner Sandeep Singh, at 11pm on Tuesday, 10 women, three children and a man were killed in the fire at a G+10 residential tower atJoraphatak under Bank Morepolice station.
The fire started on the third floor and spread to the fourth. The statement also said the district administration had completed the rescue operation and combing of the building for anyone trapped inside. It said 14 people were injured and out of danger. Dhanbad fire station officer Lakshman Prasad said eight fire tenders battled for nearly four hours to douse the flames.
Locals informed that all the 14 deceased were relatives who had put up at the flat of Subodh Srivastava whose daughter's wedding was scheduled for Tuesday night. The deceased also include the wife and son of the flat owner.
The fire broke out at a flat on the third floor after a diya(oil lamp) fell on a mattress and flames spread to the kitchen leading a gas cylinder to burst.