'Detention Centre', built by protesters
On Thursday, over a month into the Deoband sit-in, they numbered over 1,500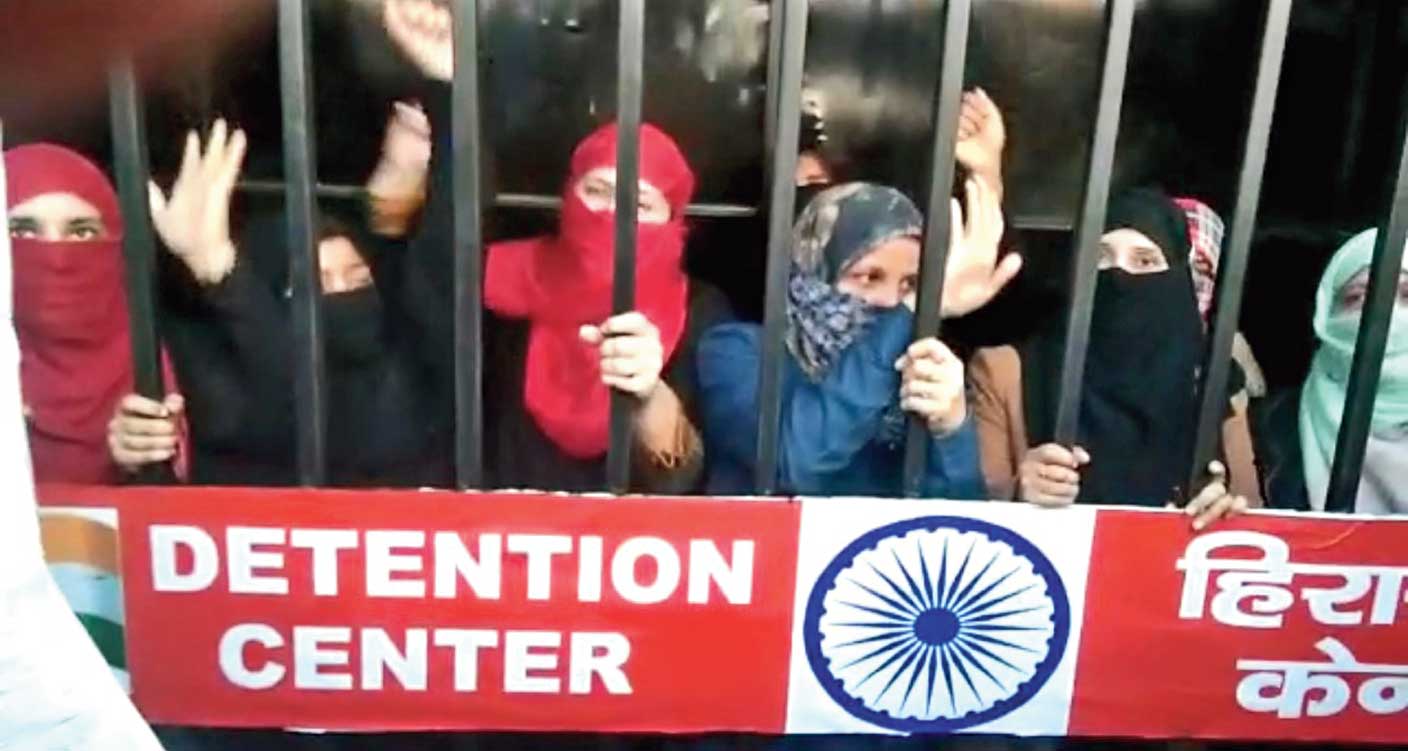 Women, inside the cage, protest against the newly amended citizenship law in Deoband, Uttar Pradesh
Sourced by the Correspondent
---
Lucknow
|
Published 13.02.20, 08:43 PM
|
---
From behind the iron grille the women chanted: "Hum kya chahte? Azadi."
The cry for freedom — or freedom from fear of detention — rang out on Thursday at Deoband's Idgah ground where women gathered in protest against the new citizenship matrix had brought along with them a cage-like structure in a symbolic enactment of what might come to pass.
They took turns to enter the cage — aptly named "Detention Centre" — in groups of 20 each, emerging after 20 minutes for another group to enter the 10sqft structure that has a grille on the front and iron sheets on the other sides.
"There is suffocation in the detention centre. We will certainly die if asked to stay there for more than 30 minutes. It was not easy to breathe there," a 25-year-old woman told reporters after coming out.
An elderly woman agreed. "If the Centre implements the Citizenship (Amendment) Act on the ground and the process for the NRC (National Register of Citizens) and the NPR (National Population Register) starts, the majority of us would be forced out of our own houses and put in detention centres," she said.
Seldom has a protest prop conveyed so much.
Deoband in Uttar Pradesh's Saharanpur district, 650km northwest of Lucknow, is home to the Darul Uloom, the famous Sunni seminary. The women have been on dharna since January 13 at the Idgah ground, one of the many protest sites in the heartland state.
On Thursday, over a month into their sit-in, they numbered over 1,500.
The women said the Narendra Modi government had "hatched a conspiracy to put the Muslims of India in prisons", explaining why they had put up a model of a detention centre.
"We created this scene here to explain to our brothers and sisters what would be the next step of the Prime Minister. He had hidden his actual face behind the slogan Sabka saath, sabka vikas and claimed he had sympathy for Muslim women by bringing a law against the (instant) triple talaq. But he soon became restless and decided to return to his core agenda," said the middle-aged protester.
They have named their dharna "Deoband satyagrah", she added.
Neither the CAA nor the government, including the Prime Minister, has said Muslims would be asked to leave the country or put in detention centres, but the cage captures the anxieties around the new citizenship matrix.
"Modiji has been lying to the people of India that there was no detention centre," said a 20-year-old protester. "We have stopped believing our own ears. If Modiji is honest, he must give us in writing that the Muslims are safe in India and there is no plan to debar us as Indian citizens and make more detention centres, which already exist in Assam."
Another protester, who appeared to be in her early 40s, said theirs was a battle for the future.
"We are not fighting for ourselves; we are fighting for our children, who are too small to fight against any injustice. We want them to study, do a nice job and have a beautiful family," she said.
"But the government is making education difficult by promoting private and costly schools at the cost of government schools, reducing job prospects in the name of start-ups and trying to put us out of their citizenship matrix. We are fighting to protect our future."